An empty vessel makes much noise. Or as we Indians say 'थोथा चना बाजे घना'.
Pakistan has shown the same thing. First, they celebrate the loss of India in the semi-finals because they wouldn't have to lose to India one more time in the cricket world cup finals. The Pakistan Prime minister even tweeted after India lost in the semi-finals against England. That shows how much hatred they have against India. The matter of fact is that the whole country was built on their hatred for India.
The current situation of Pakistan is front of all. They are fasting during the days, although it is not the time of Ramzan. There is only one reason for that, their economy. Still, they are managing all this and funding propaganda against India.
Why Only Md. Shami
Yesterday after the loss of Pakistan to England in the finals, their former pace bowler Shoiab Akhtar shared "a broken heart emoji" on twitter. In response to the tweet, Md. Shami wrote on twitter "Sorry brother, its call karma."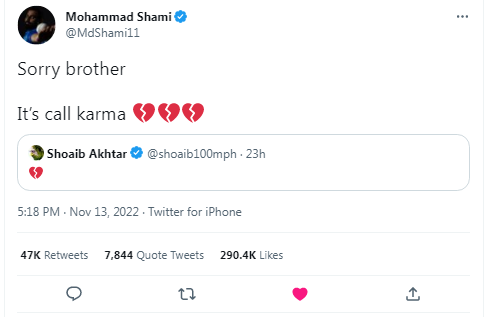 Now, do not look at it with naïve perspective. Recently, after India lost in the semi-finals, Shoiab Akhtar, in one of his YouTube videos said, "Why BCCI selection committee includes Md Shami for their world cup tour." He further added, "He is a fast bowler but he doesn't fit in the team."
Now in the response Md. Shami took a jibe at Shoiab Akhtar, which is fine. It was just a personal banter between both of them. But, once again, several Pakistanis came after him and started trolling him by saying "You need to prove your nationality that is why you are saying this." Some woke Indians bashed him too.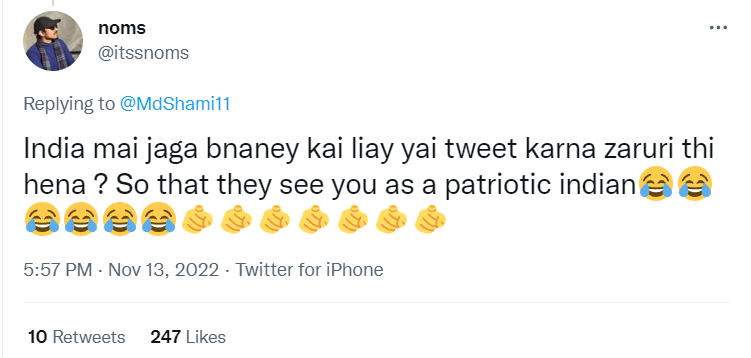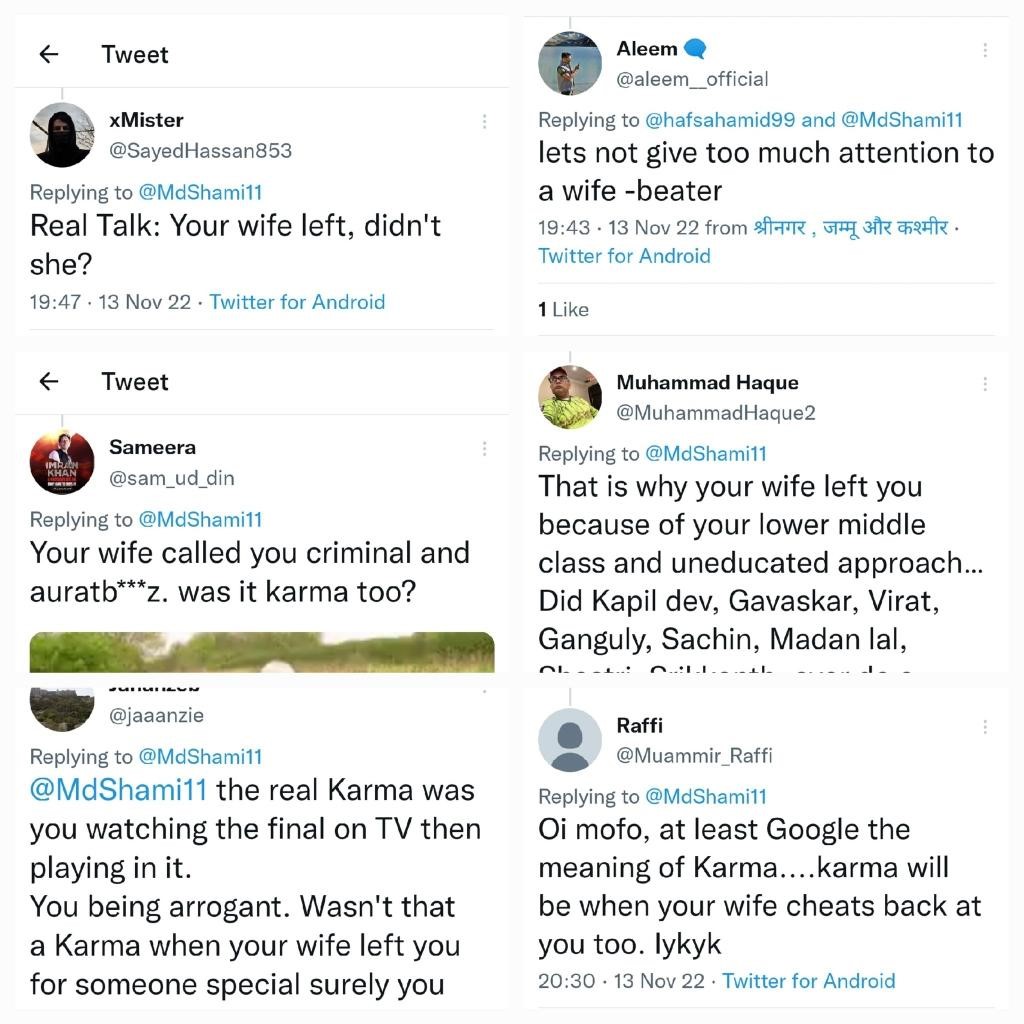 What Pakistan did last year
Last year, it was the Men in Blue's first-ever loss to Pakistan in World Cup history. According to reports, a planned disinformation campaign against Shami was launched after that. Several players were trolled after India lost the match. This included Rohit Sharma who got out on the very first delivery. But only trolling of Shami was selectively highlighted on twitter.
The vicious attack on Shami and unintelligent Pak Home Minister Sheikh Rashid's statement asking Indian Muslims to join in the celebrations, all of it was part of a deep-state plan to reignite the 'intolerance' debate in the nation.
In the investigation that followed, it was found that the large number of tweets condemning and trolling Shami were from Pakistan. Some were also run by various agencies from the Middle East. This showed that it was actually a weaponisation of social media from predictable sources.
The pressure was such that Indian players like Sachin Tendulkar, Virat Kohli, Harbhajan Singh, VVS Laxman and others came out in support of Shami on twitter.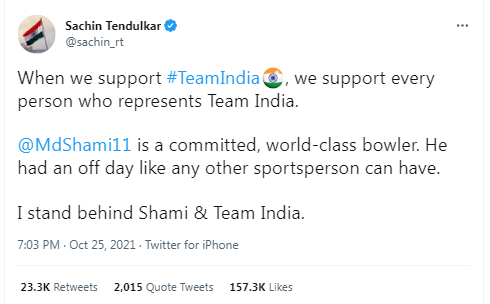 Also Read: Mohammad Shami is dropped from T20 WC team because he is a Muslim [LOL]
Shami needs our support one more time
Time to time certain groups target Mohammad Shami. This Dussehra Shami wished the people of the nation by tweeting about the festival on twitter.
On the happy occasion of Dussehra, I pray that Lord Ram fills your life with lots of happiness, prosperity, and success. Happy Dussehra to you and your family. #mdshami11 #Dussehra pic.twitter.com/wsFk7M1Gj5

— Mohammad Shami (@MdShami11) October 5, 2022
After that, a troll company and some extreme Islamists came after him. Shami's religion was brought into the picture with quite a few even asking why he had posted greetings on a Hindu festival.
The Union Minister of Youth Affairs and Sports, Anurag Thakur had to come out in his defence. Stressing that there was nothing wrong with Mohammed Shami celebrating Dussehra, Anurag Thakur said it's important to come together as a nation when celebrating festivals. The Sports Minister also highlighted that every Indian cricketer celebrated the festival earlier in the month.
Right now, tons of Pakistani twitter handles are trolling Shami since yesterday. But very few Indian cricketers have come out in his support and defence.
This social media attack on Shami comes under information warfare. We should support Md. Shami and other cricketers should also come in his support as they did in the past.
Support TFI:
Support us to strengthen the 'Right' ideology of cultural nationalism by purchasing the best quality garments from TFI-STORE.COM
Also Watch: