COP27 Summit 2022: For the last 8 years, we have been told that this is the right time for India. It certainly is. India has made its fair share of gains as well. Our reputation has risen by leaps and bounds and is on a level unprecedented in recent history. However, a solid push was needed to establish our dominant status on the international forum. Our eclipsing of China at COP27 Summit 2022 is one such occasion.
India saves developing world's interests at COP27 Summit 2022
Currently, a UN Climate COP27 Summit 2022 is going on in Egypt. Countries are deliberating on a 'mitigation work programme'. The programme aims to reduce the impact of climate catastrophe. Developed countries do not want to share the responsibility. Instead, they asked the top 20 emitters of the world to work on cutting emissions.
Currently, India is the seventh largest emitter of the world, emitting 3.4 per cent of total Carbon Dioxide. Other countries like Russia and China are also in the ranks and are placed above India, with China at the top of Chart. Based on that, the west wants both India and China to compromise.
However, this is downright unfair. India and China joined the industrial bandwagon only a few decades ago. Historically speaking, the USA is the biggest polluter with a 25 per cent share in Carbon emission. EU and China are at 2nd and 3rd place respectively with 18 and 14 per cent share respectively.
Even today, in terms of per Capita emissions, the USA leads the chart. Putting responsibility on India and China is gross historical injustice and that is the reason why India opposed the move. India was rightly backed by China, Pakistan, Bangladesh, Sri Lanka, Nepal and Bhutan.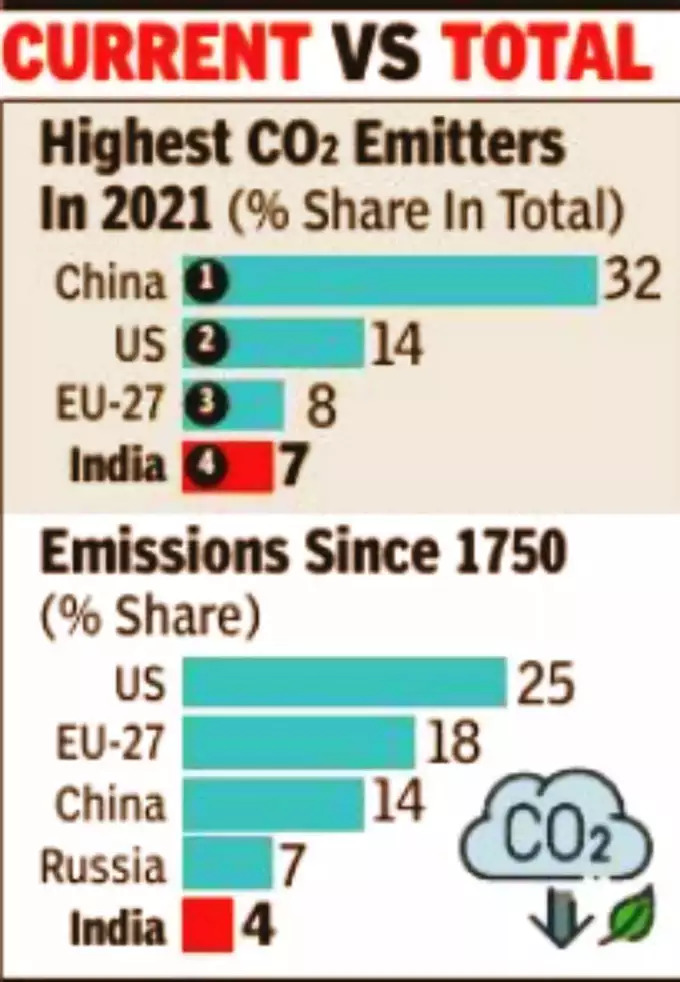 Also read: Western nations harassed India over climate change. PM Modi's bold demand has shut them down
India leading the way
India's opposition to the proposal and others joining it was the logical conclusion of the efforts India put in to save the developing world from the onslaughts of west's narcissistic agendas. While fulfilling its responsibility, India has not forgotten to take the West to cleaners for their hypocrisy. Even during this year's Bonn Conference, India vociferously asked them to pay off their compensation.
We even called out their scientific literature for being biased against developing countries. The ultra-aggressive counterpunch was a big reason why countries flocked to support India.
Also read: Compensate for your misdeeds, India roars at the Bonn Climate conference
Took some time
But this was not the only reason. Over the last 8 years, Indians have witnessed a tremendous increase in the nation's power. PM Modi became one of the first leaders of a democratic country to chide United Nations in 2014.
Within no time, India's demands started to get accepted. Yoga Day being celebrated all across the world exemplifies how well India is received. The trust compass of the developing world started to shift towards India. They are always looking out for a softer alternative to China and India will always be the best option.
India has taken the developing world on board by giving billions in Lines of Credit and initiatives such as the International Solar Alliance. Through Solar Alliance, India showed the developing world (mainly Africa) that it has a better arrangement than woke climate ideology. By the time Trump launched a trade war on China and started exposing Jinping's policy, India had acquired a significant space in the countries hit by BRI.
Clear winner in post Covid world
Covid turned out to be a blessing in disguise for the Modi administration. While the west was reluctant to help the developing world, China did try to help but it was simply not trusted. It was India that jumped in with the vaccine initiative and inoculated millions of people in developing and ignored parts of the world. Result? Well, as they say a friend in need is a friend in deed.
Now, India is trusted with more and more responsibility and cooperative partnership with these countries. They have trusted India with protecting their sovereign economic interest as well. More than 100 countries supported India at the WTO and Piyush Goyal came back with huge returns at the forum. Even there, China followed India's lead, just like it did at COP27 Summit 2022.
India is overshadowing China on every other forum. Its voice matters more than the Communist nation. China also deserves it because of the authoritarian nature of its regime. At the end of the day, it is a win-win for India.
Support TFI:
Support us to strengthen the 'Right' ideology of cultural nationalism by purchasing the best quality garments from TFI-STORE.COM
Also Watch: