Espionage Scandal: Nambi Narayanan is an Ivy League scientist, who can be referred to as the brain behind liquid fuel-powered rockets. Narayanan was the one who dreamt of competing with the 'superpowers' by seeing directly into their eyes. The Indian genius had ditched NASA for his nation's progress and his patriotism knew no boundaries. The movie 'Rocketry' depicts the same. However, he was sacked due to an international conspiracy and was subjected to humiliation and torture. Now, it seems that there is another Nambi Narayanan in making in India.
Another Nambi Narayanan in the making
Praveen Maurya, a rocket scientist working at Indian Space Research Organisation (ISRO) and Vikram Sarabhai Space Centre (VSSC), has written a letter to the Prime Minister asking for help. Maurya, who is currently working on Gaganyaan (India's first human space mission) had alleged that some spies have been forcing him to share certain classified information on India's space program with them.
Maurya was threatened when he refused to bow before them and give out the information. He has claimed that a person named Ajikumar Surendren, allegedly working for some people in Dubai, had approached him to carry out espionage.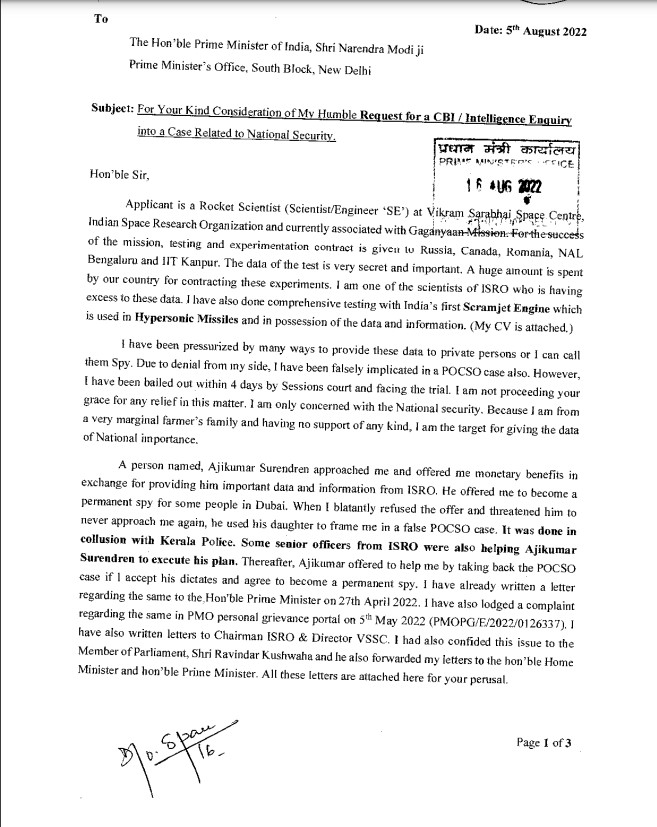 Maurya in his social media post said, "I was approached by spies for carrying out espionage. They promised me huge money in exchange for working as per the command of some people in Dubai. When I blatantly refused and threatened them to never approach me again, they put false police cases on me. Now they offered me to work for them in exchange for taking back the case."
Read More: Nambi Narayanan: The genius whose career was ruined by Congress and Communists of Kerala, to get a compensation of Rs 1.3 crore
Once again Kerala Police's role is in question
He has alleged that local state police and some from the office were helping the group execute their nefarious plan. He requested for an inquiry into the matter, and has written a letter to the PM as well as ISRO chairman regarding the same. Maurya had alleged that, "the department of space is simply disposing of my letters with the absurd reason, saying that it was a staff grievance."
He also cited possible reasons of why his request was going unheard. He predicted some circumstances, which include, "Some senior ISRO officers were helping the spies to execute their plan. So, the entire racket of these anti-national officers present in ISRO will come under the scanner of intelligence bureau."
The second being, "Officers from the Police department will also be under IB scanner." And at last he wrote "One of the senior officers in ISRO who is the main player is the relative of a former chairman of ISRO. If intelligence enquiry is approved, he will surely come under the scanner."
A scientist alleging that everything is being carried out in connivance with some senior officers of ISRO and the Kerala Police points towards some grave unfortunate situation.
Nambi Narayanan and Kerala Police
As per a report published in July last year, the CBI had opposed the bail pleas of two retired Kerala police officers S Vijayan and Thampi S Durga Dutt. They were a part of the SIT that investigated the 1994 espionage case against ISRO scientist Nambi Narayanan. The agency said that the officers had falsely implicated Narayanan in a concocted case due to which not only the scientist had to endure a lot of pain, but the development of India's cryogenic technology was also delayed.
It's just a hope that India never gets her second Nambi Narayanan and agencies act fast and apprehend the culprits.
Support TFI:
Support us to strengthen the 'Right' ideology of cultural nationalism by purchasing the best quality garments from TFI-STORE.COM
Also Watch: