Kanchan Jariwala AAP: The Aam Aadmi Party (AAP) has time and again tried to besmirch Bharatiya Janata Party (BJP) in public forums. But this time, that move has boomeranged for them. They forget that 'he who digs a pit for others, falls in himself'. The same thing has happened with the AAP.
Dirty tactics of Kejriwal
Gujarat elections is turning out to be a very interesting battlefield every other day. This time AAP created ruckus during nominations. After gaining power in Punjab, next to its home turf in Delhi, AAP has entered the Gujarat field to unseat the BJP with aggression and lies.
The Aam Aadmi Party (AAP), on 16 Nov Wednesday, accused BJP of kidnapping its candidate from Surat, Kanchan Jariwala, and making him withdraw his nomination.
Several AAP leaders claimed that he was kidnapped by the BJP. Taking to Twitter, Kejriwal had earlier claimed that the BJP was trying everything to stop Kanchan Jariwala from filing his nomination.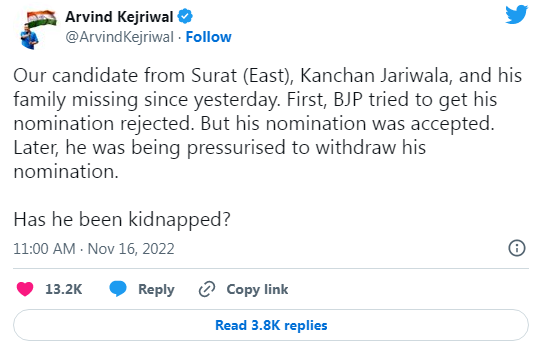 Delhi Deputy CM Manish Sisodia too claimed that Jariwala was kidnapped by the BJP fearing loss in Surat (East) constituency. Sisodia in a press conference said that "Kanchan Jariwala is missing since yesterday. His phone is switched off. His family is missing. He was last seen at the RO office yesterday, where he had gone to get his nomination scrutinised. The BJP's goondas (thugs) tried to get his nomination withdrawn. However, Kanchan Jariwala refused and when he left the RO office, the BJP goondas kidnapped him."
The AAP Minister dubbed it as a "danger to democracy", and said that it "raises questions on Election Commission". AAP leader Raghav Chaddha too called it a "murder of democracy".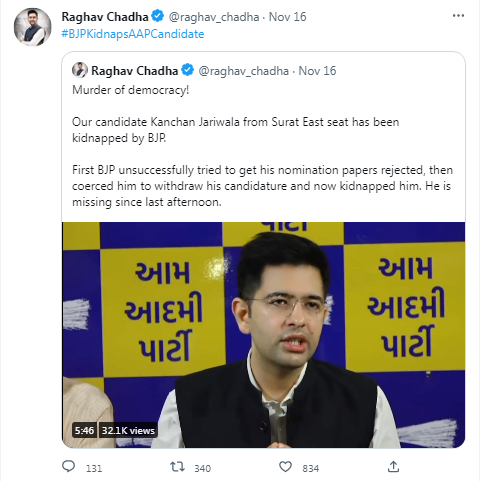 True Colours of Arvind Kejriwal
But, soon after this high voltage drama, Kanchan Jariwala issued a statement categorically junking the claims of AAP and baseless allegations of 'kidnapping'. He stressed that he stepped down from AAP's ticket and withdrew nominations as AAP is an anti-Gujarat and anti-National party.
He wrote, "I have heard the voice of conscience and made up my mind not to contest elections from the anti-Gujarat party, and have withdrawn the nomination papers without any pressure."
Kanchan Jariwala said that during the campaigning he was told by many voters that they would not vote for the AAP because it is an anti-Gujarat party. "My conscience was shattered and I heard the voice of the conscience," Jariwala wrote about why he withdrew the nomination. He added that he withdrew the nominations on his own volition and had no pressure.
Further, he exposed the dirty money-making business of AAP and alleged that the party was demanding hefty amount for contesting on party ticket.
He said, "The Party was demanding 1crore for the ticket and the nomination. I do not have that huge amount of money."
Additionally, Kanchan Jariwala made a shocking claim in his application to the Surat Police Commissioner. He alleged that AAP and Congress workers are plotting to kill him. He also pleaded for the police protection for himself and his family members.
Also read: In terms of shamelessness, Kejriwal's AAP knows no bounds
Party of liars and crooks
AAP leaders have been caught lying through their teeth several times .
First, they claimed they have proof against former Delhi CM Sheela Dixit. In the Ford foundation case, Kejriwal initially denied taking 4 Lakh USD from Ford foundation. Later on, he accepted the allegations and then again took a U-turn to deny it once again. Allegedly, the Ford foundation was involved in funding many NGOs for Anti-Indian work.
Once, Arvind Kejriwal took oath upon his children that he will never give or take the support of congress, but he later conveniently forgot any such oath.
Also read: AAP government caught lying through its teeth, gets called out by the Kerala communists
The list is very long. In each and every election he spread many such lies but this time he has been caught red handed. After telling so many lies, Kejriwal wants the public to trust him while he doesn't trust anyone, not even the Indian Army. Everybody knows what he said when the Indian army initiated a surgical strike on Pakistan.
This new allegation of kidnapping reminds us of several other similar allegations made by AAP leaders. The Party Supremo Kejriwal too constantly runs pillar to post claiming that PM Modi wants to kill him. AAP should realise that its anarchist ways and the despicable policy of shoot and scoot have been called off. If it keeps on doing such retarded level of politics, it will erode its political capital, if there is any.
Support TFI:
Support us to strengthen the 'Right' ideology of cultural nationalism by purchasing the best quality garments from TFI-STORE.COM
Also Watch: