Articles 29 and 30 were specifically brought in to counter irrational fear of majority trampling minority
Over a period of time, they have become a tool of Majority (Hindu) suppression
Both these articles need to be amended soon to make a way for balanced discourse around religion
The recent Hijab vs Bhagwa Gamcha row issue has opened a plethora of issues to be addressed. One of these issues is the viability of Articles 29 and 30 in the present socio-cultural fabric of India.
Articles 29 and 30 basically protect the minorities of India. At the time of the Constitution formation, it was widely believed that a minority group will be suppressed by a majority, which is why both these articles were specially inserted into our Constitution.
Article 29

Article 29 says that any group having a different language, script, or culture than the majority can conserve them. It also orders government-aided educational institutions to not deny admission to a person based on his immutable and mutable characteristics such as race, religion, caste, and language.
The phrase 'Right to conserve' simply means that any minority community can set up an educational institution and pass on their culture to the next generation.
Article 30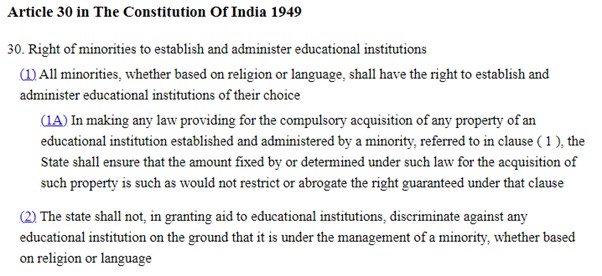 Part 1 of Article 30 is an extension of Article 29(1). It gives minority communities the right to establish as well as administer educational institutions according to their own choice. However, it is available to only religious or linguistic minorities. Additionally, under Article 30(1), anyone, whether he/she is Indian or not can set up an educational institution in India. He/she just need to prove that they have the support of minority groups.
Read more: Indian constitution reeks of colonialism
Problems with Articles 29 and 30
There are plenty of issues miring both these Articles. We will mainly deal with problems caused due to the religious minority section of these articles here.
Definitional ambiguity
The term religious minority had been left undefined in Constitution. Even, Motilal Nehru Report of 1928, which had expressed a strong desire to protect the minorities did not bother to define it. Similarly, the Sapru Report of 1945, which propped up the idea of the Minority Commission left it ambiguous.
National Commission for Minorities Act, 1992 and National Commission for Minority Education Institution act 2004 defined minority as 'a community notified as such by the Central Government'. So, basically, only Central Government can establish whether a group is a minority or not.
Through various judgements, Supreme Court has established that any community which is less than 50 percent of the total population of the state shall be termed a minority in that state. However, it is not religiously followed as recently it was pointed out that despite consisting of 60 per cent of the population, Muslims are minorities in Kashmir.
Read more: The need for Indianization of the Indian constitution in the BJP rule
Discrimination against Hindus
Article 29 (2) reads, "No citizen shall be denied admission into any educational institution maintained by the State or receiving aid out of State funds on grounds only of religion, race, caste, language or any of them."
The word 'citizen' in clause 2 of Article 29 means that a Hindu can get admission in a minority institution maintained by the state. However, when it comes to practising their own culture in minority centred educational institutions, Hindus do not have much right to freely profess, practice and propagate their religion. This is because the minority group running the institution has the absolute right to set up inner culture according to its need.
Ultra-favourable treatment of minorities
Article 30 (1A) reads, "In making any law providing for the compulsory acquisition of any property of an educational institution established and administered by a minority, referred to in clause (1), the State shall ensure that the amount fixed by or determined under such law for the acquisition of such property is such as would not restrict or abrogate the right guaranteed under that clause."
Part 1A of Article 30 asks the government to ensure that minorities are given preferential treatment while they are trying to establish an educational institution. This was added by the 44th constitutional amendment in 1978.
Moreover, not only does the Indian government needs to make sure that minority institutions are given favourable treatments, but they also can not offset their preferable treatment with lower aid to these institutions. This is because Article 30(2) prohibits the government to cut short any aid to these institutions.
Article 30(2) reads, "The state shall not, in granting aid to educational institutions, discriminate against any educational institution on the ground that it is under the management of a minority, whether based on religion or language"
Freehand to Minority educational institutions
Minority educational institutions are of three types. One which seeks recognition as well as aid from the state. The second ones are those which only seek recognition, while the third category seeks neither recognition nor aid.
While the government can provide administrative regulation to the first two categories, the third one is free from most regulatory mechanisms.
In practical life, it means that any minority group can seek foreign funding and establish an institution (like Madarsa), without government recognition. Through this method, the government has no control over whether children are being taught Science or whether they are brainwashed through Jihadi propaganda.
Read more: 'They have become ghettoes of underprivileged students languishing in backwardness,' NCPCR demands mainstreaming of minority institutions
All these aforementioned problems have led to some big imbalances in the Indian educational setup.
Missionary Schools
Currently, nearly 13,000 schools in India are run by Christian organisations. They inherited the management of the schools established by the British. Additionally, they get freedom under Article 30. Moreover, they get large sums of money from multinational church-based organizations.
Read more: Forced to convert, Lavanya killed herself. Now, Tamil Nadu media is attacking her family
Ryan International Group of Institutions, established by Dr A. F. Pinto in, Tirunelveli Diocesan Trust Association received Rs 3.72 crore in 2015-16 and Warangal Catholic Diocese received Rs 2.89 crore in 2016-17. These institutions have little to no checks and balances over their running.
Read more: 6 Cases when Hindu Students were Humiliated at Christian Convent Schools for Merely following Hindu Customs
Wahabism
Since educational institutions like Madarsas cater to Muslims, a minority group, they are also protected under Article 30. In 2015, it was reported that Saudis funnelled Rs 1700 crore into the Indian education system. The main aim of these investments is to promote Wahabism.
When CAA-NRC protests were at their peak, it was revealed that out of a total of 24,010 Madarsas operating in India, 4,878 are still unrecognised by the Government of India.
Read more: Minority institutions deny admission to poor students in the name of RTE: Modi govt set to end the discrimination
Division of Hindu Society
Due to heavy scrutiny by governments, institutions having Sanatani roots refrain from calling themselves Hindu institutions. In the wake of prevalent misuse of Articles 29 and 30, it's only pragmatic for an organisation to claim benefits by declaring itself as a Minority organisation.
No wonder a respected organization like the Ramakrishna Mission filed a petition in the courts in the 1980s that they were not Hindus.
Read more: No more interference of the state in the maintenance of temples and religious institutions – Hindu groups seek Constitutional amendments
Over a period of time, Minority protection has taken the form of tyrannical control of the Majority. However, our Constitution has the advantage of being flexible according to the need of the hour. Hijab protest is the perfect opportunity for nationwide discussions about amending these extremely misused provisions of the Constitution.