It won't be hyperbole if we call 2022 a year of state elections. One of the states going for elections this year is Goa. Things have been hazy till now, but as the election date is approaching, people are finally getting some clarity about the prospects. BJP looks all set to return in power, while AAP is surprisingly emerging as number 2 in the state, replacing Congress.
Opinion Polls place BJP on top
Times Now has conducted a C-voter survey for Goa in order to anticipate the results of assembly elections in Goa and other states.
According to Times Now prediction, BJP will be winning 17-21 seats in the Goa elections this year. The party's vote share is expected to be around 29.5 percent, 3 percentage points less than the 2017 elections.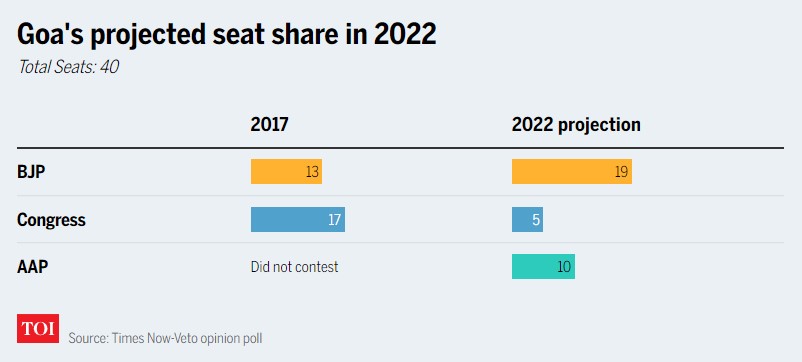 AAP is emerging as the fiercest contender for BJP. With more than a 4-fold increase in vote share, AAP is expected to bag 8-11 seats. Opinion poll further suggests Congress is expected to win over around 18.56 percent of voters, resulting in 4-6 seats.
Similar results with minor data changes have been predicted by the ABP C-voter survey.

Surprising results in C-voter polls
The emergence of Arvind Kejriwal's AAP as the second contender came as surprise for many. When Mamata Banerjee's led TMC's made a blitzkrieg entry for election campaigning, people had expected a strong tug of war between Trinamool Congress (TMC) and AAP. However, equations on the ground suggest something else. A close look at the functioning of political parties in the state is all we need to get to the cusp of reality.
Aam Aadmi Party
There is no doubt that AAP's metropolitan style of campaigning has resulted in increased support for them among Goans. However, a lack of credible regional face is affecting its chances. To counter this, AAP has resorted to hiring dissatisfied candidates from already established political parties. Out of a total of 20 candidates which AAP has announced to field in elections, at least 35 percent are defectors.
As Goa Assembly elections 2022 have been announced, and @AamAadmiParty is fully geared up to bring change in Goa, am happy to declare the second list of candidates who are going to lead this political transformation!

Congratulations and best wishes to all the candidates pic.twitter.com/QGhWvMRIQ6

— Atishi (@AtishiAAP) January 9, 2022
Moreover, AAP has resorted to an old-order formula of announcing freebies for various sections of Goans. AAP has announced to provide free electricity to all and Cash assistance to women if they are voted to power. There is very little chance that it will work. Goans are known for their entrepreneurial nature. They need a government that keeps itself out of their business, rather than meddling in through socialist manipulative measures.
Trinamool Congress
Everybody was in for surprise when TMC announced itself in Goa. The party does not have a specifically dedicated and loyal cadre in the state. To compensate for it, they brought in Mohua Moitra to lead Goa's election campaign.
Initially, TMC launched a blitzkrieg. It announced freebies along with roping in various influential members from other parties. However, the curtains around the glamour did not take long to come off. In December 2021, five primary members of the TMC (including former Goa MLA Lavoo Mamledar) who were inducted into the party last year, quit the party. Moreover, the resigning leaders also removed the veil around TMC's representing itself as a Secular party to woo Goans.
Read more: Mamata Banerjee's election wagon in Goa is a wreck even before taking off
TMC has decided to align with MGP in Goa. Sensing that their prospects are quite low, they have resorted to announcing AAP like freebies.  Frankly, the party's condition doesn't look good enough to win the election. It does not have a vote base, cadre, or good management at the top.
Bharatiya Janata Party
Of all the parties contesting the election, BJP holds the upper hand. It was the Manohar Parrikar's Charisma that despite winning fewer seats, various parties had joined in to form a BJP led government. Lately, that legacy has been continued by Pramod Sawant. In Times Now survey, Shri Sawant has emerged as the most popular leader in the state.
To assist Pramod Sawant, various leaders will be assisting BJP Goa in its march. Devendra Fadnavis, one of the most popular leaders in neighbouring Maharashtra is expected to kick-start the campaign for Goa elections. The massive popularity of PM Modi will prove to be the ultimate additive factor in elections. RSS's on-ground presence will be a big catalyst in converting BJP's popularity into a vote bank.
Congress
Congress party is believed to be the ultimate loser in Goa. In 2017, Congress had won 17 out of 40 seats on offer. However, the party's uncertain leadership resulted in no other party or MLA joining Congress for a coalition government. All of them flocked to BJP. Within 5 years, Congress is reduced to having 2 electorally capable members in its Goa Unit.
15 Congress MLAs have flocked to other parties including BJP, AAP and even TMC. Minority vote is the only thing that Congress could count on. However, TMC's entry with a pro-minority image is expected to act as a vote cutter for Congress. The party is also struggling to find an effective solution to AAP's freebies promises; something which had ousted them from Delhi. Over-reliance on the Gandhi family is another dampening factor for Congress.
Frankly, no one has been able to fill up the place vacated by charismatic Manohar Parrikar. He was like a lone wolf and people used to vote on his name only; something which PM Modi replicated through his brilliance. Goans will be voting for anyone whom they find ideologically inclined towards Shri Parrikar.