Trinamool Congress (TMC) Rajya Sabha MP Jawhar Sircar shared a purportedly edited video on Twitter to defame Prime Minister Narendra Modi. However, he fell into his own pit when it was flagged by Twitter.
Jawhar shares fake video of PM Modi
On Wednesday, TMC MP Jawhar shared a doctored video of PM Modi. In the video, PM Modi can be seen walking along with Uttar Pradesh Chief Minister Yogi Adityanath. Moreover, people can be heard chanting "Modi haye haye" and "Modi chor hai". While sharing the video, Jawhar claimed that PM Modi faced protests during his visit to Varanasi this month and that the media didn't cover the incident.
Also read: The story of how Kashi Vishwanath Mandir was destroyed, restored and finally re-established
He tweeted, "Wow! Protests during Modi's midnight Kashi Parikrama. Some guts. The Godi Media will not show this."
While many were suspicious about the authenticity of the video, Twitter flagged Sircar's tweet claiming it as "manipulated media".
Fake video debugged
It was revealed later that the original footage of the crowd can be dated back to December 14, when PM Modi and CM Yogi were out in the midnight, for inspection of developmental projects in Varanasi; the audio of the clip had been altered.
On contrary to the fake video shared by Jawhar, in the original video, the crowd can be seen clearly showing their support for PM Modi and chanting 'Jai Shri Ram'.
However, a fearful Sircar has deleted his tweet.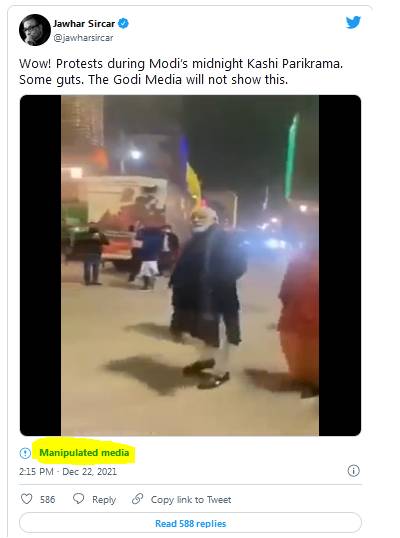 Also Read: Dr Arjun B Gowda: Doctor turned IAS and SM Influencer
PM Modi's Kashi's visit
Prime Minister Modi had reached Kashi on the 13th of December for the inauguration of his dream project — Kashi Vishwanath Dham Corridor project. He also inspected key development works in Uttar Pradesh's Varanasi on December 14, 2021. The project has dramatically uplifted the surroundings of the sacred shrine, and the workers involved in construction rightfully deserved the grand appreciation they received, when PM Modi felicitated them by showering flowers petals on them while heaping praise. A galaxy of BJP leaders, including chief ministers of various states, was present in Varanasi for the grand ceremony that was being live-streamed at 51,000 different locations across the country.
Also read: Soaked in Symbolism and Significance: PM Modi's grand inauguration of the Kashi Vishwanath Complex
TMC against PM Modi and BJP
As reported by TFI earlier, a picture with a political cartoon circulated on social media that displayed a woman in a white saree with a blue border (resembling Mamata Banerjee) crushing three people — Prime Minister Narendra Modi, Home Minister Amit Shah and one civilian, with her foot. With such a demeaning picture, the TMC goons seemed to normalize the violence.
Also read: Biplab Deb is a simple man. He sees TMC goons. He gets them bashed up
In another incident, the non-TMC party members, especially the BJP voters and state unit workers, were dragged out of their homes and offices, killed, murdered, and lynched in broad daylight.
However, nothing worked. And now, the furious TMC has resorted to fake video propaganda to demean Prime Minister Modi, who is loved by millions not just in India, but across the globe.