One might have often heard people use the term 'Gypsy' to refer to nomads who have no permanent house and are constantly on the move – changing villages, towns, and cities. Some may also have witnessed the term being used as a racial slur to call out someone. Whatever the context be, they all are, in fact, referring to an indigenous Indian ethnic group that migrated from northern India in around the 10th century, and spread across the world and came to be known by different names.
Gypsies, as they are often called, are referred to as Romani people in Europe. They are dispersed, but their most concentrated populations are located in Europe, especially central, eastern, and southern Europe. However, nearly every research pinpoints their origin towards the Indian subcontinent. Moreover, as "Gypsy" is a rather pejorative term given by the westerners (who couldn't differentiate them from the brown-skinned Egyptians), we'll refer to them as 'Romanis' from here on.
The genesis of Romanis:
According to a Scientific American report, the initial founding group of Romanis likely departed from the state of Punjab. From there, they likely traveled through central Asia and the Middle East, but appear to have mingled only moderately with local populations there.
Moving further, the acknowledgment of the Roma establishment in the Balkan region is uniformly accepted to have taken place during the 11th and 12th centuries, where they remained for two centuries before they started spreading out to all over Europe.
Also read: The plight of Punjabi Hindus: A minority community no one knows about
The reason for their migration is rather unknown with different theories doing the rounds, but one suggests that it might have been undramatic to say the least as they simply moved around keeping in touch with their nomadic nature.
Romanis are believed to have traced their origin to nomadic communities like the Dom, Banjara, Gujjar, Sansi, Chauhan and Sikligar from the northwest parts of India. Their language shares many words with Punjabi and Hindi, while phonetically it is similar to Marwari. Its grammar is said to be closest to Bengali. They have retained the Romani language, which finds its roots in Sanskrit.
Romanis intermingled with the local foreign populace:
While some might question that if Romanis are indeed Indians, why do they not look like one? The answer is rather simple. The gypsies moved countries, mingled with the local populace they came in contact with, and evolution took care of the rest.
The researchers have noted that Romanis had different levels of intermingling with locals of different countries. The research stated, "Romani populations in Romania, Hungary, Slovakia, Bulgaria and Croatia show genetic patterns that suggest a limited pairing with local populations until recently. Whereas Romani populations in Portugal, Spain and Lithuania have genetic sequences that suggest they had previously mixed with local European populations more frequently but have "higher levels of recent genetic isolation from non-Romani Europeans".
Discrimination against the Romanis:
While caste-based discrimination as a problem still exists in modern India in some shape or form, the Romanis across Europe are chastened and humiliated at the drop of hat as well. They are ridiculed and ostracized by the majority of the white populace.
Despite being the largest minority group of Europe with around 14 million population, more than 80% of them live below the poverty line.  According to a Goa Chronicle report, They were subjected to around 500 years of enslavement in Wallachia and Moldavia, that is, modern day Romania. In Germany, the Nazis were so obsessed with themselves and their superiority that they viewed Romanis as a threat to the German gene pool.
While the holocaust of Jews by the Nazis is well documented, many would be oblivious to the fact that Hitler killed over 2 million Romanis in his demonic purge process.
Romani people want India to accept them:
Over the years, the Romanis have pleaded to the Indian government to accept them as a minority, so that the discrimination meted their way can be nipped in the bud.
In an interview with HT, Jovan Damjanovic, President of the World Roma Organisation stated, "We are expecting after all these years India should recognise the Roms as Indian national minority. There is anthropological and physical evidence that we belong to India. Indians could win at cultural, economical and political level by accepting the origins of these 12-15 million people".
Also read: Dear Jim, you are a Parsi, your ancestors found refuge in India. They must be ashamed of you today
Jovan further exposed the duplicity of the western world when it came to the refugee problem, "European countries have double standards, while they welcome refugees from one country, they are treating Roma people in a different way. They are not making a mistake; they are doing it on purpose. All member states of the UN are compelled to host refugees from any country, but for Roma the rules are different".
Tyson Fury aka the 'Gypsy King':
One of the most famous Roma personalities across the globe currently is the multiple-time world heavyweight champion, Tyson Fury. Fury has openly worn his identity on his sleeve and has worked for the upliftment of Romas, who are still frowned upon.
He has given himself the moniker of 'Gypsy King', and has been an influential voice. Thanks to Tyson Fury, people have started talking more about Roma people in a positive way, allowing space for a discussion to get to know them and respect their history within the world.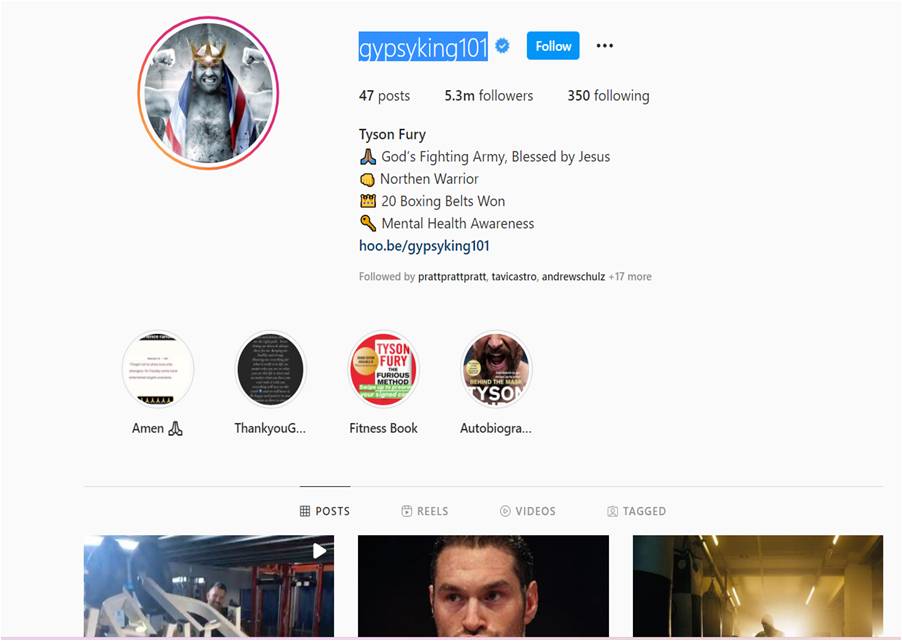 It is time that the world recognizes the Romani people and their contribution to mankind. From guitar to violins in places like Hungary, the flamenco dances in Spain and oriental dances in Egypt – all is said to have originated from them.
They have inspired the works of various poets, composers and playwrights. Most notably, Shakespeare, whose Cleopatra and the dark lady in his sonnets are said to be modeled on the gypsies. The Indian government should step up and instead of mollycoddling the supposed minorities of the country, care for the real minorities that need help.