NCP Supremo Sharad Pawar is known to be one of the smartest politicians in the country. Even in times of crisis, he does not lose his cool – which arguably is his best trait as a political stalwart of the country who has no less than on three different occasions eyed the Prime Minister's chair. On all such occasions, however, Pawar was denied India's prime ministership. Due to his bad luck on that front, Pawar has come to be known as the "best Prime Minister India never had". Despite having breached the 80-year-old mark last year, Sharadchandra Govindrao Pawar has not stopped eyeing the coveted chair and residence at the 7 Lok Kalyan Marg.
On three occasions – in 1991, 1999 and 2019, Pawar had aimed to become Prime Minister. He had been disappointed on all counts. The first two denials of Prime Ministership came from the Congress, while the third was more of the BJP registering a predictable and handsome win in the general election of 2019. In the event the BJP had not been able to win the required number of seats, however, Sharad Pawar was at the forefront of becoming Prime Minister, and he would have ensured that he gets his 'due' under all circumstances.
In 1991, three prime ministerial candidates' names were doing the rounds. Sharad Pawar, back then, was in the Congress and had not formed the NCP. By then, Sharad Pawar had emerged as a regional stalwart and a decent national leader who knew more politics than everyone in the Congress combined. Pawar's appetite for more power and his ambition to one day make Prime Minister was known to all. Such ambitions were also haunting the Gandhis, as Pawar was anything but a lackey of the family. He was free-spirited and daring and had earned the reputation of taking on the likes of Indira, Rajiv and Sonia Gandhi.
Naturally, for a Sonia Gandhi-led Congress, Sharad Pawar making Prime Minister was a nonstarter. It made no sense to place someone not committed to the cause of the Gandhis on the Prime Minister's chair. So, instead of Sharad Pawar, Sonia Gandhi started sending feelers to the Congress covertly – that her support was for PV Narasimha Rao. PVN Rao was a yes-man with no larger political ambitions. He could be manipulated by the party (read Gandhis) and not frown upon his autonomy and power being walked all over.
Compared to Sharad Pawar, PVN Rao was an angel for the Gandhis. There was also Arjun Singh – but he was a Gandhi lackey. Singh's name was also doing the rounds as a prospective prime ministerial candidate, but him being in the party ranks and not outgrowing his potential was preferred by the Congress. Rao was made Prime Minister, and Pawar was made to bite the dust by his own people.
In 1999, an opportunity rose once again for Sharad Pawar to become Prime Minister. However, Sonia Gandhi's name was brought up subsequently. The Congress' constitution was amended and she, though not an MP, was made the chairperson of the parliamentary party. Thus, Pawar ceased to be an elected leader of the Congress in Lok Sabha. The stage was set for Sonia Gandhi to be made Prime Minister. The prospect of Sonia Gandhi being made Prime Minister enraged the BJP and RSS, with Sushma Swaraj going as far as saying she would tonsure her head if an Italian becomes prime minister and India begins being ruled by foreigners again.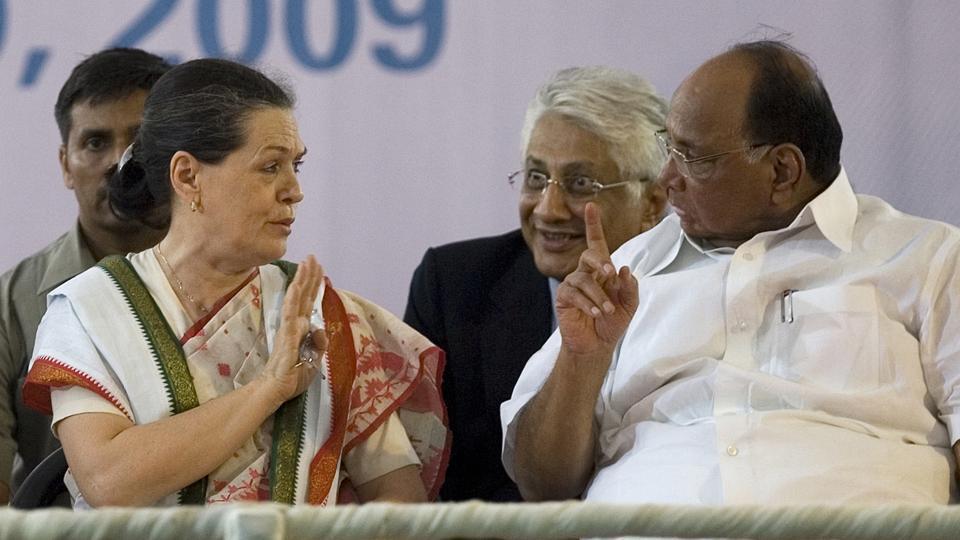 Interestingly, Sharad Pawar was among the very few Congressmen who decided to stand up against Sonia Gandhi's candidature. Partly, Pawar's opposition to Sonia Gandhi becoming prime minister stemmed from the shock that the party would ignore a stalwart like him for an Italian foreigner. Although Sonia Gandhi did not make PM, for Sharad Pawar, 1999 became his Waterloo in the Congress. He was convinced he could not grow any further in the party monopolised by the Gandhis, and so, broke away and founded the NCP.
Read More: Three years before the next general elections, Sharad Pawar is busy creating a rag-tag alliance of opposition leaders
Then came 2019. The non-Congress opposition was of the earnest belief that if the NDA somehow does not muster the required numbers for forming the government, the entire opposition would join hands and form a government in no time. Being among the most senior opposition leaders, Sharad Pawar would have been a frontrunner for the post of prime minister in 2019, although Sonia Gandhi would have definitely propped up her son for the post.
Now, Sharad Pawar is once again making moves to somehow become Prime Minister in 2024. He is meeting non-Congress opposition leaders, parties and groups, and also having talks with seasoned number cruncher Prashant Kishor. 2024 is Sharad Pawar's last shot at trying to become prime minister, after which, his old age will force him into retirement from politics. And the BJP is not slated to lose power from the Centre any time soon. So, Pawar's dream seems well on the path of remaining just that – a dream.