Emmanuel Macron's war on Islamic extremism has resulted in the shutting down of 36 mosques by the authorities. After the beheading of Samuel Paty in October 2020 by Islamic extremists, France has started inspecting mosques in an attempt to foil their radical extremism agenda. A total of 89 mosques have been inspected so far and 30 have been shut down by the authorities. Six other mosques in Sarthe, Meurthe-et-Moselle, Cote-d'Or, Rhone, and Gard regions are under scrutiny and in the process of being shut down.
French crackdown on Radical Islam
French interior minister Gerald Darmanin told the media that French police inspected a total of 24,000 places and has closed down 650 places for allegedly housing extremists. They also closed five Muslim associations for promoting 'Political Islam' in the country. Apprising media about the further developments, the minister stated that a total of 10 associations are to be closed, and 205 bank accounts associated with these associations have been confiscated. They also expelled two Imams in the process. The minister added that religious officials will not be able to visit the country after 2023, and those who are currently residing will not get their resident permits renewed.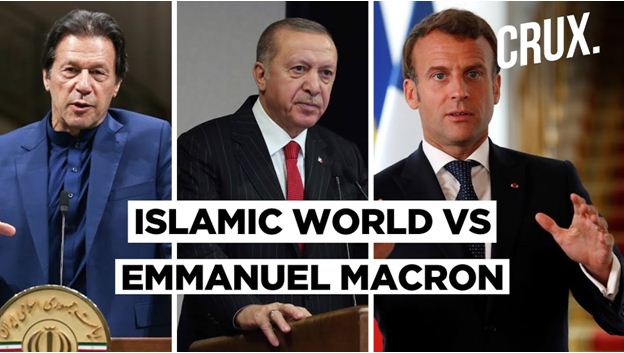 "We spread terror among those who want to impose terror on us," Gerald said, adding that the country already does not renew the residence cards of people sentenced for drug trafficking and domestic violence. France has also announced that it is deporting various Algerian, Tunisian, and Moroccan. The Muslim population in France is mainly a result of migration from these three countries and some other West African nations.
Red carpet turned into Red blood by radicals
The French had long been holding a red carpet for Muslim migrants flooding the country's shores. During 1960-70, the West African Muslim males flooded the country, mainly as Economic migrants. They maintained their connections with their families and the French establishment was forced to give them citizenship in the 1970s. The citizenship status also translated into their wives and children moving to France, which resulted in an outburst of the Muslim population.
Despite staying and earning their livelihood in France, the Muslims were never accustomed to French values. Islamic culture and value system was accommodated in French society due to the tolerant value system of French democracy. Various polls have shown that Muslims living in France and other European countries are universally united by a belief in Prophet Muhammad, and practice certain rituals as per the Islamic scripture. The Muslims living in Europe are much younger and mainly focus on producing more and more children to increase their homogeneity. The period of 1990-2010 witnessed the passive rise of Islamic extremism. The two-year time span of 2014-16 resulted in 236 deaths in France owing to Islamic Terrorism
Enough is Enough said Macron
In January 2015, two Muslim gunmen killed 12 people for allegedly publishing a cartoon on Prophet Mohammed. Additionally, Samuel Paty was beheaded by Islamists in October 2020 for showing cartoons of Prophet Mohammad during a civics class. The beheading was the turning point in the French history of tolerance of Islam and Emanuel Macron's government finally started its crackdown on the Islamic extremists.
Read more: Macron has started investigations in French liberal universities that spread Islamo-Leftism. India should follow
French revolution in 1789 was the foundation stone for the modern European democratic setup. It gave the concept of liberty, equality, and fraternity. But, in 2021 their idea of fraternity has been misused by various groups in France, and now the European nation is fighting a cultural war, imposed by Islamic extremism.