Indians take their food seriously and even more so their chai, so when the top leader of the country, Prime Minister Narendra Modi wore his past identity of selling tea on the railway platforms of Vadnagar, Gujarat proudly on his sleeve, the entrepreneurs of the country took notice. With the Indian economy booming with unicorns after another, myriad tea startups have surreptitiously sprung up in the Indian market.
Chaisuttabar — the homely feels of sipping a chai
The biggest name out of the lot is 'Chaisuttabar'. Founded by Anubhav Dubey five years ago along with his friend and co-founder Anand Nayak, the company has grown to a 100-crore venture. Coming from a middle-class family where parents wanted Anubhav to pursue civil services to safeguard his career, the founder dropped his preparation midway and started his pursuit of selling Chai.
The Indore-based company aims at catering the cutting Chai tapri platter in a comfortable ambience. Anubhav, in an interview, stated how after setting up the first tea store, the college-going crowd seemingly found their concept of selling Chai in a chic environment catchy and immediately warmed up to it.
He stated, "We also called our school and college friends in Indore to come and pay us a visit. And suddenly the place was buzzing with a young crowd. The girls from the hostel saw it as a cool and happening place and started visiting with their friends."
Since 2016, Chai Sutta Bar has expanded rapidly opening franchise outlets. They charge Rs 6 lakh as a franchise fee for a single outlet. While the lockdowns might have affected the other companies of the F&B sector, Chai Sutta Bar continues to grow strong.
"Despite two lockdowns in the past one year, none of our outlets have shut down and are doing decent business. This is the worst phase for the F&B industry, but we know we will sail through," says Anubhav confidently.
Chaayos
Another tea-based cafe popular in and around the Delhi-NCR region is Chaayos. The cafe was founded by IIT alumni Nitin Saluja and Raghav Verma in 2012. After completing mechanical engineering from IIT Bombay in 2007, Nitin worked for 5 years as a management consultant in a company called Opera Solutions before taking the plunge in his entrepreneurial journey.
One of the largest funded startups in this space, Chaayos has backing from the likes of Tiger Global, Elevation Capital (previously SAIF Partners), Hong Kong-based Integrated Capital and WhatsApp's former chief business officer Neeraj Arora.
The last funding round for Chaayos came in February 2020 when it raised $21.5 million in a Series B2 round led by San Francisco-based investment firm Think Investments with participation from venture debt fund InnoVen Capital.
The cafe offers more than 25 varieties of tea with 12 add-ons, giving its customers 12,000 ways of making their own tea. Chaayos has expanded to around 70 stores across India with a presence in Mumbai, Delhi, Noida, Gurgaon, Ghaziabad, and Chandigarh.
Chai Point
Beginning with the first pilot store set up in Bangalore in April 2010, Chai Point has rapidly grown to become the go-to brand for a perfectly brewed cup of Chai with over 300,000 cups sold every day.
Backed by Paragon Partners, DSG, Eight Roads Ventures and Saama Capital, Chai Point clocks an annual turnover of Rs 190 crore. The last round in which Chai Point raised USD 20 million in Series C was led by Paragon Partners. The company has raised USD 34 million in funds so far.
Pre-Covid, Chai Point had 169 stores. During the pandemic, it shut some, but also opened some new stores, keeping net count the same. Out of these, close to 100 are open now. Close to 65 are in airports or corporate parks that are inactive.
Likewise, the company has around 4,000 vending machines installed at healthcare companies, media companies, critical tech, and pharma companies, and such. In March, 1,000 customer sites were open.
As of June, the company had been operating 350-400 sites because of the lockdown restrictions but with the mass vaccination campaign of the country inoculating over 80 crore citizens and reducing the impact of a possible third wave, Chai point is quickly getting back on its feet. The company has around 1,200 people working with it, including frontline employees.
The staggering unicorn culture and the Pakoda story
The staggering Unicorn culture 2021 has been a sensational year for the Indian startup ecosystem, which has surpassed all projections — both in terms of the number of unicorns and the funding raised. According to a YourStory report, in July 2021 alone, the Indian startup ecosystem raised almost $10 billion (including a mega-round of $3.6 billion raised by Flipkart) and added three new unicorns to its cap.
Read More: India to experience at least a decade of good growth, thanks to PM Modi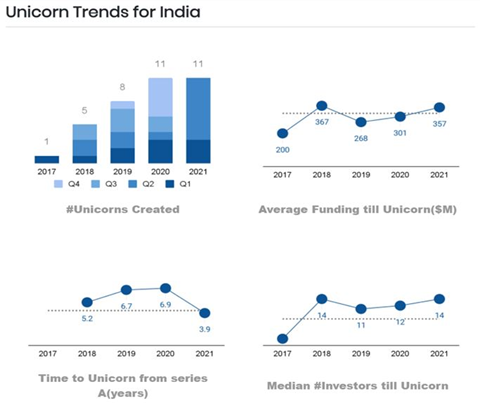 This was more than the entire amount raised in 2020. The Indian startup ecosystem is the third largest in the world with more than 40,000 companies and around 44 unicorns. A whopping 21 startups have made it to the list in the first 8 months of the year. India witnessed the first health tech, social commerce, crypto and e-pharmacy unicorn this year. BharatPe, Mindtickle, UpGrad and CoinDCX have been the recent entrants in the month of August.
With the unquenchable thirst of Indians to gulp down one kulhad after another, it wouldn't be a hyperbole to predict that one of these startups will be joining the unicorn club soon.
In an interview a few years ago PM Modi remarked that selling Pakodas (fritters) was also a kind of employment. He had said, "If a person selling pakodas earns Rs 200 at the end of the day, will it be considered employment or not?" While the opposition and frivolous keyboard warriors of social media platforms trolled him — the major food assortment associated with pakodas i.e., Chai has found a major acceptance and is now a fledgling business idea. Who said you always needed a major scientific idea to be an entrepreneur? Sell Chai, sell pakoda and contribute to the country's economic growth story.