Saif Ali Khan, the so-called history buff of Bollywood had no idea what was coming his way when his family decided to post a picture of doing Ganesh Puja on their Instagram handle. The father of two kids named Jahangir and 'media wonder boy Taimur' to showcase his secular credential ended up hurting his 'brethren.'
Islamic Hounding continues
On the occasion of Ganesh Chaturthi, the wife of Saif Ali Khan, Mrs Kareena Kapoor Khan posted some pictures on her Instagram handle. With the caption "Celebrating Ganesh Chaturthi with the loves of my life and Tim Tim's cute little clay Ganpati, Happy Ganesh Chaturthi". The pictures along with the caption were showing Saif Ali Khan and Taimur worshipping Ganesh Ji with folded hands, while Kareena Kapoor Khan was instructing the child on the proper way of worshipping. This photo was more than enough to send the Islamists and left-radicals in frenzy.
One of the netizens going by the name of shahid_yass on Instagram advised Saif Ali Khan to do kalma after doing Ganesh Pooja. He commented- "mind about the hereafter, u said kalim alailah aillalah muhammad urrasool allah". Another one going by the name of Ahmedk3334 commented- "Lakh de lanatsaif Ali khan tera much teee". A female user bbebo_meehsud went on to question his Islamic credentials and commented – "Ye muslaman nhi hain, musalman allah ke alawaa aur kisi ko nhi maante"(they are not Muslims, Muslims don't believe in someone else other than Allah). Hoards of netizens went on to write just one word "Laanat". Laanat word is used to curse someone in Urdu. A user going by the name opiumclothing wrote- "just like a Brahmin does not eat Beef, it's impossible for a Muslim to worship man-made idols, humans, or animals except One God." One user even went on to suggests said Ali Khan to change his name to Suresh Kapoor.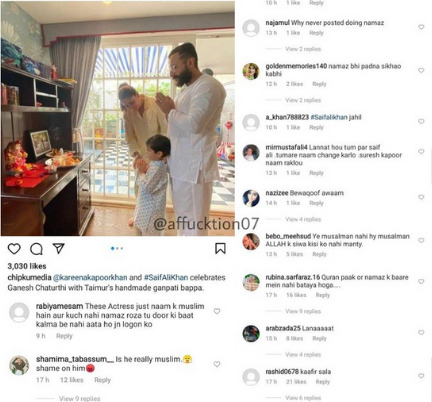 Media advisor to UP CM Yogi Adityanath compiled some of these hateful comments and posted them on Twitter.
Islamists don't spare anyone
This is not the first time it has happened that any celebrity has been hounded by Islamoleftist and cabal of left-liberals in India. Sara Ali Khan, the eldest daughter of Saif Ali Khan was trolled for Ganesh Puja as well.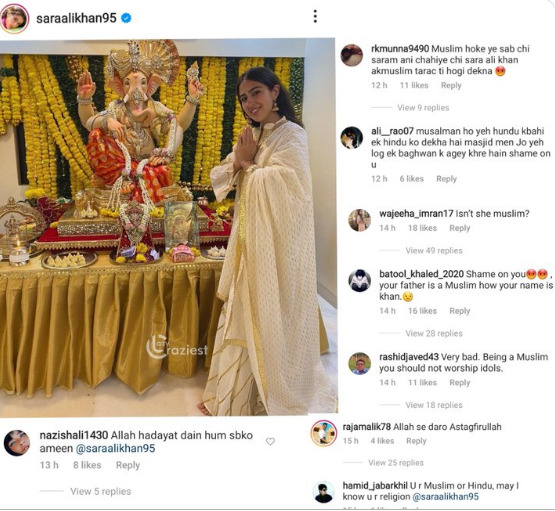 The Islamists have morally policed and trolled the wife of cricketer Mohammad Sami for her clothes in the past and feminists were okay with it.
Saif gets a taste of Karma
Recently, Saif Ali Khan Khan was hailed by the Islamic community as a hero. The names of his first son Taimur was kept after the barbarian looter, plunderer, rapist, and genocidal Taimur who had wiped out 5 per cent of the entire population of the Earth, while his second son was named after Jahangir, who had killed Guru Arjan Dev Ji, the fifth Guru of Sikhs. While Islamists are happy with names like Jahangir and Taimur, anything which even closely connects to Hindu culture turns into a nightmare for them.