With just a few months left for Punjab assembly elections 2022, Punjab Congress has made a seemingly suicidal move to change its cabinet in the state. Captain Amarinder Singh has resigned and if internal sources are to be believed then either Navjot Singh Sidhu or Sunil Jakhar will occupy the vacant post.
Navjot Singh Sidhu will most likely take the lead until some massive overhaul of political equations does not come into the picture. The fight between Captain Amarinder Singh and Navjot Singh Sidhu is not new.
Earlier in 2018, keeping national interest in mind, Sidhu was advised by Captain Amarinder to not visit Pakistan, but he did not pay any heed.
When the captain reshuffled the cabinet in June 2019, Sidhu resigned from the cabinet as he was not happy with the ministerial responsibilities of new and renewable energy in the state.
Ever since Sidhu was declared president of the Punjab Pradesh congress committee, the rift between Sidhu and Captain has resurfaced in the public domain. After his elevation as state chief in July, he launched a flurry of attacks on the Punjab CM's pro-development and pro-farmer policies. He challenged Amarinder to scrap the three farm laws and warned him that if he does not do it, other Congress MLAs would do it themselves. In August, Captain Amarinder Singh warned two of Navjot Sidhu's advisors against atrocious & ill-conceived comments on issues like Kashmir and Pakistan. Later, the advisors were sacked by the party. During an event in Amritsar, Sidhu was heard as saying-"if he is not allowed to take decisions, 'he won't spare anyone. "Eent se eent baja dunga".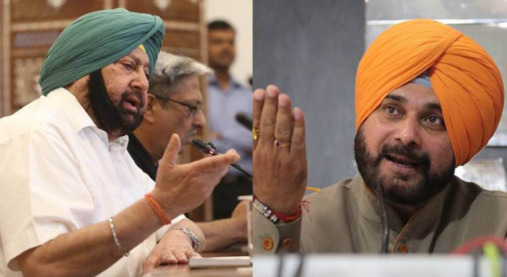 Amarinder- The shining light in tainted Congress
Captain Amarinder Singh has been almost single-handedly carrying the fortunes of Punjab Congress. His government is widely known as 'Party government' in Punjab, rather than 'Maa-bete ki sarkar'. He made some decisive political moves in regards to the welfare of the people. After winning from Patiala seat in 1980 as a congress candidate, he showed no hesitancy in resigning from the party over the Operation Blue Star turbulence. Later his splinter group eventually merged with Congress and he returned as chief minister in 2002 and successfully ran the government for 5 years. He took some decisive measures to tame the pro-Khalistan lobby inside the Congress as well as the state of Punjab. Returning as chief minister in 2017, he made his own mark among the people of Punjab.
In the 2019 general elections, he did not allow Rahul Gandhi to campaign in Punjab, and almost single-handedly won 8 seats for Congress. This was in line with his 2014 general election success, where he defeated BJP's stalwart Arun Jaitley, from Amritsar seat. His strong statements on matters of national security, particularly on Pakistan, have reinforced his 'once-a-soldier-always-a-soldier' persona. He is renowned for his war on drugs, anti-Khalistan and pro-farmers stands. He is widely unpopular in Canada as he does not cater to the demands of the Khalistani lobby active in Justin Trudeau government.
Read more: Justin Trudeau has every reason to be "scared" of Captain Amarinder Singh
The shoddy record of Sidhu
Navjot Singh Sidhu has a history of flip-flops and always had an inconsistent record. After retiring from cricket, he has spent his days shifting between being a commentator, reality show judge, television personality and politician. He first joined BJP in 2004, then shifted to Congress in 2017. In congress too, he was discontent and was always lobbying for the chief minister post. Seemingly, whatever he does, he does it to hog limelight. In spite of Pakistan's terrorism support, he has maintained a close friendship with Imran Khan. In the last few months, he has spent most of his time in supporting the anti-Indian pseudo farmers sitting on 'protest' against the revolutionary pro-farmer laws passed by the Modi government.
Captain has been wary of Sidhu's intentions and has decided to openly call out Sidhu and his anti-national agenda. In an interview, Captain was quoted as saying- "Navjot Singh Sidhu is an incompetent man, he is going to be a disaster. I will oppose his name for the next CM face. He has a connection with Pakistan. It will be a threat to national security…".
Only the future will decide who will be the Chief minister of Punjab after Captain Amarinder Singh. But with his stances on national issues, farmers' interests and with his clear condemnation of Sidhu, Captain has made sure that if Congress goes haywire in choosing the next chief ministerial candidate, it will most likely lose support of many Punjabis.