It is said that a society should not allow the business class to define the morality of the day, as they will bend around any existing social structures to maximize their profiteering agenda. Hindus are currently facing this existential threat. Be it Holi, Diwali, Durgasthami, Rakshabandhan, Bhai Dooj, Mahashivratri or any other multitudes of festivals being celebrated by Hindus, the virtue-signaling NGOs being funded by amoral multi-national companies to sell their products have been using these festivals for their nefarious agendas. This time they have used Bhagwan Ganesha and the Ganesh Chaturthi festival for it.
Also read: Bash Navratri and Ganesh Chaturthi, extol Eid and Bakrid – this film website's 'sickularism' will turn your stomach
Also read: 'Holi is rape culture,' vicious Anti-Hindu propaganda machinery is working overtime to paint Holi as a criminal festival
Activism going Haywire
An NGO named 'Anivarya', founded and run by an Indore-based author called Ankit Bagdi, has used Ganesh Idol to spread awareness about menstrual hygiene in Madhya Pradesh. In a clear attempt at virtue-signaling, the NGO has established a statue of Bhagwan Ganesha holding Sanitary Napkin, inside their office, as seen in the image below. Thankfully, they did not tinker with the murtis of devis Riddhi and Siddhi and both are sitting just beside Bhagwan Ganesha according to the custom. The photo was shared by an Instagram page named India Times, claiming that the NGO named Anivarya wanted to portray Bhagwan Ganesha as a 'responsible husband promoting menstrual hygiene'.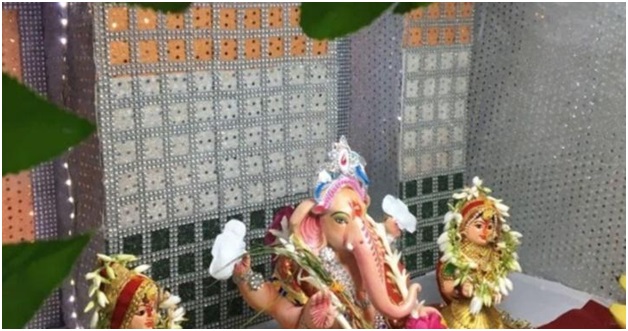 As soon as the image went online on Instagram, Hindus slammed the NGO for their thoughtless and tasteless propaganda. Commenting on the post, a female user going by the username 'okayrchii' wrote- "Spreading awareness on hygiene is one thing and literally sticking out pad's in God's idol is another".  Another user 'Jagrutikhanna' wrote "This is stupidity, there are far better ways to stop awareness" and a lady 'vaishnavivaity1516' called out the NGO for its disrespect towards Bhagwan Ganesha. 'Kavita_Sharma' challenged the NGO to do this kind of stunt on the Muslim Community when she wrote- "All kinds of awareness for feminism or what so ever they will try to show through Hindu Gods only..Kisi din Hari Chadar walo ki jagah ye napkin chadha kr awareness btao, (Someday , put these napkins in front of Green sheet holders and tell them about the awareness)."
Also read: Red Label Ganesh Chaturthi Ad makes Hindus look like Racist fools AND helps HUL deflect financial wrongdoing news
At the time of writing, more than 1000 comments were made criticising the vile agenda. Seeing the 'trade wind' blowing against this propaganda-fueled idea, the NGO removed the statue and apologised.
The founder Ankit Bagdi said- "We have the utmost respect for the Hindu religion and its beliefs. Our campaign wasn't aimed at hurting anyone's feelings or sentiments. On behalf of our organisation, we tender an unconditional apology for inadvertently hurting the sentiments of the public in general. Our volunteers have removed the objectionable items from the tableau".
Why only Hindu Festivals?
This is not the first time a Hindu festival has been used by NGOs to further their agendas. Festivals like Karwa-Chauth, Teej, Raksha Bandhan, Bhai-Dooj have been becoming 'tools to oppress women' for the NGOs and profit-seeking companies, while the festival of Holi becomes a tool to save water and further their 'climate-catastrophe agenda' for the multinational companies. Similarly, celebrities and companies 'lecture' Hindus every year about noise pollution when it comes to celebrating Diwali, but when it comes to their own marriages or new-year celebrations, they do not miss a beat in bursting expensive and highly corrosive crackers.
Also read: Bhogi Bashing and Selective Shaming of Hindu Festivals
While raising the awareness of menstrual hygiene is important, why must it be done at the cost of hurting religious sentiments? Seldom do 'celebrities' give an animal protection lecture on eating Turkey on the eve of Christmas. PETA does not raise any question about the slaughtering of Goats by Muslims on Bakrid. Recently Taliban banned Afghan female sportspersons citing it to be against Quran – no one has dared to post a picture of Prophet Mohammad holding Bat or Football in his hand.
Also read: An abominable act in a Hindu Minority state, Bhagwan Ganesha idol removed from NIT Meghalaya
There are countless ways to spread menstrual hygiene's awareness. Why don't these NGOs focus on those efficient methods, rather than targeting almost every Hindu festival in an attempt to further agendas? Despite multiple requests to leave Hindu festivals alone, the anti-Hindu organizations continue to relentlessly peddle their hatred through hurtful and unwarranted targeted campaigns.