In a country of 1.4 billion people, Narendra Modi has emerged as a leader who has perhaps set a record when it comes to popularity and winning the trust of the public. Prime Minister Narendra Modi's approval ratings are soaring, and Indians have once again shown the world how they are led by a man who they have complete faith in. As long as India is led by someone like Narendra Modi, the people of this country have nothing to fear, and can, rest assured, live a life of peace, prosperity and pride. At a time when the approval ratings of leaders across the world are plummeting due to a variety of reasons, Narendra Modi stands tall as an exception. 
Prime Minister Narendra Modi has an approval rating of 70 per cent, the highest among 13 global leaders polled in the survey conducted by The Morning Consult. Prime Minister Narendra Modi also has the lowest disapproval rating. Of the adults surveyed in India, 25 per cent disapproved of him. PM Modi is ahead of all major world leaders, like US President Joe Biden, Mexican President Andres Manuel Lopez Obrador, Italian Prime Minister Mario Draghi, German Chancellor Angela Merkel, Australian PM Scott Morrison, Canada PM Trudeau, UK Prime Minister Boris Johnson and others. 
Global Leader Approval: Among All Adults https://t.co/dQsNxouZWb

Modi: 70%
López Obrador: 64%
Draghi: 63%
Merkel: 52%
Biden: 48%
Morrison: 48%
Trudeau: 45%
Johnson: 41%
Bolsonaro: 39%
Moon: 38%
Sánchez: 35%
Macron: 34%
Suga: 25%

*Updated 9/2/21 pic.twitter.com/oMhOH3GLqY

— Morning Consult (@MorningConsult) September 4, 2021
PM Modi Going Strong Despite National and International Propaganda
Prime Minister Narendra Modi and his government are subjected to propaganda of tremendous magnitudes. PM Modi's government is marketed around the world by India's opposition, media and vested interest groups as anti-minority in general, and anti-Muslim in particular. Additionally, the Modi government is accused of being at the forefront of taking policy decisions that squarely benefit the country's big industrialists and corporate houses, while ignoring the welfare of common citizens. 
At an international level, Narendra Modi is still projected as a man who was involved in the 2002 riots in Gujarat, initiated by a frenzied Islamist mob setting fire to train coaches at Godhra carrying Hindu devotees. At the forefront of propaganda against the Modi government are American media outlets like the Washington Post, New York Times, CNN and other global publications like Al Jazeera. 
Domestically, India's opposition parties do not shy away from making use of 'toolkits' to try and pin down PM Modi and his government. Despite facing attacks from enemies of India from all corners, Prime Minister Narendra Modi's likability has not been affected a tad bit. Instead, his popularity is only growing. People are increasingly approving of PM Modi's leadership. Attacks on him are in fact, contributing to people trusting him even more. 
A Safer India
Prime Minister Narendra Modi has created a safer India. Today, India is safe from both external and internal threats. Pakistan and China are India's two regional and immediate enemies, and under Prime Minister Narendra Modi's leadership, both of them have been given jaw breaking responses from time to time. Whether it be the Surgical Strike and Air Strike against Pakistan and a campaign to internationally isolate Islamabad, or whether it be dealing with China with an iron fist throughout 2020 –under PM Modi, India has made it known that it is not to be messed with. 
India is also getting safe from Covid-19. India is administering a high number of Covid-19 vaccine doses every day, and this will eventually lead to the country being able to breathe a sigh of relief. So far, India has on two occasions administered over 1 crore vaccine doses in a single day. In August, India administered more vaccine doses than all G7 nations put together. Apart from vaccinations, the Modi government is also making all necessary preparations to deal with the third wave of Covid-19 infections, if and when it comes.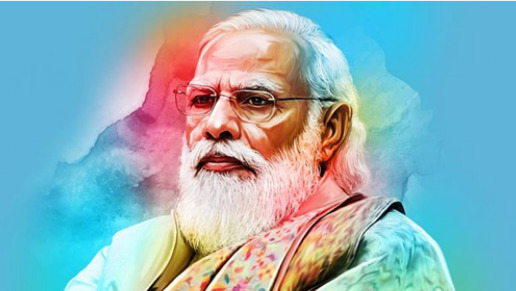 Internally, Prime Minister Modi has ensured that Jammu and Kashmir no longer remains a hotbed of terrorism. A comprehensive peace has been established in the country's north-eastern region, and as far as Naxals and far-left extremists are concerned, they too are being made to regret ever picking up arms against the Indian state. 
A Prosperous India
PM Modi is ushering in a wave of reforms that no previous government has dared to execute. This in turn is propelling a speedy rebound of the Indian economy, which suffered like all other economies around the world due to the Covid-19 induced lockdowns and restrictions. India's gross domestic product (GDP) grew at a record pace of 20.1 per cent in the first quarter of FY22 — the highest-ever GDP growth in a single quarter. 
Thereafter, the GST collection numbers released on Wednesday for August showed a 30 per cent increase from the same month the previous year and, crossed the $1 trillion mark for the second consecutive month. The latest GDP figures and revival of the business activity in India above the pre-pandemic level is a vindication of the efforts and strategy of the Modi government and hopefully, it will put the country on a multi-year double-digit growth trajectory for a prolonged period.
Prime Minister Narendra Modi has also finely balanced the establishment of a Chanakyan economy with major welfare schemes, aimed at providing immediate relief to India's poor. Whether it be providing marginalised and poor Indians with LPG connections, pucca houses, piped water connections, internet connectivity and toilets – the Modi government has touched the lives of crores of people at a personal level. And the same is visible in the approval ratings of the Prime Minister. 
Prime Minister Modi is not only liked by 70 per cent of Indians but he is also revered by a significant chunk of them, for the man has had such a profound impact on their lives. India has earned a global reputation for itself. Today, the world respects India. Our country is no longer seen as a chaotic, corrupt and unsafe piece of land by people across the world. Prime Minister Modi is revitalising India's civilisational ethos. He is correcting historical wrongs and is ensuring Indians lead a life of pride wherever they are.