"History is written by winners" – a reality that shapes the lives of generations of humans. This statement holds true for almost all winners in history. Unfortunately, some heroes have been forgotten by us, owing to the lack of information available in the public domain. The battle of Chawinda, fought in the 1965 Indo-Pak battle, is one such example. Despite being one of the fiercest front-to-front tank battles of modern history, very few defence personnel and history buffs discuss about it.
Background of the Chawinda Battle
Owing to an incompetent leadership and strategic blunders, India had lost a crucial battle with China in 1962, with Jawaharlal Nehru as the Prime Minister.  In an attempt to instigate Kashmiri population against the Indian government, Pakistani forces covertly entered the Indian territory with a false assumption of Kashmiris in India being unhappy with their country.
Battle of Asal Uttar
With more than 250 tanks and 10,000 soldiers, the Pakistani army infiltrated Indian territory and  proceeded towards Khem Karan in Punjab, where their goal was to capture Grand Trunk Road and  block the passage. Their attempt however, was unsuccessful, as the Indian forces imposed a heavy casualties on their Pakistani counterpart, while also destroying their Patton tanks. Due to a large number of destroyed Patton tanks, the site was renamed as 'Patton Nagar'. Paramvir Chakra, Abdul Hameed single-handedly destroyed 7 tanks; he was eventually martyred in battle of Chawinda.
Also read: Pakistan won 1947, 65, 71, 99 and there were no surgical strikes
Sensing Pakistan's small guerilla-warfare-type attacks, the Indian forces developed a counter-attacking strategy, which involved the encirclement of the Pakistani city of Sialkot, forcing the Pakistan to divert some of their troops to Sialkot. This strategy provided a temporary relief to Jammu, by avoiding enemy advancements from Samba (in J&K) and Dera Baba Nanak (in Indian Punjab).
Also read: The victory of Haji Pir Pass – A battle India won on ground, but lost on the table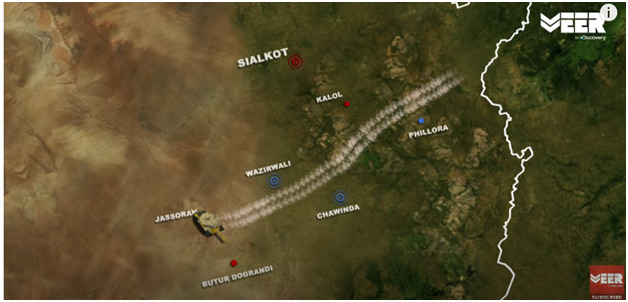 Following this, under the valiant leadership of Mahavir Chakra Major Bhupendra Singh and Colonel M.M Bakshi Of Hodson Horse regiment, who both succumbed to their injuries during the conquest, Phillora was captured by the Indian forces on 11 September 1965.
Battle of Chawinda
After the victory in Phillora, Hodson Horse regiment was then tasked with the responsibility of providing cover for the Poona Horse regiment (led by Lt. Col AB Tarapore), which was facing heavy shellings from Pakistani forces in Wazirwali and Jassoram. Despite being heavily under attack, Col. Tarapore maintained his composure and on September 14 1965, captured both Wazirwali and Jassoram. Heading towards Butur Dograndi to prepare a final attack on Chawinda, Col.  Tarapore, before losing his life, kept providing signals and assistance to the supporting infantry, resulting in the destruction of 60 Patton tanks of Pakistan. He was posthumously awarded Param Vir Chakra, the supreme honour for bravery in India.
Also read: Senior journalist alleges Azam Khan pelted stones at the Indian Army during the 1965 Indo-Pak war
Significance
Following the battle of Chawinda, India got a heavy lead in the 1965 war, leading to a penetration of 518 KM inside of the Sialkot territory, including the towns and villages of Phillora, Deoli, Bajragarhi, Suchetgarh, Pagowal, Chaprar, Muhadpur, and Tilakpur. The battle of Chawinda has been described as the largest tank battle since the World War II tank battle between the USSR and Nazi-Germany.