The Anti-Terrorism Squad (ATS) of Uttar Pradesh busted a terror module on Sunday which was linked to Al-Qaeda after apprehending two terrorists Minhaj Ahmed and Maseeruddin who supported 'Ansar Ghazwatul Hind' and a huge cache of explosives was also recovered from their homes in Lucknow. Media reports quoted that they were planning blasts, including the use of human bombs, at several places in Uttar Pradesh. It is also coming out that many big leaders of BJP were also on their target.
Additional Director General of Police (Law and Order) Prashant Kumar said during a media briefing, that Minhaj and Masiruddin were arrested after ATS commandos surrounded the house on Sunday. The bomb disposal squad was also called to the spot. So far, two pressure-cooker bombs, time bombs and a huge amount of weapons have been recovered in this operation led by IG GK Goswami.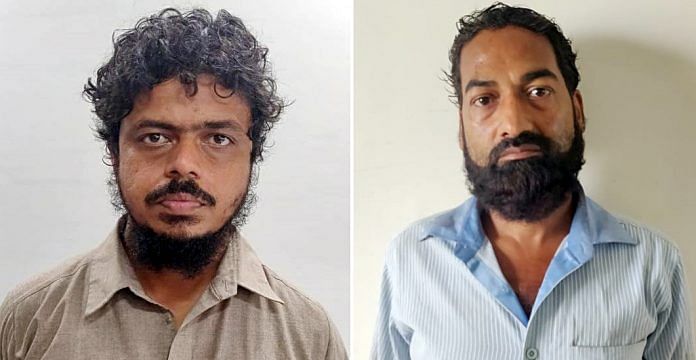 As per reports, the ATS was keeping a watch on the house of a man named Shahid in Lucknow's Kakori area for quite some time, especially because of suspicious activities of a person named Wasim. After confirming the information, the ATS launched an assessment operation. Local police were also present at the spot. During this, the ATS sealed the Kakori area and evacuated the nearby houses.
Shahid is being interrogated by the ATS. He first lived in Malihabad and then moved to Dubai. After returning from there, he started living in the house behind his garage. It is being told that as soon as he entered the house, he burnt many crucial documents and maps. Many other documents have been taken into custody. This raid by ATS created a stir around the neighbourhood. Neighbours say that the alleged terrorist did not speak much to anyone.
Read More: "Give your CM to us", Australian MP is so impressed with Yogi that he wants Yogi's COVID model in his country
Prashant Kumar said, "They were planning to carry out terrorist activities before August 15 (Independence Day) in various cities of the state including Lucknow." Kumar said the two were planning the attack on the instructions of Omar Halmandi, the head of al-Qaeda's Uttar Pradesh module. The third accomplice has been identified as Shakeel. All three were getting instructions from Halmandi to carry out terrorist activities in various cities of Uttar Pradesh including Lucknow before August 15.
Thus, Al Qaeda's massive plans to exterminate BJP leaders before the UP elections had miserable failed but after the capture of two terrorists linked to al-Qaeda in Uttar Pradesh's Lucknow, Bihar Police had sounded an alert in the state on Sunday itself. The UP government and police have performed efficiently in sweeping out the dirt in the form of Islamic terrorists acting as a barrier before the UP elections. Bihar Police's Special Branch and CID said that all sensitive and state border area officers have been asked to remain on high alert.