Has Nusrat Jahan lied about her marriage all this while? Many on social media believe she has. The details of her marriage with Nikhil Jain are so sketchy that many believe she might just be on the edge right now, and in order to prosecute her for potentially lying regarding her marital status will not be a herculean task for parliamentarians. TMC MP Nusrat Jahan did not just become the face of 'secularism' after her marriage with Nikhil Jain in 2019, rather – she became no less than a Hindu.
With an oath-taking in parliament in the name of 'ishwar' while donning a saree, and flaunting a more than visible sindoor – Nusrat Jahan became the face of TMC's pro-Hindu push since 2019. Now, things seem to have gone awfully wrong between Nusrat Jahan and Nikhil Jain. In fact, Nusrat Jahan has openly said that her marriage was never legal. She said her time with Nikhil Jain was more like a "live-in relationship" and not a marriage.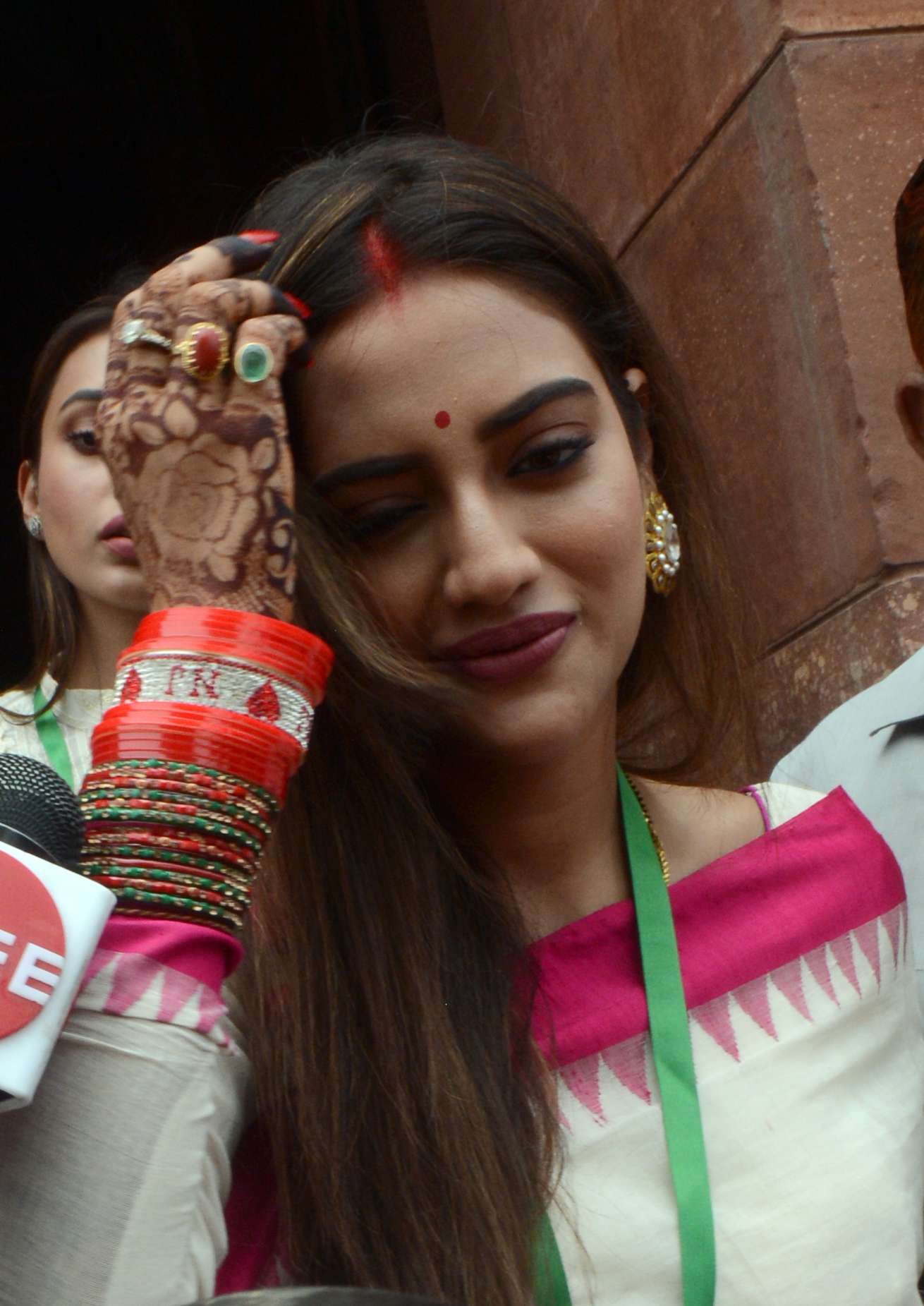 The TMC MP said "Being on foreign land, as per Turkish Marriage Regulation, the ceremony is invalid. Moreover, since it was an interfaith marriage, it requires validation under the Special Marriage Act in India, which did not happen. As per the court of law, it is not a Marriage, but a relationship or a live-in relationship. Thus, the question of divorce does not arise."
That Nusrat Jahan is shying away from a formal annulment of the marriage raises many questions. That she is doing so by no less than claiming that her marriage with Nikhil was never 'legal' and 'valid' in India puts her in an incredibly tough spot. Interestingly, the details of Nusrat Jahan on the Lok Sabha website state that her marital status is married. It says her husband's name is Nikhil Jain, and the date of marriage is recorded as 19 June 2019.
Now, if their marriage was never legal, did the TMC MP falsify information and lie to the Indian parliament? Many on social media also reminded the TMC MP of the tough spot she has put herself in since, during her oath ceremony, she referred to herself as "Nusrat Jahan Ruhi Jain" – in a clear indication that she was associating with her husband's name.
That Nusrat Jahan is claiming her marriage was never 'legal' and 'valid' gives more than sufficient reason for the parliament to hold her in contempt for falsifying information, since she had declared herself to be married in 2019. Even if the issue of religious solemnization is taken into note, the fact that the marriage was solemnized religiously in Turkey does not work in favour of Nusrat Jahan.
Read more: As prophesied by TFI two years back, pretty Hindu bride Nusrat Jahan turns out to be a Mazhabi Muslim planted by PK
The fact remains that Nusrat Jahan being projected as the quintessential Hindu bride, engaging in sindoor khela, taking oath in the name of 'ishwar', wearing bangles were all perhaps a grand exercise in political gimmickry, aimed at helping the TMC win over Hindu voters of West Bengal ahead of the recent assembly polls in the state. The entire fiasco has Prashant Kishor written all over it.
It was no coincidence that Nusrat Jahan's transformation came after Prashant Kishor joined ranks with the TMC post the Ma, Mati, Manush party's poll debacle in 2019. It was two years ago that the reality hit TMC's top leadership – they were losing Hindu votes fast. So, Nusrat Jahan was touted as the face of TMC's campaign to attract Hindu voters. She offered the perfect story – a Muslim practitioner becoming a Hindu bride. Now, she has been exposed.