BJP might have lost the assembly elections in West Bengal but it has managed to leapfrog its tally from measly 3 seats in 2016 to 77 in 2021 – nearly a 2500 per cent increase. Moreover, the party won the all-important Naxalbari seat, which is regarded as the birthplace of the Naxalite movement. With BJP's Anandamay Burman winning the election by polling 139785 votes, roughly 58.1 per cent of the total – the left and Congress have been obliterated in the region.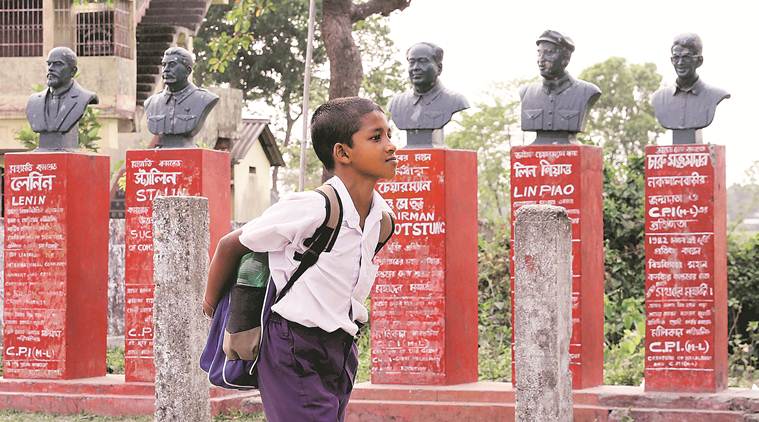 TMC candidate Rajen Sundas took the second spot with 68937 votes while Congress-left candidate Sankar Malakar only managed to pull 23060 votes. It is imperative to note that for a long time, the communists, left parties and later Congress dominated the Naxal region and continued being the impediment in the progress of the region.
In the last assembly election, Malakar had defeated Amar Sinha of Trinamool Congress, whereas, Anandamoi Barman had ended at third place with 21.3 per cent votes. The huge reversal in fortunes speaks volumes about BJP's resurgence in the region.
As reported previously by TFI, almost five decades ago, in 1967, 11 people including two kids were killed in police firing in Naxalbari village. And, this led to the Naxalbari movement under the leadership of Kanu Sanyal, a Darjeeling-born, University of Calcutta educated clerk who left his job to start the Maoist movement in West Bengal.
Read More: Naxalbari is the birthplace of Naxals and it is all set to be swept by the BJP
In the last few decades, RSS has increased its activities manifolds in the Northern and Western regions of West Bengal. Regular RSS Shakhas are held in the villages and the Sangh has even opened Vidyamandir schools in their area. Thanks to the constructive approach of RSS, the people in the Siliguri district started accepting the mainstream politics and the Hindutava ideology is also being embraced.
Today the residents of Naxalbari want jobs, industries, and development, which is why they have thrown out Left-congress, root and square and brought BJP in the power.
The victory in Naxalbari can be seen from the lens of left-party politics in South India where the BJP is still finding its footing. The assembly election results in Kerala and Tamil Nadu might not have turned out to BJP's liking but the way the party is systematically breaking down the hegemony of the left in West Bengal, and earlier Tripura, should send the warning bells ringing.