While the opposition continues to whine about India's progress under the leadership of Prime Minister Narendra Modi, foreign media publications remain optimist. According to a report published in a Saudi daily named Arab News — despite the damage caused by the Covid-19 cases across the nation, India remains the "greatest rising power" on the planet and has a number of fundamental strengths that will make it one of the "most powerful" countries in the world.
"For, despite its real and obvious troubles, there is little doubt that India remains the greatest rising power on the planet. It has a number of fundamental political, economic and demographic strengths that will make it self-evidently one of the most powerful countries in the world." read the column in the newspaper.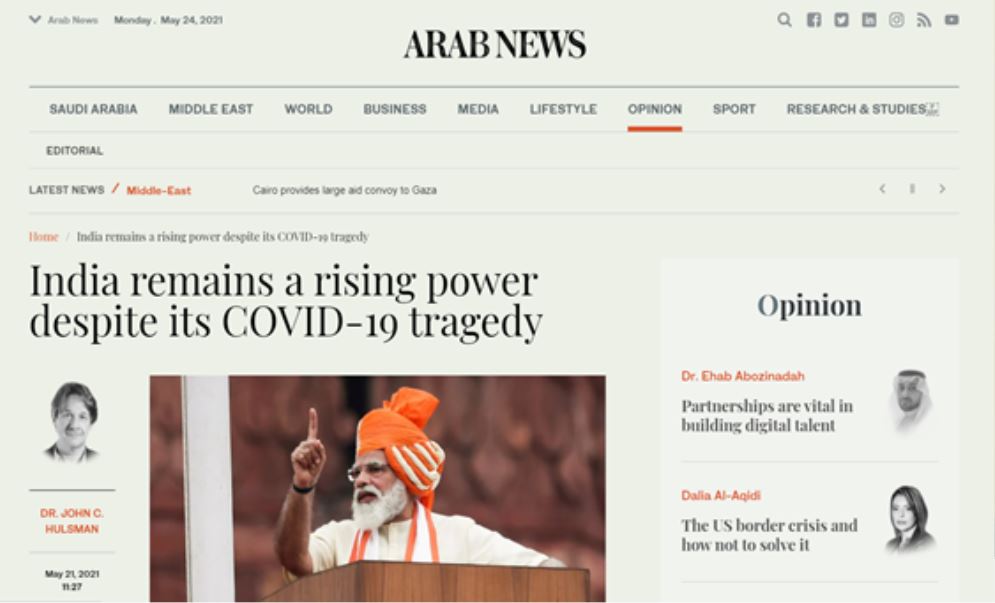 American foreign policy expert Dr John C Hulsman penned the op-ed and talked about the sturdy numbers of Indian economics and how they didn't lie about India's growth story.
"By 2050, it is estimated that India will account for a startling 15 per cent of global gross domestic product (GDP). Coming out of the COVID-19 economic abyss, the subcontinent is set for a golden era of renewed growth," said Dr Hulsaman. He also reminded how the International Monetary Fund estimates India's economy is on course to grow by an impressive 11.5 per cent this year, which is the only major global economy predicted to experience double-digit growth.
Pointing that India was destined for long term political stability, referring to the current NDA regime which looks comfortably set for a couple of other stints, Dr Hulsman iterated that India will continue to rise.
"Long-term political stability and an economic and demographic lift off already in progress make the essentials of India strikingly clear. This is the rising power in today's world — one that will only grow in importance as the years progress." added the foreign policy expert.
Further arguing that in addition to the political stability due to the presence of PM Narendra Modi and BJP, India's demography of young populace will give it the auxiliary advantage.
"Coupled with these political advantages, India's demography affords it a mighty relative advantage. It is projected to surpass China as the world's most populous nation by 2024. Crucially, more than 50 per cent of India's population is below the age of 25 and 65 per cent is under the age of 35," he added.
It is not the first time that a Saudi national daily has praised the Indian government. In April Saudi Gazette, a newspaper based out of the country had praised the Indian government for carrying out various development activities and public welfare initiatives, in the wake of the abrogation of Article 370.