The Zee News investigation team has revealed that two farmers leaders, Balbir Singh Rajewal and Kulwant Singh Sandhu, have been staying in a lavish three-star hotel in Kundli, a district in Haryana. The investigation report surfaced showing that while the poor farmers were protesting in the chilling weather at Delhi Borders, their leaders were living in a three-star hotel, TDI Club Retreat.
Zee news media has managed to gain access to the TDI Club Retreat hotel bills which proves the fact that Balbir Singh and Kulwant Singh were staying at a three-star hotel. The hotel bills reveal staggering figures showcasing the lifestyle of these farmers' leaders.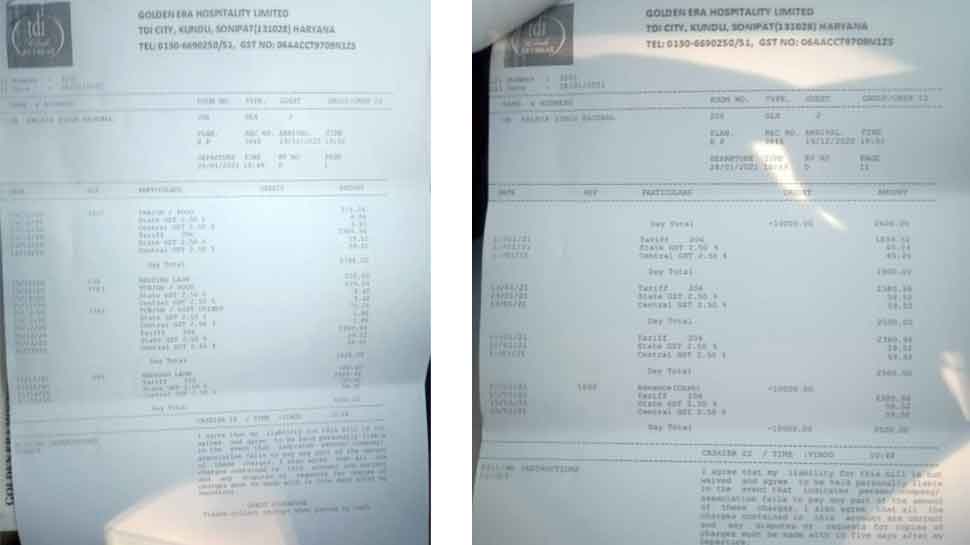 President of Bhartiya Kisan Union, Balbir Singh Rajewal stayed in a three hotel from December 12, 2020, to March 3, 2021. Currently, Rajewal is staying in another three-star hotel named TDI Club Retreat.
Read More- "If BJP loses Bengal, it will be our victory", Tikait finally explains the ultimate motive of the so-called farmers' protests
The bills from TDI CLUB Retreat Hotel exposed a whopping amount of more than 1 lakh 30 thousand spent on hotel bills from December 12, 2020, to January 28, 2021. The bill included breakfast and laundry expenses. The daily cost of the room is Rs 2500.
According to an estimation by the expenditure till January 28, by now, Rajewal's hotel stay cost should have reached up to around 2 lakh 40 thousand.
Kulwant Singh Sandhu, another farm leader, who is also the general secretary of Jamuhari Kisan Sabha, Punjab, is staying with his son Dosanjh in room number 201 in the same TDI CLUB Retreat along with Rajewal. The duo farmers' leaders have been staying in a three-star hotel since December 2020.
The investigation report also revealed that Kulwant Singh Sandhu's lodging in the hotel is free of cost, even food and drinks are also free, owing to Ravindra Taneja, one of the owners of the three-star hotel.
According to the reports by Zee News, Taneja is accused in a land scam case in Manesar, Gurugram. According to a charge sheet, filed by ED in the Panchkula Special Court, in 2020, Ravindra Taneja and 13 other builders had skimmed Rs 1500 crores.
Tfi reported divulging details, that the farmers' leaders are rich landowners. Rakesh Tikait, one of the most prominent faces of the Delhi siege by farmers' is the owner of many big establishments such as petrol pumps, showrooms, brick kilns and has assets worth Rs. 80 crores. His list of properties spreads over four states and 13 cities. Tikait holds assets in Delhi, Noida, Muzaffarnagar, Lakhimpur Kheri, Dehradun, Mumbai, and many more.
We reported a great deal about how these farmers' protest, right from start, got hijacked by Khalistanis living abroad and was taken over by rich farmers' leaders who are commanding the poor naive farmers'. Yet, it's not very late for the farmers to smell the coffee and distance themselves from the farm landowners because they are not even farmers.