In a recent sensational incident, the Income Tax (IT) Department raided the premises of actress Taapsee Pannu, filmmaker Anurag Kashyap and the members of his former production company 'Phantom Entertainment'. According to sources from the same, the search and survey operations have revealed financial irregularities, tuning to an amount somewhere between 350 – 650 crore rupees. However, in their pursuit, the Income Tax Department may have just scratched the surface, because Bollywood is as synonymous with money laundering as the sunrise to the East.
According to the IT Department spokesperson, Surabhi Ahluwalia, numerous search and survey operations were launched on the 3rd of March at various locations in Mumbai, Pune, Delhi and Hyderabad. To quote the official statement, "The Income Tax Department is carrying out search and survey operations, which started on 03.03.2021 on two leading film production companies, a leading actress and two Talent Management Companies located in Mumbai. The search operations are being carried out at Mumbai, Delhi, Pune and Hyderabad."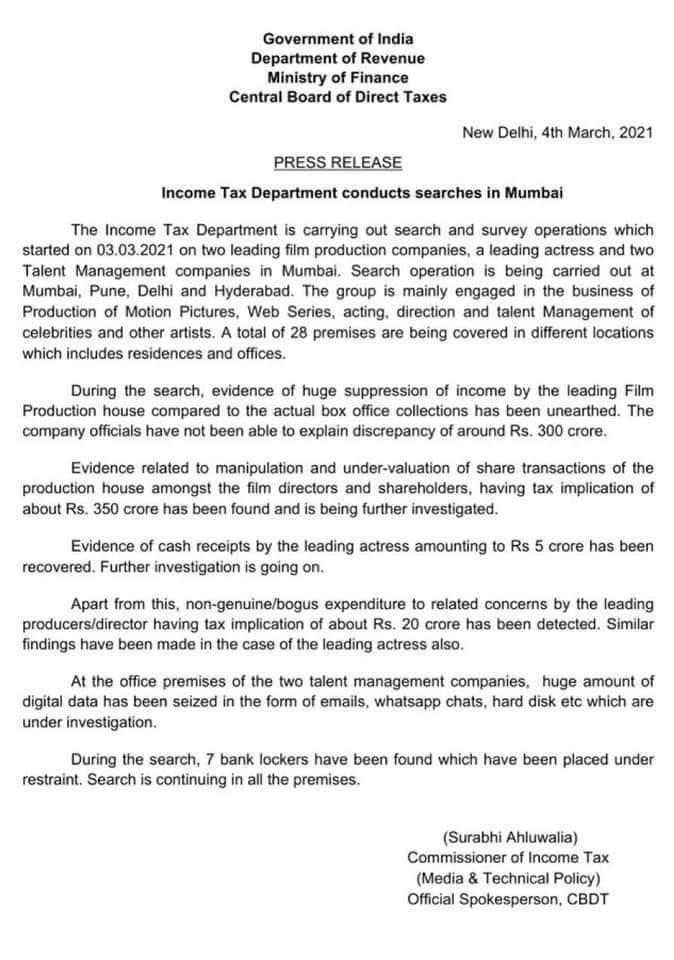 During the IT raids, numerous financial irregularities have come to the fore, which include share manipulations and other irregularities amounting up to unaccounted transactions worth 300 crore rupees, which the said company officials haven't been able to explain satisfactorily to the authorities. Apart from the same, other financial irregularities amounting to Rs. 350 crores, unaccounted cash receipts amounting to Rs. 5 crores and alleged tax fraud amounting to Rs. 20 crores have been detected as well, about which TFI had earlier covered in their previous report as well.
Now, these are some serious offences, for which the likes of Taapsee Pannu and Anurag Kashyap can face rigorous imprisonment as well. However, has this occurred for the first time in Bollywood? Not really, because some way or the other, Bollywood has turned out to be a haven for the corrupt money launderers. The investigation by the Income Tax Department may further reveal those shady sources from which Bollywood gets its funding and became a heaven for those who dealt in black money.
An investigative report by The Hindu, released some five years ago, threw light on the same. According to this report, "It is no secret that the Income Tax Department keeps a watch on Bollywood producers, distributors, and actors, but a recent report has detailed how exactly people behind the glitzy world of the silver screen avoid taxes with dodgy dealings through hawala and hot-money routes. The first-of-its-kind IT analysis establishes major evasion practices such as suppression of receipts from movies, using ancillary sources, inflation of expenses and a huge number of out-of-books payments/receipts, all a "well-established practice rampant in Bombay film industry."
Now there is no doubt as to how Bollywood is synonymous with shady dealings, right from the time when the underworld used to call the shots. But how did Bollywood give a free pass to money laundering? Did such incidents happen before as well?
To quote an extract from The Hindu's report, "The IT Act, 1961 provides for different sections and rules to impose tax on revenue sources of the industry. Sections 44AA, 44AB, and 285-B, Rules 9A and 9B for producers and distributors respectively, and the TDS provisions of Sections 192, 194 C and 194 J are also to be used when making payments to/for actors, directors, editors, special effects experts, logistics contractors, and recording and dubbing studios, among others. The report finds significant funding from hawala and hot-money routes, portending a grave threat to tax mobilisation, and even to general law and order."
Interestingly, the dark side of Bollywood was once revealed in 2011, when a leaked cable released by Wikileaks spoke about the film industry's underworld connections, and that "it welcomed funds from gangsters and politicians looking for ways to launder their illegal gains. 'Adding icing on the cake' was a sensational sting operation by a news website Cobrapost in 2012, which had caught leading producers and directors allegedly admitting on camera regarding how the industry is being used to convert "black" money into "white".
To quote The Hindu's observation by the same, "In 2012, a sting operation by news website Cobrapost had caught leading producers and directors allegedly admitting on camera how the industry is being used to convert "black" money into "white". The core issue is really of financing: unless a 'star' signs the film, banks stay away from funding. Funding in an ad hoc manner, from property dealers and other business sources, leaves clear room for grey transactions carried out of books, says Jagdish, a sought-after production assistant."
Now, coincidentally, it was in this very sting operation that director Anubhav Sinha, who is known these days for his acerbic anti-Modi, sometimes anti-Indian posts on social media, allegedly agreed to launder money. Until now, nobody had taken the initiative seriously, but now that the Income Tax authorities have launched a thorough investigation, it won't only be the likes of Anurag Kashyap and Taapsee Pannu, who will have to face action for their dirty tricks behind the camera.