The fake farmers' protests have been exposed in India as a violent campaign to destabilise the democratically elected Modi government and effectuate chaos and anarchy across the country. Indians have begun seeing right through the motivations of the fake and anarchial demonstrations, which is why some vested interest groups have now turned to international influencers and celebrities for help in furthering anti-India vitriol. Social media platforms such as Instagram and Twitter are now being used as mediums to have global celebrities tweet in support of the fake farmers' protest.
On Instagram, for example, a UK-based account "imjustbait" with roughly 4.7 million followers put out a visibly paid post, calling for readers to join in support of the ongoing farmers' protest. The post also directed viewers to a website kisanekta.com, which shows that the post was an advertorial paid for by vested interest groups looking to besmirch the name of India internationally. "Give farmers a voice," the post concluded by saying.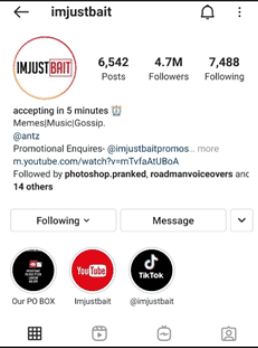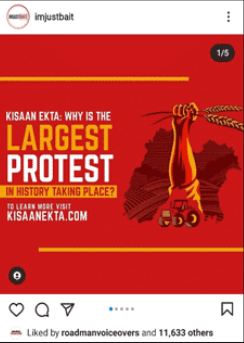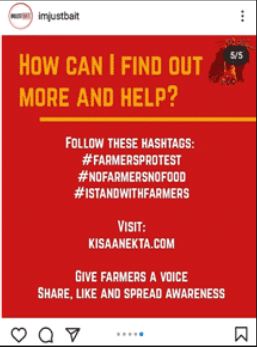 It is very likely that many other pages on Instagram are also engaging in postage of paid content in an attempt to internationally vilify the Modi government for taking "anti-farmers" decisions. Many pages run by diaspora Sikhs in Canada, UK and the U.S. are actively engaging in peddling lies and propaganda about the ongoing farmers' protests. It is very likely that some groups are also filling the pockets of such page admins to publish anti-India content.
On Twitter, meanwhile, a bunch of Hollywood have-beens and stars are actively putting out their two-bits, without even knowing what they are standing in solidarity with. This is a classic repeat of when teenager climate vigilante Greta Thunberg had taken to lecturing India on its usage of coal and its topmost position as one of the largest emitters in the world, despite India having one of the lowest per capita carbon footprints among other countries (140th in the world, compared with the US at 14th and China at 48th).
It was around 9 pm IST when Rihanna, the super popstar whose last album was released five years ago – showing just how flourishing a career she has been having of late, took to tweeting in support of the fake farmers. Sharing a CNN report, Rihanna remarked, "Why aren't we talking about this?! #FarmersProtest?"
why aren't we talking about this?! #FarmersProtest https://t.co/obmIlXhK9S

— Rihanna (@rihanna) February 2, 2021
What followed was a naked celebration of ignorance, foolishness and illiteracy stamping authority over the deranged levels of wokeness which currently are prevalent not just in India, but across western societies. Wednesday morning, pornstar Mia Khalifa joined the gang of those supporting the fake farmers' protest without even actually knowing what they were protesting against, leave alone having the calibre to debate on the merits and supposed demerits of the reforms in question.
What in the human rights violations is going on?! They cut the internet around New Delhi?! #FarmersProtest pic.twitter.com/a5ml1P2ikU

— Mia K. (Adri Stan Account) (@miakhalifa) February 3, 2021
"Paid actors," huh? Quite the casting director, I hope they're not overlooked during awards season. I stand with the farmers. #FarmersProtest pic.twitter.com/moONj03tN0

— Mia K. (Adri Stan Account) (@miakhalifa) February 3, 2021
Apart from the two women mentioned above, social media airwaves around the world are now replete with illiterate and ignorant influencers and celebrities tweeting mindlessly in support of the farmers' protest. The tweets, of course, are usually being restricted to one-liners, as anything above that would require basic knowledge about the issue.
Tweet with #FarmersProtest
Support the Farmers in India now

— Vanessa Nakate (@vanessa_vash) February 2, 2021
Modi and I are actually quite similar.

Without our legions of millions of deluded bhakts, neither of us would have any power.#FarmersProtest

— God (@TheTweetOfGod) February 2, 2021
We stand in solidarity with the #FarmersProtest in India.
https://t.co/tqvR0oHgo0

— Greta Thunberg (@GretaThunberg) February 2, 2021
It is important that the international community stand in solidarity with the #FarmersProtest!#IStandWithFarmers — please support the #FarmersProstests in India 🇮🇳! @LicypriyaK https://t.co/gNU3Ga2quO

— Jamie Margolin (@Jamie_Margolin) February 2, 2021
Yes! Thank you so much @rihanna. This is a humanity issue! #IStandWithFarmers and this narrative is TIRED. ❤️ https://t.co/H0h5EM7mNW

— Lilly // #LateWithLilly (@Lilly) February 2, 2021
The government of India's Prime Minister Modi is presiding over a dangerous regression in free speech rights in pursuit of its Hindu nationalist agenda. https://t.co/Xevp0LgiKS #FarmersProtest pic.twitter.com/joQVCFqXGr

— Human Rights Watch (@hrw) February 2, 2021
Yet, what is indeed scary is that vested interest groups can afford such a well-oiled international celebrity machinery tweeting in favour of the fake farmers camping on the borders of Delhi, who, as a matter of fact, ran a free riot across the Indian national capital on January 26. Did these morons care to talk about the brutalities inflicted upon Delhi Police by the agitators? Of course not. They were not paid to speak about such brutalities.