A good number of journalists who were among the powerbrokers during the 10 years of the UPA government and enjoyed more influence on decision making that some of the senior ministers, made their career in 2002. The list includes Sagarika Ghose, Karan Thapar, Siddharth Vardarajan and many other names, but on top of that list will always be Rajdeep Sardesai. The left-liberal media establishment, led by people like Rajdeep Sardesai, manufactured many "facts" out of thin air and tried to blame the then CM, Narendra Modi for it.
However, at that time there was no social media or new-age digital media that would have exposed the lies peddled by the people like Sardesai with facts. But, Mr Sardesai is a habitual offender and tried to peddle his agenda during the fake farmers' attack on Delhi, and got exposed in the process by social media.
In order to paint Delhi Police in a bad light, Sardesai tweeted, "One person, 45-year-old Navneet killed allegedly in police firing at ITO. Farmers tell me: the 'sacrifice' will not go in vain."
He tweeted the above tweet with the hashtag of "ground zero", trying to indicate that he was present at the incident and saw the Delhi Police shooting at the farmer with naked eyes.
Padma awardee shri @sardesairajdeep 🙏 pic.twitter.com/mKJ8IFiZhJ

— Doctor Wait (@drpratiksha1) January 26, 2021
However, later many social media handles, media reports including one by India Today for which Sardesai works, and many other media houses reported that the farmer died because the tractor overturned and crashed, with video evidence.
Rajdeep Sardesai deleted the tweet later, but in the era of social media one can hide nothing, and the people take the screenshots of the fake news peddlers like Sardesai instantly. Given below is the screenshot of Sardesai's tweet.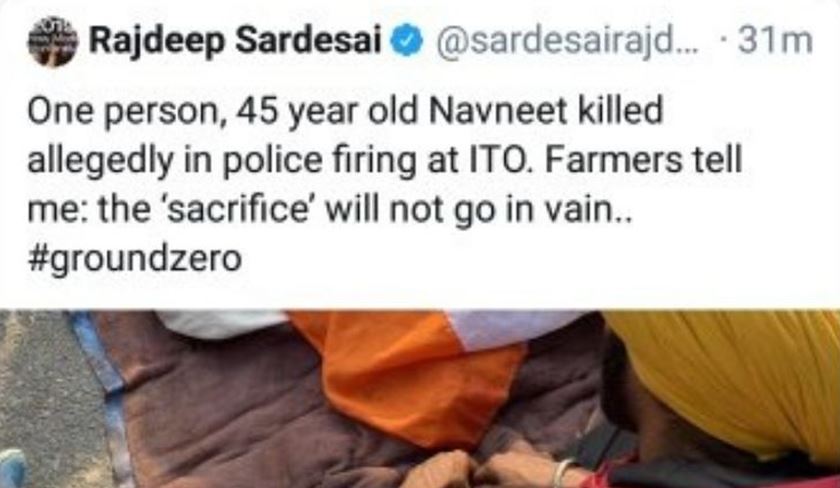 After the video evidence that the farmer was not killed by Delhi Police but due to his stupidity surfaced, Rajdeep shamelessly blamed it all on farmers and did not even apologize. Moreover, he even said that a post-mortem report is awaited, despite very clear video-proof that the death of the farmer has nothing to do with Delhi Police. Rajdeep Sardesai should be taken action against by the Delhi Police for instigating riots and spreading fake news.
While the farm protestors claim that the deceased Navneet Singh was shot at by Delhi police while on a tractor, this video clearly shows that the tractor overturned while trying to break the police barricades. The farm protestors allegations don't stand. Post mortem awaited.👇 pic.twitter.com/JnuU05psgR

— Rajdeep Sardesai (@sardesairajdeep) January 26, 2021
Although Rajdeep Sardesai deleted the tweet later, he did not apologize for it. Moreover, he said the same- that Delhi Police killed a farmer- on national television, and that can never be reversed, unlike his deleted tweet.
This is not the first that Rajdeep Sardesai has peddled fake news. Just one day before the fake news on farmer's death, Rajdeep, along with many of his colleagues from liberal intelligentsia- Sagarika Ghosh, Swati Chaturvedi, Gaurav Pandhi- claimed that the portrait of Netaji, unveiled by the President of India, was of actors who played the role of Netaji. However, later it turned out that the portrait was of Netaji, but Sardesai did not apologize for spreading fake news and even asked for the government's clarification.
If journalists like Rajdeep Sardesai are audacious enough to peddle propaganda and spread fake news in the era of social media and do not apologize for it, imagine how they would have manufactured "facts" during the Gujarat riots.
2002 Gujarat riots had all the ingredients for a successful media story (which goes on till date), a Hindu Nationalist CM, a prosperous state, a resurgent BJP and of course a communal riot that led to widespread violence and killings. Rajdeep was gripped by an insatiable urge to pin the blame on the then Gujarat CM and current Prime Minister Shri Narendra Modi.