The Nepalese government has chosen China over India, at a time when the two Asian giants are locked in a military stand-off. Within India, people are wondering what caused the sudden shift of sentiment with its cultural ally, Nepal.
At the centre of the changing dynamics is Hou Yanqi, China's 50-year old Ambassador to Nepal. On the face of it, she looks like a harmless and innocuous social media star. She tweets some charming photos of Nepal. The Chinese State media calls her social media post "stunning". Yanqi herself is described as a "formidable brand ambassador" of Nepal.
At an event organised by the Chinese Embassy on International Women's Day, she was also seen dancing on a popular Nepalese song, If only I could fly like a bird under the wide-open sky! She was wearing a traditional Nepalese lehnga-choli on the occasion.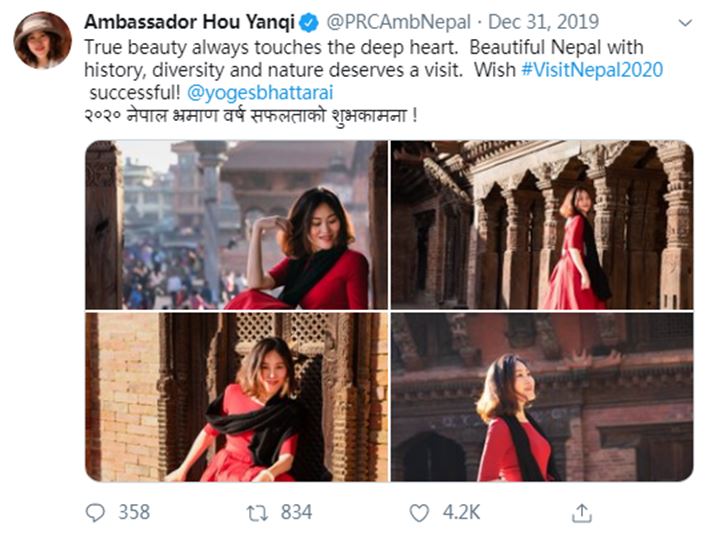 Nepalese citizens too have no qualms in confessing that they are overawed by the good-looking wolf-warrior of China.
However, she has gone way beyond just being a benign, good-looking diplomat in Nepal. She has become an overwhelming influence in Nepal- deciding the internal affairs of the ruling Nepal Communist Party, influencing Kathmandu's foreign relations and gagging leading Nepalese media outlets.
Hou Yanqi is the architect of Nepal's revised political map and imaginary border disputes with India. According to intelligence sources in New Delhi, she is a frequent guest at Nepal PM KP Sharma Oli's office and official residence. Nepal is her first Ambassador-level assignment and earlier she was stationed as a diplomat in Pakistan.
But she went far beyond the limits of an Ambassador way back in May itself. There were fissures within the ruling Nepal Communist Party, and KP Sharma Oli was about to get unseated.
But Hou Yanqi jumped in to save the day for Oli. She held a series of meetings with the Prime Minister and former Prime Ministers– Nepal Communist Party Chief (NCP) chair Pushpa Kamal Dhal and senior party leader Madhav Kumar Nepal- both of whom have been at loggerheads with the incumbent Prime Minister.
No Ambassador intrudes into the internal matters of a ruling party as deeply and as brazenly as Hou Yanqi interferes with the affairs of the Nepal Communist Party.
KP Sharma Oli and China share a serious bond. Oli is seriously compromised and Chinese President Xi Jinping has bet heavily on him.
Thus, in order to strengthen Oli's position, Yanqi masterminded the revision of Nepal's political map claiming Indian territories of Lipulekh, Limpiyadhura, and Kalapani. A Nepal Communist Party delegation that was involved in drafting the amended political map showing Indian territories in Nepal was also in touch with the Chinese Ambassador.
The Chinese Embassy also entertained the youth wing of the Communist Party of Nepal, and due to such backdoor efforts, the youth leaders held protests at the Indo-Nepal border near the Pithoragarh district of Uttarakhand. KP Sharma Oli was whipping up anti-India sentiment in the Himalayan country, but it was Yanqi who was pulling the strings.
Oli might be the Prime Minister of the landlocked country, but it is Hou Yanqi who currently seems to be the most influential person in Kathmandu. Her influence in Nepal is dangerously intrusive and unparalleled across all diplomatic missions in the world.
Now, Oli is in trouble again and the impressive Chinese Ambassador has come to the 68-year old's rescue all over again. Nepal's Prime Minister has been alleging that India is trying to topple his government.
He is also playing the China card saying that in 2016 too he was ousted due to an external plot. He remarked, "I clearly remember that I was toppled when I signed transit agreement with China."
Hou Yanqi and Oli are on the same page. She again met and counselled a number of Nepal Communist Party leaders including PM Oli himself and his adversary, Prachanda as well as some other leaders. All her meetings are based on a single agenda- "Party must not break, doesn't matter whoever the PM, removing Oli will send signals Indian won."
Hou Yanqi, Chinese Ambassador to Nepal may have saved the day for Communist party of Nepal & PM KP Sharma Oli for now. She met Oli last night, Prachanda & other leaders today & said"Party must not break, doesn't matter whoever the PM removing Oli will send signals Indian won" pic.twitter.com/nlMVQyiiiv

— Sanjay Bragta (@SanjayBragta) July 1, 2020
Hou Yanqi is backing Oli with all her might. At the same time, she is easily downplaying her overarching influence in Nepal by warning that the narrative of 'Nepal acted on the behalf of China harms China-Nepal ties.
What is even more disconcerting is that no one in Nepal, not even the Opposition is flagging the objectionable levels of influence that Yanqi is exercising.
She has penetrated deep into Kathmandu's power corridors, and therefore doesn't face much criticism in going beyond the natural limits of a foreign diplomat.
Not just the Nepalese government, she is mentoring the Nepalese media too. In February, she accused the chief editor of The Kathmandu Post, Anup Kaphle of being biased against China.
Yanqi then tried to gag Nepalese media by saying, Beijing "reserves the right to further action".
What is happening in Nepal is absolutely bizarre. A foreign envoy has taken over Kathmandu and has reduced the Oli government into a puppet regime.