Off late, liberals and the usual suspects belonging to the anti-Hindu brigade have been fantasizing the possibility of not all being well between Prime Minister Modi and Home Minister Amit Shah. Murmurs in Lutyens' ensued after the anti-Hindu riots of Delhi last year, in the aftermath of which liberals thought it best to spread the word that Amit Shah had been sidelined by the Prime Minister.
That imaginative approach having failed, a section of people, in the wake of the COVID-19 pandemic, had more recently been spinning absolutely farcical theories of Amit Shah's health taking a hit, with many even speculating upon his death, or whether he had been diagnosed with some life-threatening disease. Those seen speculating about the health of Home Minister Amit Shah were obviously his detractors, the likes of which included Shahid Siddiqui and Rana Ayyub, known closet Islamists and fake news peddlers.
Does anyone have any news about Amit Shah? Something very unusual or serious has taken place. Govt should come out and tell the Nation where is he?

— shahid siddiqui (@shahid_siddiqui) May 7, 2020
Has anyone seen the Home Minister ? His name is Amit Shah

— Rana Ayyub (@RanaAyyub) May 7, 2020
Reading at the news of Amit shah bone cancer i guess race to hell is on, Advani or Shah leading but this time i want Shah to win .

— BhaktSlayer (@BhaktSlayer8) May 8, 2020
Social media was rife with claims of Amit Shah taking ill due to a life-threatening disease, and many were elated among the liberal and Islamist quarters at the mere thought of it.
Much to their displeasure, however, Home Minister Amit Shah yesterday clarified that he is absolutely hale and hearty, and suffering from no disease whatsoever. He also said that he has been carrying out his duties as the Home Minister without any sense of time, a clear indication that he was healthy.
मेरे स्वास्थ्य की चिंता करने वाले सभी लोगों को मेरा संदेश। pic.twitter.com/F72Xtoqmg9

— Amit Shah (@AmitShah) May 9, 2020
Shah said he chose to ignore the rumours as he was busy fighting the COVID-19 outbreak. He said he went on ignoring these rumours to let certain people "enjoy their imagination". But it is the concern of BJP cadres which forced him to make the clarification, said the Home Minister.
He said according to Hindu faith, such rumours add to one's life. He added that he held no grudge against those who spearheaded the misinformation campaign. He took a subtle dig at them by saying, "I thank you as well", reported IANS.
The concerted misinformation campaign was not restricted to Twitter alone. Vijayalakshmi Nadar, the Bureau Chief of 'The India Observer' a US-based e-paper, can be seen wishing death upon Union Home Minister Amit Shah. In her Facebook post, Nadar said that the lipoma surgery undergone by Shah had taken the shape of a "full-blower cancer." She further hoped that the alleged 'prediction by astrologers' that Shah's ill health condition will continue till October 'ends conclusively', further wishing the Union Home Minister a "hastened death".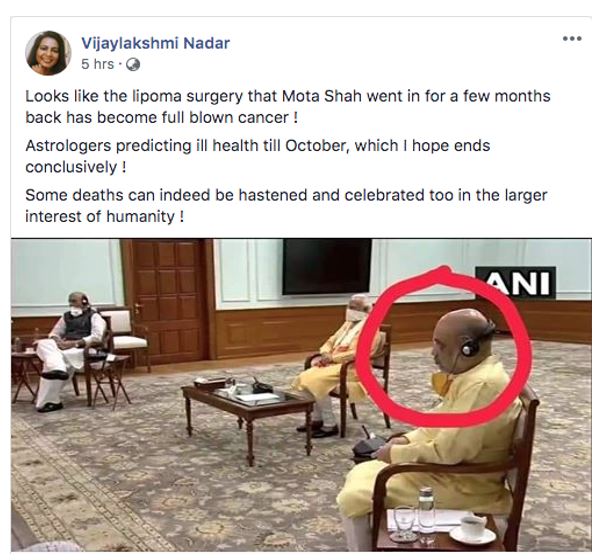 Last month, an alleged 'journalist' and assistant editor at TOI, Samiya Latief was seen speculating over the possibility of PM Modi and Amit Shah being infected with COVID-19 after Gujarat Congress MLA Imran Khedawala had tested positive hours after meeting Chief Minister Vijay Rupani. In a tweet no longer available (she has deactivated her account), Latief gleefully enquired whether Khedawala met PM Modi or Home Minister Amit Shah, thereby implying that they should also meet a coronavirus positive patient who could infect them with the deadly contagion.
Meanwhile, four individuals were arrested in Ahmedabad for spreading rumours regarding Amit Shah's health. Those arrested have been identified as Firoz Khan, Sarfaraz, Sajjad Ali and Shiraz Hussain. 
Amit Shah being absolutely healthy and free of any speculative diseases came as a rather sad shock for many, who would settle for nothing less than seeing the BJP's top leadership being incapacitated.
As a matter of fact, Amit Shah is working tirelessly to ensure India emerges victorious from its fight against COVID-19. Reports suggest that he works from his office way past midnight, and is actually the Prime Minister's trouble-shooter in these times. It is the Union Home Ministry which has been deciding on the intensity of the lockdown, the services that will be allowed with the passage of the ongoing lockdown and further it has also been deliberating upon the exit plan. The Ministry is making all necessary announcements, and the brainchild behind such decisions is, of course, Amit Shah.
Therefore, Amit Shah is very much fit. His reassuring message yesterday has only consolidated his support base, who view him as the man who will get all the big issues sorted out. From UCC, NRC to Population Control and Anti-Conversion Bills, Amit Shah still has a lot to achieve as Home Minister. As such, it is but natural for his detractors to wish him the worst, merely because he is the biggest threat to India's liberals and Hinduphobes.