The left-leaning and agenda-driven open-sourced information website Wikipedia that has a history of peddling anti-Hindu propaganda have once again resorted to vile propaganda that seeks to exonerate the orthodox, revivalist Islamic organisation Tablighi Jamaat for creating a Coronavirus cluster right in the heart of India's National Capital, Delhi that has triggered an acute COVID-19 outbreak throughout the length and breadth of the country. Wikipedia has deleted the page titled, '2020 Tablighi Jamaat Coronavirus Hotspot in Delhi,' despite the event being the most significant reason for the coronavirus outbreak in India.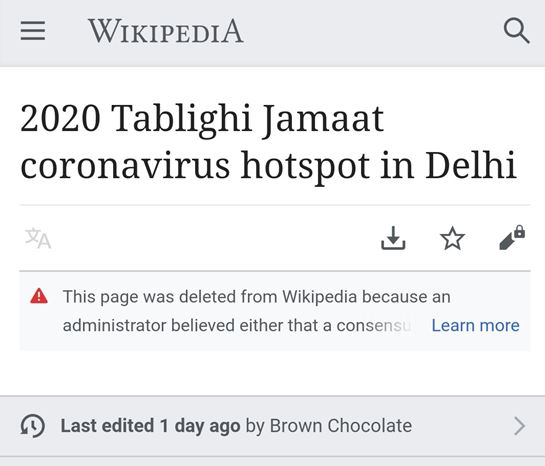 Meanwhile, Wikipedia's shameful coverup has provoked a war of words on Twitter, where the Wikipedia Founder Jimmy Wales has been acting rather condescendingly trying to discredit everyone who is calling out his biases and prejudices.
Wales tweeted that deleting the pages wasn't about "religious sentiments", but "not putting junk into Wikipedia". Not to mention how absurd it is for the Wikipedia Founder to talk about removing "junk" since that would mean that he would have to downsize his own website significantly given the level of "junk" that Wikipedia has as literally anyone can edit its pages, one cannot fathom how casually he is approaching this issue.
I don't recommend that you do that – it is important to join the discussion. In actual fact, the article was incredibly poorly written and has zero sources. https://t.co/W19OXEBwFY

This isn't about religious sentiments, it's about not putting junk into Wikipedia.

— Jimmy Wales (@jimmy_wales) April 16, 2020
Deleting the page might not be about "religious sentiments", but the fundamentalist religious sentiments of the Tablighi Jamaat have, of course, caused a massive Coronavirus disaster in India.
Not just Delhi, but the gathering of 8,000 Islamic preachers at the Alami Markaz Banglewali Masjid in the Nizamuddin area of South Delhi- the global centre for Tablighi Network has caused damage across the country from Kashmir to Tamil Nadu and Arunachal Pradesh to Maharashtra.
There was no Coronavirus outbreak in India, before the Tablighi Jamaat came into picture. 640 out of 700 cases in Telangana, for instance, are associated with the Tablighi Jamaat which means that there would have been no Coronavirus crisis in the state but for the Tablighi fiasco. Telangana's neighbouring state Andhra Pradesh is no exception either, and most of the 572 confirmed COVID-19 cases in the state are related to the Tablighi Jamaat congregation in South Delhi's Nizamuddin.
Majority of the cases in Tamil Nadu are also attributable to single source (read "Tablighi Jamaat"), and as of April 14 itself 1,079 of the 1,267 cases in the state were traced as the attendees of the Tablighi Jamaat congregation in Delhi or their contacts. In Assam too, the Tablighi Jamaat has been the sole cause of the Wuhan virus outbreak with more than 90 per cent of the cases having Tablighi links.
It's high time to call a spade a spade.Can u tell a single good reason why we should not name them? Out of 32 cases in Assam, 31cases are from Tablighi Jamaat .
It's our good luck that we got such a hard working health minister like @himantabiswa sir. https://t.co/Rzd5ItCAnI

— Arpita অর্পিতা (@Arpita_SuklaAS) April 14, 2020
Even in Arunachal Pradesh, the only case that has been recorded till date has been that of a non-Arunachalee who had participated in the Tablighi Jamaat congregation in the Nizamuddin Markaz at Delhi.
A 31 year-old person Non Arunachalee who participated in #TablighiJamaat congregation at #NizamuddinMarkaz has been found positive for #Coronavirua and is first #Covid19 patient.
At present he is asymptomatic & kept in isolation. His condition is stable.

— Pema Khandu (@PemaKhanduBJP) April 2, 2020
In Uttar Pradesh- India's most populous state too, the Tablighi Jamaat has been responsible for 58-60 per cent of the COVID-19 cases in the state, and thus it is another state which wouldn't have been affected by the novel Wuhan virus had there been no Tablighi Jamaat congregation.
But Jimmy Wales is finding all possible excuses to explain why the Tablighi Jamaat hotspots page was deleted. Jimmy says, "Reliable sources for a start.  You have zero references, much less references to quality sources. The fact that this probably belongs as a part of another article (I can't say for sure) would also be a valid question to discuss."
Yes, the Wikipedia Founder actually wants "reliable sources", because he runs one of the most credible "open-sourced websites" in the world. Being as popular as it is, it is used ad verbatim for secondary school projects and assignments all across the world.
With the kind of content that there is, it is utterly ridiculous that Wikipedia should find an article on Tablighi Jamaat unreliable due to lack of "reliable sources" when political leaders, bureaucrats and police officers around the country have corroborated how Tablighi Jamaat has been responsible for spreading Coronavirus across India.
The Wikipedia article that has been deleted itself cites 50 sources- all of them credible news links that corroborate how the Tablighi Jamaat gathering wreaked havoc across several Indian states. But for some reason Jimmy Wales won't "recommend" that. It is not the lack of content, but the sheer truth that he cannot digest.
Over 50 sources and a well written article deleted. Here's for a reference pic.twitter.com/gmrttoSDxY

— Nicki minach (@nickiminachhh) April 17, 2020
Okay y'all. This version completely qualifies for everything @Wikipedia
Requires. Yet it's still deleted.@KapilMishra_IND I need your valuable inputs on this. This page remains deleted even though it has sources cited.https://t.co/nJUGEGZf4k

— Nicki minach (@nickiminachhh) April 17, 2020
Did you look at the article? Please do so and then try to tell me with a straight face that it was quality.

Wikipedia is not about "lefts propaganda" – that's just a slur by people who haven't bothered to actually look into it.

— Jimmy Wales (@jimmy_wales) April 16, 2020
I don't recommend that you do that – it is important to join the discussion. In actual fact, the article was incredibly poorly written and has zero sources. https://t.co/W19OXEBwFY

This isn't about religious sentiments, it's about not putting junk into Wikipedia.

— Jimmy Wales (@jimmy_wales) April 16, 2020
The anonymous Twitter user who goes by the name Nicki Minach, has said that the left has been trying to whitewash Tablighi Jamaat incident and that it was questionable that Jimmy Wales discouraged her from writing the article again despite Wikipedia being an open-source platform. After adding over 50 credible-source links to the article, she still awaits a response from the editors at Wikipedia.
At Wikipedia, misinformation thrives and anything which has Hinduphobia written all over it is taken as "reliable" and "quality" content. Only months ago, there was criminal tampering with the Delhi riots Wikipedia page.
The reportage was indeed unconscionable and Hinduphobic, and it was evident from the first line of the article that the Hindus were vilified as aggressors.
Wikipedia even claimed that most of the victims were Muslims, and source citations for the phrase "most of whom were Muslims" were the New York Times and Washington Post– talk about "reliable sources", Jimmy Wales.
While Kapil Mishra and Hindus were projected as terrorists, Shahrukh Khan and Tahir Hussain were barely mentioned because Jimmy Wales and his most credible website couldn't find sources reliable enough to dissect the role of Tahir Hussain and Shahrukh Khan- the biggest culprits in the Northeast Delhi riots.
But this is not it, Wikipedia has, in fact, been trying to tweak India's history own its pages. Recently, the Hindu community was shamelessly vilified as the ones responsible for the Noakhali genocide in which 5,000 Hindus were killed and another 32,000 forcibly converted to Islam.
But the Wikipedia page had insidiously exchanged the words Hindus and Muslims, and the history of the gut-wrenching genocide was thus turned upside down.
The entire page on the Noakhali Hindu Genocide on Wikipedia has been edited by exchanging the worlds Hindu and Muslim!

I have no words to say how demeanous this is.
officially
5000 Hindus were killed in Noakhali Riots
32000 were converted to Islam

We plead for your help! pic.twitter.com/sdM3YPGbYa

— Stories of Bengali Hindus (@storiesofBHs) April 9, 2020
The story of Coronavirus outbreak in India is incomplete if the trans-national Tablighi Jamaat conference is given a miss. The open-sourced website has only further vindicated its left-leaning, agenda-driven and Hinduphobic tenets with the indefensible deletion of the Tablighi Jamaat page.