We live in a country where criticizing Tablighi Jamaat and its hoodlum members is considered Islamophobia, even when its cult members go on spitting, urinating and engaging in sexually predatory behavior. But all is water under the bridge the moment you talk smack against the Hindus. Of course, the rationale given at the time is freedom of speech and it gives the perpetrator get-out-of-the-jail free card—something that the liberals and the secular media of the country have used extensively in the past. The communal discord that perpetuates after belittling Hindus is indeed a pillar of democracy and reinforces the belief of such elements in our constitution. But change is the only constant and finally, Hindus are waking up to the insults thrown in their way. The Anti-Hindu trolls are now being called out, booked and destroyed all in one go.
Recently, a maniac communist bigot by the name Comrade Arun Nambiar and his repugnant tweets against Hindus emerged where he is seen crossing all limits of sanity and human decency. The Mumbai Police was quick to take action after Twitter users started calling out the mentally deranged Comrade's tweets.  "So I hear Bharta Mata just went down on her knees after Trump unzipped?" The sexually derogatory content of the tweet could not be mistaken and despite the supposed spelling 'error', one of his disgusting tweets read.
Hindu hating Arun Nambiar has been fired for continuously insulting Hindus and India. We will together make every India/Hindu hater unemployable!@Iyervval @iabhinavKhare pic.twitter.com/MMsdAIRXL4

— Vikas Pandey (@MODIfiedVikas) April 12, 2020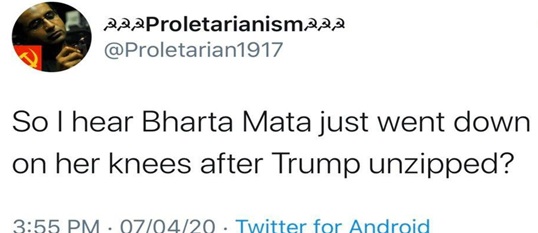 Apart from the derogatory tweet that got him in trouble, he has made several other deeply disturbing tweets that reflect his genocidal hatred for Hindus.
He is not just a Hindu hating big0t. He is much much more than that.
He is a gen0cidal maniac and fully blown anti India psychopath. pic.twitter.com/o1gXWtHkxF

— Save Hindus of Pakistan & Bangladesh. (@LockOmoplata) April 12, 2020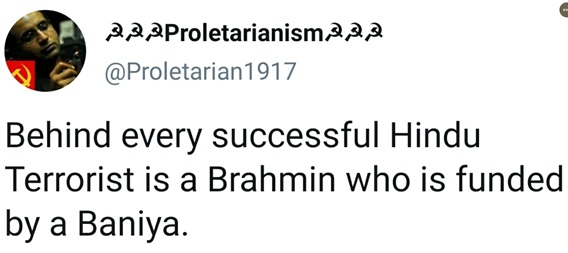 The schizophrenic elements like Nambiar are the ones who tend to flare the communal tensions with their vile and profane words. His plain hatred against Hindus is absolutely wretched and sickening to say the least.
The mantle of saying insensitive and offensive against the Hindus has been conveniently passed from the Lutyens journalists to the modern stand-up comedians. The chic stand-up comedians disguise their hatred in the form of jokes and present it in front of the audience to push their propaganda. In one such instance, a comedian named 'Munawar Faruqui' has been caught in the waters after his irresponsible routine to hurt the Hindu religious sentiments. Faruqui used extremely derisive remarks against Lord Ram and Sita. Subsequently a complaint has been lodged against him with the Mumbai Police.
Filed online complaint with @MumbaiPolice against hate monger @FaruquiMunawar
I request Mumbai Police to file FIR n take strict against Munavar for mocking Sri Ram and Sita Maata@CyberDost @MahaCyber1 @ippatel @TajinderBagga @Aabhas24 @ShefVaidya @AskAnshul @MODIfiedVikas @ pic.twitter.com/52O8AkJP4R

— Ramesh Solanki (@Rajput_Ramesh) April 14, 2020
In his rather cringe-worthy set, Faruqui used lyrics of popular Bollywood scores to mock Lord Rama over his 14 years of exile and portrayed Sita as an insecure wife suspicious of her husband Lord Rama's loyalty towards her.
For those who might say these are just jokes should remember that the Sanatan Dharma is far bigger than the bigots like Farqui who want to tarnish it with their invasive words. But the line needs to be drawn when you mock someone's faith and their beliefs. Imagine the outcry if someone mocked the Prophet in this light and the way media would have latched onto the person—going as far as saying that the Muslims are in danger in the country.
Is this stand up comedy mulle @FaruquiMunawar?

You disgusting son of a …..

This man must be arrested immediately for hurting religious sentiments. Kindly look into it @MumbaiPolice , @Rajput_Ramesh

Pls RT, So that they'll notice. pic.twitter.com/ZmKy9XiuvK

— BALA (@erbmjha) April 15, 2020
Another incident of Hinduphobia has come to light where a girl named Sayantica Chakraborty commented against Lord Ram & Sita on Facebook. The statement is so perverted and anti-HIndu that one cannot imagine the maliciousness and debauchery that goes in the mind of someone who puts such thoughts on a social media platform.
A girl named Sayantica Chakraborty commented against Lord Ram & Sita on Facebook. It's not only about hurting religious sentiments A police complaint is filed against her. She is now also terminated from her job. Here's the termination letter & email screenshot. pic.twitter.com/HltqYPbvsv

— Chayan Chatterjee (@Satyanewshi) April 15, 2020
Defocus Studios where the said girl used to work instantly fired her and recused themselves from the statements of Sayantica.
All these incidents of Hindu-phobia paint a grim picture that the revulsion against the Hindus is indeed a sad reality. The hypocrisy of the media which tends to proclaim itself as neutral and voice of the masses is highlighted in its full glory in such times. After all some of the journalists are the one who started crying foul when Ramayan and Mahabharat started airing on DD again.
We all have known this for a while but the welcome change is the reaction of Hindus who have taken these statements on the chin and in turn retaliated even more ferociously.