Recently, as the apex court pulled up anti-Hindu bigot, Harsh Mander over his venomous and divisive remarks that also tried to delegitimise the Supreme Court of India, there was a massive hue and cry among the left liberals with many of them putting all their weight behind Mander's provocative, shocking remarks.
In this context, there is a need to look at the larger picture- his sketchy past and his involvement with some not-so-laudable organisations. To start with, Harsh Mander was a part of Sonia Gandhi's National Advisory Council (NAC)- a so called advisory body that served as Sonia Gandhi's Super Cabinet during the UPA era thereby impinging upon the sovereignty of India by curtailing the PMO and other elected Executive bodies. NAC was also the one that had drafted and proposed the anti-Hindu Communal Violence Bill during the days of the UPA government.
During his stint at the NAC, Mander was essentially serving as an "advisor" to the Central Government. In this capacity, he along with Aruna Roy and Nikhil Dey had approached the then President Pranab Mukherjee with a mercy plea for 26/11 terrorist Kasab. Not just Kasab, Mander who held a lot of influence during the UPA era owing to his membership in the NAC had also filed mercy pleas to save the Parliament attack mastermind Afzal Guru from the gallows.
Even after his stint with the NAC, he has persisted with such organisations having sinister goals. His George Soros connection, for instance, reveals his involvement with individuals and groups of individuals that want to curb nationalistic sentiment within India.
Soros, an Jewish-American philanthropist hates nationalism and loves to interfere in the internal matters of other countries. During his World Economic Forum (WEF) speech, Soros had dedicated 1 billion US Dollars towards fighting nationalism- investments that might entail sit in protests, roablocks of the kind that we saw in Shaheen Bagh. One of the statesmen he categorically condemned was Prime Minister Modi, thus making it clear that Soros wants to weaken Indian nationalism and PM Modi is his immediate target as a necessary corollary.
Harsh Mander is the Chairman of George Soros' NGO- Open Society Foundation's Human Rights Initiative Advisory Board. Interestingly, during the Shaheen Bagh protests, Mander's NGO Karwana e Mohabbat was at the forefront organising several meetings and events.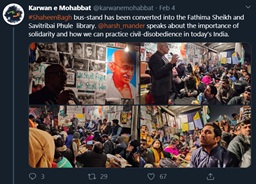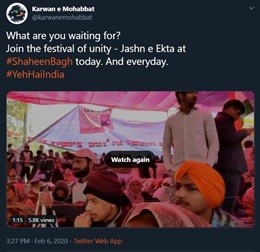 Not just George Soros, Harsh Mander is also linked to the Ara Pacis Initiative (API). He is a member of the API's Council for Dignity, Forgiveness, Justice and Reconciliation. The API was founded by an Italian actress, Maria Nicoletta Gaida. But this is not important there are some other details that make the API and Mander's connection with this organisation rather disconcerting.
The API's website states, "The Ara Pacis Initiative was inaugurated on April 21, 2010 by the Mayor of Rome, with the High Patronage of the President of the Republic of Italy and under the auspices of the Office of the Prime Minister of Italy and the Italian Ministry of Foreign Affairs."
Therefore, there is clear involvement of the Italian state having been inaugurated "under the auspices of the Office of the Prime Minister of Italy and the Italian Ministry of Foreign Affairs." It will not be incorrect to state that the entity is an arm, or at least, an extended arm of the Italian state.
A Reuters story even describes the API as "an organization dedicated to conflict prevention and resolution that is backed by the Italian foreign ministry."
The fact that the API is an arm of the Italian government that is actively used for pursuing foreign policy goals is clear from the "The Sahara Triangle: New Perspectives"- a dialogue organised by the API consisting of 15 leaders coming from Chad, Libya and Niger who signed a joint declaration to "support peace, development and security on their borders and beyond, because "there is no peace without security, there is no security without development, and there is no development without peace," in the presence of the Italian Minister of Interior, Marco Minniti.
According to Foreign Policy, this dialogue which ostensibly supported peace in the region actually involved discussions on uninhibited migration from the conflict ridden region into Italy. Italian Secret Service too is believed to have been involved.
Now, try to see through the veil and understand what Harsh Mander's association with such an organisation means. He is representing the interests of George Soros and even an organisation connected with the Italian Secret Service and government. What does that mean? Doesn't that virtually make him a foreign agent in India?
The West clearly has certain objectives to pursue as far as world's most potent emerging power India is concerned. The businesses and philanthropists in the West do not want to see Indian businesses rise. Something that explains Amazon's discriminatory policies and predatory pricing in India, apart from the vicious narrative pursued by the Washington Post.
The state institutions would not want India to become a dominant military power because that reduces the West's dominance in more ways than one.
In order to achieve both these ends, their primary focus would be to remove any strongmen, nationalists from power. They would like regimes led by pushovers that do not speak up for national interests. George Soros' hate for nationalism and as a necessary corollary, hate for PM Modi is well known. This represents the larger scheme of things.
Harsh Mander sits at the centre of all such activities- fomenting unrest with bigoted speeches, diluting India's state instutions, including the judiciary, with lies and deceits and most importantly using the unrest to tarnish the image of the Modi government.
Billionaries' tools are sold-out media outlets, or in some cases even owned media outlets like Washington Post, and more importantly political events/ showdowns/ protests- something like Shaheen Bagh, for instance, could serve as an effective tool.
This explains why and who has been creating ruckus, social divides and fanning sectarian flames in India, for which Mander has also drawn a lot of fire.
What involvement of individuals like Mander does is to create ecosystems. Therefore, when Harsh Mander drew fire, Yogendra Yadav and Rajdeep Sardesai both came out putting all their weight behind Mander. They wanted to bury whatever revelations were to come out.
Harsh Mander was supposed to silently keep fulfilling his role as a representative of agencies that want to pursue their nefarious goals in India indirectly and invisibly. But with the recent turn of events, he has come to occupy far more spotlight that he was supposed to occupy. This has exposed his tenets as an anti-India, foreign agent completely.