Youtube, the user generated video sharing platform which Google acquired for $1.65 billion in 2006- when it was just one and a half year old, has generated a revenue of $15 billion or 10 per cent of that of Alphabet, the parent company of Google, in the calendar year 2019. The revenue through Youtube grew at 36.5 percent to $15 billion compared to $11.2 billion in 2018, while that of Google search, the core business of the company, grew at only 15 per cent to 98.1 billion dollars.
This is the first time in the last 15 years after 2006, when Google finalized the deal with YouTube, that company has released the revenue from other businesses of Google other than its search engine. In the December quarter, the company posted a total revenue of $46 billion against Wall Street's estimate of $46.9 billion and $5 billion or 12 per cent of this came from Youtube.
The yearly revenues of Youtube are almost 10 times more than the money the Larry Page and Sergey Brin led company spent to acquire it in 2006, when it had a small office with 65 employees. At the time of purchase, the then CEO of Google, called it "the next step in the evolution of the Internet." Today, the user generated content sharing platform has more than 2 billion monthly users who spend 250 million hours each day on average, watching their favorite video content.
In India, the exponential rise in consumption of digital content- backed with the dirt cheap data prices- has brought the TV and Print media industry on its heels. The Indian ad market reached 13.2 billion dollars or 94,000 crore rupees, growing at 10.7 percent from last year, when the ad industry was sized 11.9 billion dollars or 84,917 crore rupees.
The Indian ad market is growing at a double-digit rate compared to the 5 per cent growth in the global advertisement market, and India has become 8th largest ad market. Of the $13.2 billion, $5.1 billion or 44 per cent goes to TV media, $2.61 billion goes to Print media and $3.17 billion or 22 per cent goes to print while 30 per cent or $3.17 billion goes to digital.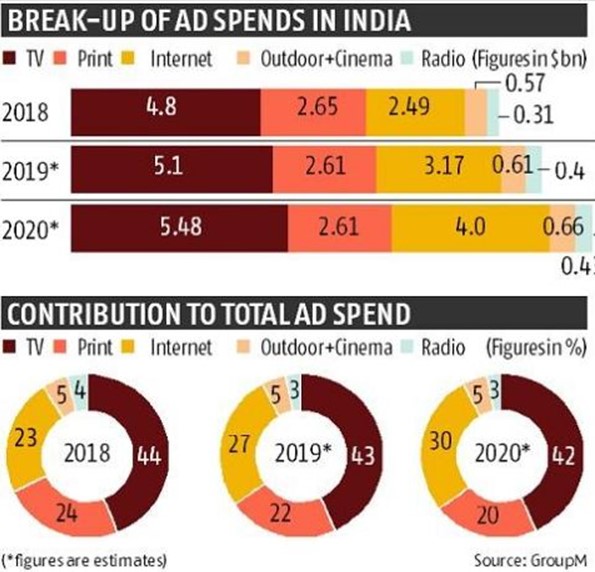 However, what is important here is, the growth of traditional media in contrast with that of digital media. The ad revenue of print media is already in the negative growth territory with $2.65 billion in 2018 to $2.61 billion in 2019. The revenues of TV showed a marginal increase to $2.1 billion in 2019 from 4.8 in 2018. However, the ad revenues of digital media grew at an exponential rate from $2.49 billion in 2018 to $3.17 billion in 2019 and expected to shoot up to $4 billion in 2020.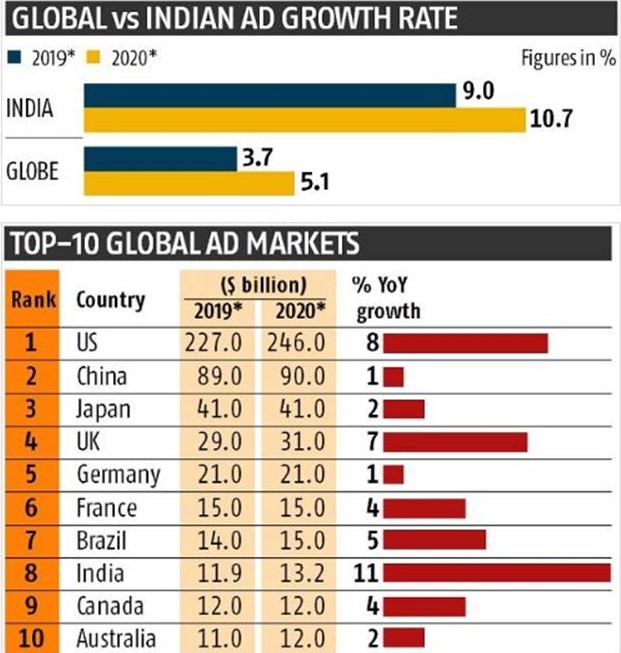 With the dirt cheap data prices in India, the digital content consumption is expected to grow at exponential rate in the near future, and ad revenues will also shift to YouTube. Almost 6 years ago, the country has no digital platform for news consumption and today, there are new-age news portals such as ThePrint, TFI Media, Opindia,  Swarajya, Scroll, Quint, The Wire and so on plus the print and television dominating mainstream media shifting base to the digital front. The Frustrated Indian itself has a fast-growing YouTube channel with nearly 4 lakh subscribers.
Almost all of these platforms generate almost 2-3 million monthly pagviews on the website and more than a million views daily on YouTube. The era of print and TV for news is over, thanks to the plethora of content on YouTube.