The massive PR exercise behind the Shaheen Bagh protests in Delhi has got exposed yet again. This time around over a Sikh man and AIMIM activist who was being widely reported as having supposedly sold his house to serve langar at the protest site.
Ever since the days of its inception, the mainstream media outlets and the left-liberal cabal have made all possible attempts to paint a humane picture of the Shaheen Bagh protests.
One of the main dimensions of this PR exercise was the Langars at the protests. The protests have witnessed seditionist, anti-Hindu and Islamic supremacist slogans and discourse. Reports of langars being served at the protest site, however, gave it a good multicultural, Sikh-Muslim exterior so that the vested interests could conceal their fundamentalist ideology.
Mainstream media outlets like Lallantop, India Today and radical leftist outlet, Caravan found one such source of a PR campaign in Delhi High Court Advocate, DS Bindra. 
दिल्ली हाईकोर्ट के वकील डीएस बिंद्रा ने शाहीन बाग में लंगर खिलाने के लिए फ्लैट बेच दिया!
[डीएस बिंद्रा की सोशल मीडिया पर जमकर तारीफ हो रही है.]https://t.co/m6SVm9mb4W

— The Lallantop (@TheLallantop) February 8, 2020
The reports and claims of the Sikh man selling his flat to serve langars at Shaheen Bagh were being passed off as an example of Sikh-Muslim fraternity.
लोग कहते है के #शाहिन_बाग मे चाय नाश्ता कौन करा रहा है कौन है जो बिरयानी खिला रहा है तो देखलो विरोध करने वालो ये वो दिवाने है जिनका नाम इतिहास मे लिखा जाएगा…#शाहिन_बाग में लंगर चलाने के लिए सिख भाई ने बेच दिया अपना फ्लैट.

विडियो में दिख रहे शख्स हैं #Advocate_DS_Bindra pic.twitter.com/GqFV9LiwbL

— Khalid Salmani🛡️ (@khalidsalmani1) February 8, 2020
This man is ADVOCATE DS BINDRA . He sold his flat to arrange Langer at #Shaheenbagh . No words to praise your effort SIR. Massive respect for you.. 🖤🖤#ShaheenBaghProtest #shaheenbaghlanger #sikhbrothers pic.twitter.com/fFFhF46HGU

— Mdfuzail (@Mdfuzail99) February 8, 2020
But a cursory look at his Facebook page reveals that the man in question, DS Bindra is himself a treasurer at AIMIM, a radical Islamist political outfit.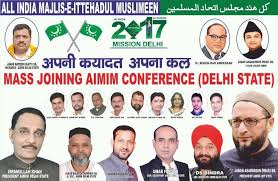 The fact that Bindra is an AIMIM office-bearer was conveniently brushed under the carpet by Caravan, Lallantop and India Today because that would have strongly discredited their Sikh-Muslim brotherhood narrative.
In one of his Facebook posts, DS Bindra has even appealed youth to join the Asaduddin Owaisi led All India Majlis-e-Ittehad-ul-Muslimeen (AIMIM).
It is clear that DS Bindra's ostensible humanity and goodwill at Shaheen Bagh was nothing, but political advertising on the behalf of his party, AIMIM.
Shaheen Bagh protests is an exercise in Islamic fundamentalism and anti-India propaganda as was revealed by Sharjeel Imam's AMU speech.
The minds behind the Shaheen Bagh protests peddle a nefarious, anti-India agenda that thrives on Islamic extremism and supremacism. In such circumstances, the anti CAA lobby and the Lutyens' media has made all possible attempts to paint a humane, multi-cultural illusion of the Shaheen Bagh protests.
The revelation of DS Bindra's real identity exposes the massive PR campaign behind the protests. It strongly debunks the false narrative of Sikh-Muslim fraternity that was being furthered by certainly mainstream media outlets.