Swara Bhasker, the poster girl of the left-liberals, is once again in the news, and again for the wrong reasons. The unemployed actress has now taken to inciting riots in Delhi as her part-time job, compelling even the Delhi High Court to take notice of her venomous tweets and issue a notice to the Central Government, seeking to file FIR against the actress for her posts and speeches. The court had taken cognizance of a petition filed by Sanjeev Kumar, seeking action against people like Harsh Mander, Swara Bhasker, Amanatullah Khan, RJ Sayema etc., who are accused of having incited riots with their provocative speeches and social media posts.
To be honest, if someone has been affected the most by the implementation of the CAA Act, it has to be hands down Swara Bhasker. One of the harshest critics of the Modi government, Swara Bhasker has never shied away from supporting even dreaded terrorists, if necessary, in order to bring Modi government down. One could fathom the infinite venom that Swara Bhasker has through this tweet, which has a video of Swara instigating people to attack the Delhi Police, who according to her, are attacking 'unarmed Muslims' for allegedly eating meat –
This is actress, Swara Bhasker, inciting mobs by lying that the police is attacking Muslim households cuz they eat meat.

She has also said it on record that Delhi Police is with Hindus. Shouldn't she be arrested for instigating Muslims against the state?pic.twitter.com/xtPw6q2o6X

— Sonam Mahajan (@AsYouNotWish) February 27, 2020
Yes, let that sink in for a while. On one hand, Swara Bhasker that maintaining law and order is not the responsibility of the Delhi government, but that of the Delhi police. However, when the Delhi police tried to extricate the hooligans hiding in Jamia Milia Islamia, the very Swara Bhasker terms the action as 'barbaric' and 'vindictive'. Despite the presence of irrefutable evidences shrieking the involvement of AAP leaders like Tahir Hussain in instigating the riots, all Swara Bhasker wants is the arrest of Kapil Mishra, just because he called for clearing the encroachment at Jafrabad Metro Station. A wise man had aptly said, "Every veil secretly desires to be lifted, except the veil of hypocrisy."
However, Swara Bhasker is no ordinary person. Her profile is nothing less than a bucket list for all the aspiring 'comrades' like her. From having the gall to legitimize sex slavery in the name of criticizing the Jauhar as shown in 'Padmaavat', to blaming the entire Sanatan Dharma for the rape and murder of a young girl in Kathua district, Jammu region, you just name it and Swara Bhasker has done it.
I want to apologise to the Muslims of India & the non- Savarna castes of India & the Muslims of India again for the ceaseless offensive BULLSHIT & bigotry they have to listen to about themselves this election season. 🙏🏿🙏🏿 This is ur country, don't be silenced CALL THIS SHIT OUT.

— Swara Bhasker (@ReallySwara) April 20, 2019
As such, it comes as no surprise, when Swara Bhasker played a significant role in inciting riots in the northeastern portion of Delhi, with a volley of venomous tweets posted against the Delhi Police and the Hindu community in the past of month. While the list is too long, here are some of the tweets that show as to which extent she could go to in pursuit of making Delhi, and possibly the rest of India burn.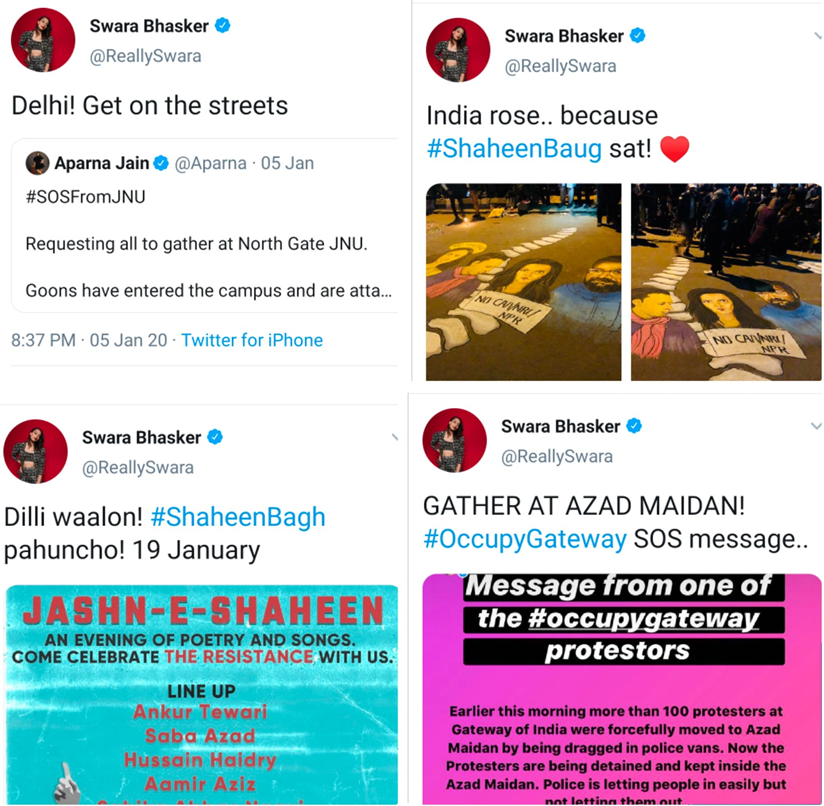 Miss dumbness @ReallySwara want Kapil Mishra arrested for saying that he would take to streets if road blockade near metro station wasn't removed. Also Swara: pic.twitter.com/LXDJafSWve

— नम्रता (@_Namrataa) February 28, 2020
Now that we've struck upon the topic of Swara's views on CAA and NRC, let's have a look at her legendary logic over her criticism of the same. When Rubika Liaquat asked as to why Swara Bhasker is criticizing the CAA and NRC, pat came her reply, "NRC has so many dangerous provisions in it that any common citizen (poor), who has no documents, is going to face immense trouble." Rubika then asked Swara to produce the draft NRC bill which she seems to have a thorough knowledge of, at which Swara Bhaskar was seen behaving like a headless chicken. After realizing that she had been trapped in an unwanted position, Swara told Rubika to acquire the draft from the government. Slow claps for this 'befitting reply'.
A couple of months ago, when one journalist asked as to why she feared about the implementation of NRC, to which she replied, "There is enough reason to be afraid. I don't have anything. I have no degree, I have no birth certificate, I have no papers related to the property of my ancestors. If my name is struck off from NRC, then?" One has to be completely hysteric to make such a laughable allegation with such confidence.
However, do not make a mistake, Swara Bhasker's condition is not so because of PM Modi's reelection, or the abrogation of Article 370 for that matter. This kind of frustration is being vented out because of another reason altogether. Having been left mostly unemployed mostly due to her ultra-leftist views, Swara is now ready to go to any length to remain in the limelight.
However, it is not completely Swara's fault either. Since 'Veere Di Wedding', Swara has hardly acquired a worthy script to be precise. Save for a few short films and some art projects, Swara is almost a pariah for Bollywood as of now. To make matters worse, whoever she campaigned for in the Lok Sabha elections, that candidate lost by a significant margin, including the darling of the liberal intelligentsia, Kanhaiya Kumar. The side effects of unemployment you know.
There is a strange joke prevalent in Europe today. Had an arts school not rejected a young artist, the world, especially Germany, would've been free from the devastating effects of Nazism and its progenitor, Adolf Hitler. Likewise, had Swara Bhasker received some film offers, she may not have resorted to her side business of inciting riots as she is currently involved in. To be honest, the decision of the Delhi High Court to send a notice to the Central Government in context of initiating action against Swara Bhasker is more than a welcome step, because our nation needs adequate compensation for the loss of property, as well as the collective IQ of our nation, caused by the out of job actress, now hell-bent on burning our nation.