IN the budget for FY 21, the Tamil Nadu government announced doubling of Ulema pension to 3,000 rupees from the present 1,500. The government also announced additional benefits like 50 percent subsidy or 25,000 for 'Ulemas' to purchase two wheelers.
Previously, the Kejriwal led AAP government announced that salaries for Imam would be increased from 10,000 rupees per month to 18,000 rupees per month and that of helpers to 16,000 rupees per month from existing 9,000 rupees per month. The new salaries are applicable to 185 mosques that come under the Delhi Waqf Board. The government also announced that the salary of Imams of the mosques that are outside the purview of Waqf Board would also be paid 14,000 rupees per month and helpers would get 12,000 rupees. Earlier, these Imams were outside the paycheck of the government.
BJP leader Giriraj Singh raised question on this and asked, "They pay Rs 18,000 salary and Rs 9,000 maintenance to imams, why don"t they pay salary to priests?" Most of the Imams support Shaheen Bagh protest, he added.
West Bengal CM Mamata Banerjee had announced stipend of 2,500 per month to 56,000 Imams and 1,000 rupees to muezzins in 2012, despite unfavorable reactions from Calcutta High Court on the decision. Last year, after the West Bengal government granted 28 lakh rupees to Durga Puja pandals, the Muslim clerics from across the state took to the streets against the state government demanding an increase in their stipend from Rs. 2,500 to Rs. 10,000. This demand has been pressed by the All Bengal Minority Youth Federation, a body comprising Muslim clerics and scholars from all across the state of West Bengal.
Before that, the YS Jaganmohan Reddy government in Andhra Pardesh announced honorarium to Imams is proposed to be enhanced to Rs 10,000 per month and of Mouzzans to Rs. 5,000 per month. Similarly, it is proposed to provide Pastors with an honorarium Rs. 5,000 per month.
The secular governments across the country pay to Imams and ulemas, on the other hand, the governments take over the management of big temples and squeeze its resources for state expenses. Hindu religious sites have long been a victim of exploitation by political forces, from the invasion by radical Islamists to current day 'secular' governments.
Different state governments have enforced laws through which they have assumed both financial and administrative control of Hindu religious sites. What started as a tool to suppress Indians and keep them under imperial rule by the British, these laws still exist and continue to exploit and degrade Hindu religious shrines.
Last year, the Supreme Court said that the task of managing the affairs of the temples should be left over to the devotees as the court also cited continually degrading management situation of temples under control of various state governments. But none of the state governments are ready to shed the control of Hindu religious sites.
It is well known that many Christian organizations run education and medical trusts, being a minority institution they do not have to pay taxes and make enormous money. These institutions also have reserved seats for people from their communities, and even top colleges such as St Stephens College and Delhi University carry out this practice. Similarly, there are Madrasas and universities run by Muslims, and in their case, the government even provides funds to these institutions.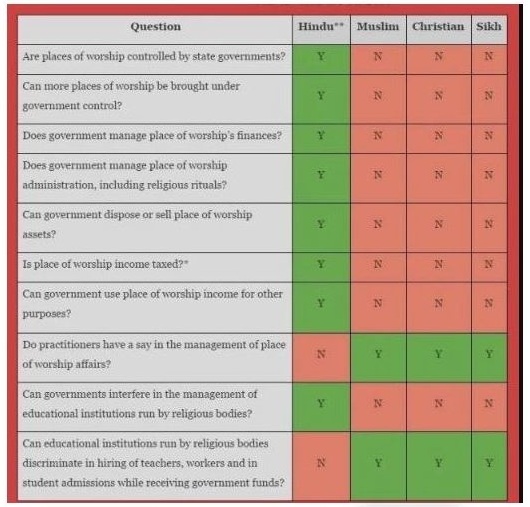 When simplified, this looks like the government is taking money from a Hindu religious institution and giving it to a Muslim or Christian institution. Swarajya magazine prepared the chart displayed above on how government discriminates against Hindu religious institutions.