Tripura Chief Minister Biplab Kumar Deb's social media strategy is seeing a complete overhaul, for the better. Be it Twitter or Facebook, his statements on such platforms, unlike before are getting much more traction.
Having played a crucial role in overthrowing the Communist regime of Tripura, Deb has been ruling Tripura since 2018 now. After his swearing-in as the Chief Minister, the media ran a concerted misinformation campaign against him for months, twisting his statements, taking them out of context and attempting to show him in bad light. Biplab Deb braved it all out. For someone who has been following Deb's government ever since it took over, it wouldn't be a difficult opinion to form that the communication gap between the voters and the government has been reduced like never before. The voters of Tripura now feel a connect with the Chief Minister.
For so much talk of BJP not grooming regional stalwarts, Biplab Kumar Deb stands as perhaps the tallest figure the BJP has been able to put up in Eastern India ever, only after Himanta Biswa Sarma.
Speaking of social media, Deb has introduced humour as a bit of surprise in his Twitter handle. And who better to joke about than the Communist parties? After Sitaram Yechury announced that his comrades will stage a protest against US President Donald Trump while he visits India, Biplab Deb quoted a PTI tweet and asked if the protest would include all of the party's 3 workers. At this point I am resisting the urge to incorporate laughing emoji's in this article.
All the three party workers? 😂 https://t.co/EInQRY6P6c

— Biplab Kumar Deb (@BjpBiplab) February 13, 2020
On another of Yechury's statements, where the man said that the 'people gave a befitting reply to BJP's politics of hate and violence', Biplab Deb replied with, "Look who is talking about befitting reply to hate and violence, the party which has got less votes than NOTA and follows the leftist ideology." With this, he reminds the CPI and CPM about their voteshare figures in the Delhi elections, which stood at 0.03% collectively.
Look who is talking about befitting reply to hate and violence, the party which has got less votes than NOTA and follows the leftist ideology. https://t.co/EvHgAsZAYA

— Biplab Kumar Deb (@BjpBiplab) February 12, 2020
By the looks of it, Biplab Deb has decided to not hold back when it comes to dealing with Communists. Being fully aware of how toxic these creatures can be, he is rightfully showing Sitaram Yechury his place.
Yesterday, Sitaram Yechury tweeted the following from his handle:
Modi and the BJP directly asked for votes in the name of the martyrs of Pulwama. What has been done for the survivors and the families of those who laid down their lives for the nation? pic.twitter.com/43OpMDKB2t

— Sitaram Yechury (@SitaramYechury) February 14, 2020
Guess who stepped in next? Him!
Mr. Yechury, you belong to the party that was against donating blood to the Indian soldiers during 1962 war with China. We are a party whose top priority is national security and the soldiers who are ensuring it. https://t.co/UQtO7lQwIh pic.twitter.com/TsLhEBnw1X

— Biplab Kumar Deb (@BjpBiplab) February 14, 2020
In less than 48 hours, Biplab Deb has hammered Sitaram Yechury thrice! That, indeed is indicative of a major shift in the Tripura CM's social media strategy. By the looks of it, Biplab Deb is all set to emerge as the BJP's top offensive Chief Minister, both at the ground level, and on social media.
Speaking of the ground level, it is not as though he is just a man of words. His ground presence is unmatched in the region. The connect which Biplab Deb has managed to create with his electorate is simply next to none in the Northeast. Building a connect with the common people on ground is a pre-requisite to good governance. Biplab Deb's last mile policies and welfare programmes would not be successful unless the people connect with the man and share a collective vision for the development of the state. Understanding the same, he began visiting random families in Tripura on Sundays since November last year and spending tine with them.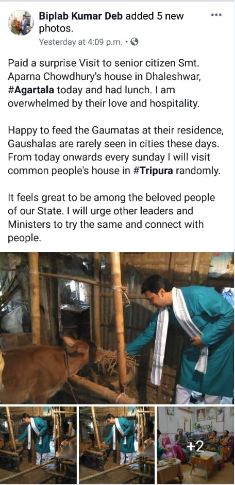 আজ থেকে এক নতুন প্রয়াসের সূচনা করলাম। এখন থেকে প্রতি রবিবার কোনো একজন নতুন এবং অচেনা ব্যক্তির ঘরে হঠাৎই যাব এবং তাদের সঙ্গে ভোজন গ্রহণ করব। আজ দুপুরে ধলেশ্বরের শ্রীমতি অপর্ণা চৌধুরীর বাড়ি দিয়ে এর শুরু । বিনা নিমন্ত্রিত অতিথি হিসেবে আমায় পেয়ে অপর্ণা দেবি ও তাঁর পরিবারের সদস্যরা আশ্চর্যান্বিত হয়ে যায়, কিন্তু অতিথি আপ্যায়নে কোনো ঘাটতি রাখেন নি। দুপুরবেলার ভোজন আমি তাদের পরিবারের সদস্যদের সঙ্গেই গ্রহণ করেছি। শুধু তাই নয়, তাদের গোশালায় গিয়ে, গোমাতাকে ঘাস খাওয়ানো এবং সেবা করার সুযোগও পেলাম। অপর্ণা চৌধুরীর পরিবার থেকে পাওয়া স্নেহ আমাকে অভিভূত করেছে। আমি আশ্বস্ত করাতে চাই যে, আজ থেকে শুরু হওয়া এই প্রয়াস আগামী দিনেও বজায় থাকবে।

Biplab Kumar Deb ಅವರಿಂದ ಈ ದಿನದಂದು ಪೋಸ್ಟ್ ಮಾಡಲಾಗಿದೆ ಭಾನುವಾರ, ನವೆಂಬರ್ 3, 2019
The same is reflected on his social media accounts. Whatever places he visits, whatever meetings he holds, the man shares it all online. This also enhances transparency in governance, as Biplab Deb informs his people about the smallest of developments and decisions taken through his social media handles. To galvanize support online is a must in these polarized times, and Biplab Deb is leaving no stone unturned to ensure the same.