The Indian Air Force has signed Rs. 39,000 crore deal with Hindustan Aeronautics Limited (HAL), for 83 Tejas fighter jets. Tejas is among the most delayed projects of the country, and is a prime example of incompetence of India's public sector companies. The project for indigenous aircraft was first awarded to HAL in 1983, and it took almost 4 decades for the company to deliver. The HAL made 16 fighter jets were awarded for the first time to IAF in Feb 2020, almost 37 years after the project was commenced by Indira Gandhi government. The timeline of Tejas is shown in the graphic below, created by Economic Times.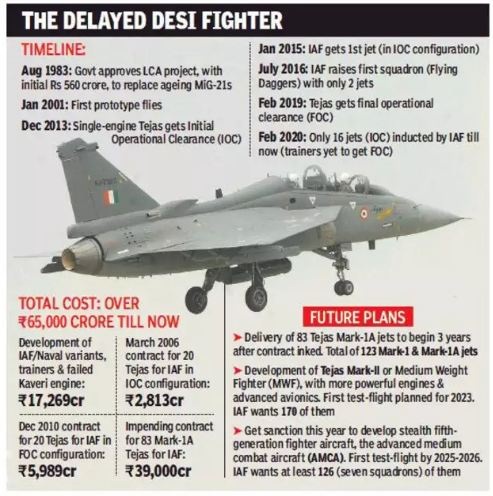 HAL's Tejas project can be used as an example of the failure of India's indigenous defence production, as well as that of whole Public Sector Units dominated economy. After the country got independence, many strategic sectors including defence and civil aviation were nationalized, and private entry was shunned.
Almost all the sectors where the government shunned private players resulted in acute failure. Today, India does not have a single company among top 30 defence contractors, and the country has to import almost all important defence equipment. The Indian products manufactured by companies like HAL are so sub-standard that the armed forces refuse to use them.
HAL is among the monuments of Nehruvian economy and a testament to its abject failure. The company was established in Bangalore on 23rd December 1940 by Walchand Hirachand to promote defence manufacturing in the country. However, British government soon forcefully took over the company and nationalized. Later when India became independent, the nationalized company was brought under Ministry of Defence.
In later days, HAL was established as the premiere defence manufacturer of the country and significant amount of resources were put into it. However, HAL could not get any major breakthrough in seven decades of its existence and the country continued to import defence equipment from private manufacturers in countries like the United States, France, and the United Kingdom. All HAL has been able to achieve is to manufacture less skill intensive and tech intensive equipment for the Indian aviation sector by technology transfer from Soviet Union.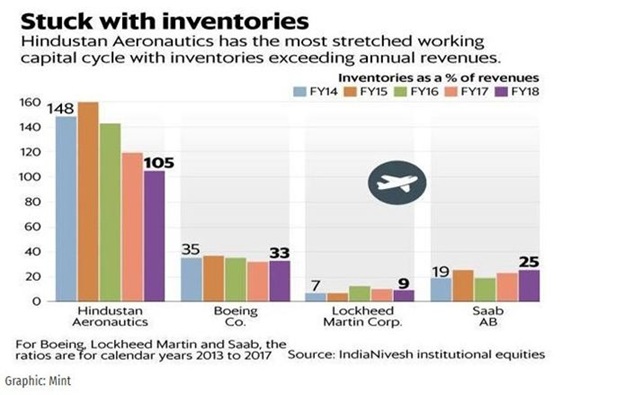 HAL is stuck in the inventories; its revenue in the previous five fiscal years increased just 4.3% per annum on average. Profits decelerated from 2,997 crore in FY13 to 2,070 crore in FY18. Execution is slowest at HAL among its global peers.
"In the absence of competition, it is habituated to a production cost plus profit regime, which has led to very low labour productivity, a bad working milieu, and wasteful production processes,"  said Bharat Karnad, a national security expert and research professor at the New Delhi based Centre for Policy Research. "Moreover, its manufacturing competence is limited to screwdrivering aircraft and helicopters from imported SKD/CKD kits under license production, with almost no capacity for technology or process engineering innovation," he added.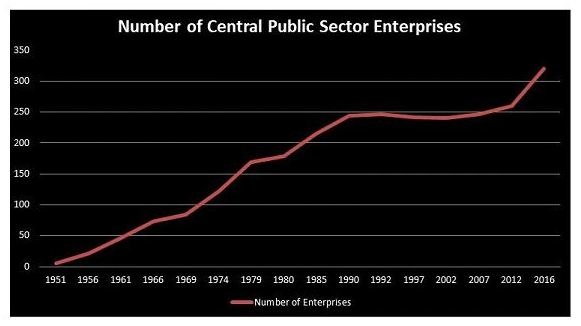 In 1951, there were only 5 CPSEs with investments of 29 crore rupees but the number grew to 84 in 1969. By this time Indira Gandhi has consolidated her hold on the Congress party as well as the government.
In the subsequent decades, the number of CPSEs increased to 179 in 1980 and 244 in 1990. Bankrupt companies that were meant to be liquidated or sold were acquired by the central government under the dictatorial regime of Indira Gandhi. Economic growth collapsed due to nationalization and the economy did not recover until the private sector's powers were unleashed in 1991.
The CPSEs are among major loss making units of the country with 82 CPSEs made losses of 25,045 crore rupees and the number of loss-making CPSEs has grown from 54 in 2007-08 to 82 in 2016-17.
The Indian economy was growing at so-called Hindu Rate of Growth (A term coined by establishment economist Raj Krishna, he blamed Hinduism for the low economic growth and argued that India could never grow at a faster pace due to Hindu culture) due to socialist economic policies. The economic growth of the country was slow "because of those very socialist policies that their kind had swallowed and imposed on the country, our growth was held down to 3–4 per cent, it was dubbed — with much glee — as 'the Hindu rate of growth," said business journalist and author Arun Shourie. The delivery of Tejas in 37 years shows that the Public Sector companies led model of has failed disastrously and kept India poor for decades.