The socialist hangover of left-liberal elites is not over yet. Media establishment of the country has not given up the romance with Nehruvian Socialism despite its breakdown decades ago. The dumbness of these media people was very much visible in Rafale case where they ardently supported Hindutan Aeronautics Limited against Anil Ambani led Reliance Defense Limited. The media establishment and opposition are asking why Reliance was chosen over HAL by Dassault and this must have happened due to government involvement in the deal. Favoring a public company over private outfit shows that madness of socialism is not over despite being responsible for decades of poverty and under-development.
HAL is among the monuments of Nehruvian economy and a testament to its abject failure. The company was established in Bangalore on 23rd December 1940 by Walchand Hirachand to promote defense manufacturing in the country. However, British government soon forcefully took over the company and nationalized. Later when India became independent, the nationalized company was brought under Ministry of Defense. In later days, HAL was established as main defense manufacturer of the country and significant amount of resources were put into it. However, HAL could not get any major breakthrough in seven decades of its existence and country continued to import defense equipment from private manufacturers in countries like United States, France, and United Kingdom. All HAL has been able to achieve is to manufacture less skill intensive and tech intensive equipments for Indian aviation sector by technology transfer from Soviet Union.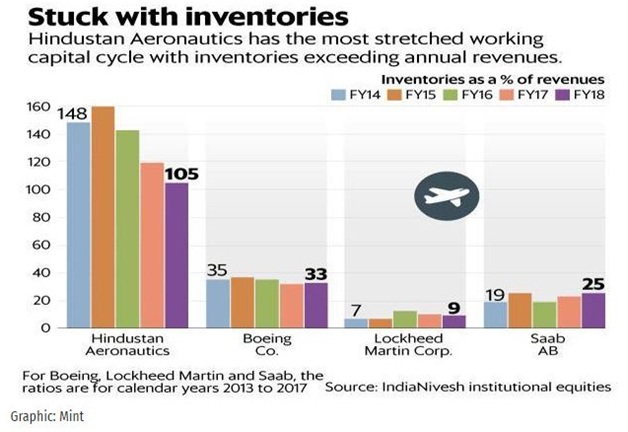 India has to import fighter aircrafts like Rafale and F-16 because HAL failed to built good fourth and fifth generation aircrafts. Five largest defense contractors in the world- Lockheed Martin, The Boeing Company, BAE Systems plc, The Raytheon Company, Northrop Grumman Corporation are private sector companies. In fact, among the top 25 defense contractors (in which HAL does not get a place), none is public company. HAL is stuck in the inventories, its revenue in the previous five fiscal years increased just 4.3% per annum on average. Profits decelerated from 2,997 crore in FY13 to 2,070 crore in FY18. Execution is slowest at HAL among its global peers.  "After ~12 years of awarding, HAL is still executing its first order of 20 aircraft (Tejas light combat aircraft). Work on the second order of 20 aircraft has not started for more than seven years, as final operational clearance is awaited," said a defense analyst at IndiaNivesh.
A few weeks back the Defense minister had put it crudely that HAL does not have the capability to produce Rafale jets in India, "The negotiations for procurement of 126 Rafale jets under the UPA government fell through as state-run HAL did not have the required capability to produce the jets in India in collaboration with French company Dassault Aviation, " she said.
Some HAL executives tried to blame US sanctions after nuclear test for lack of growth in capabilities of HAL. However, they forget the fact ISRO came out as among most prominent space research organization despite US sanctions.  "In the absence of competition, it is habituated to a production cost plus profit regime, which has led to very low labour productivity, a bad working milieu, and wasteful production processes,"  said Bharat Karnad, a national security expert and research professor at the New Delhi based Centre for Policy Research. "Moreover, its manufacturing competence is limited to screwdrivering aircraft and helicopters from imported SKD/CKD kits under license production, with almost no capacity for technology or process engineering innovation," he added.
The incompetence of defense manufacturing is not limited to HAL only. Other public sector defense manufacturers like Defence Research and Development Organization (DRDO) and Indian Ordnance Factories are equally incompetent. These companies could not produce a single arm of global competence despite decades of existence and having consumed billions of dollars of public money.