Piyush Goyal, the Commerce and Industry minister, in a befitting reply to free trade enthusiasts, said that India won't give access of its market to foreign companies, unless the decision is reciprocated. "Unless we get reciprocal access to those markets, the government has decided that we will stop giving them an opportunity to participate in contracts in India. That is a part of the policy of the Narendra Modi government," said Goyal in an event organized by Exim Bank.
"Today, it is in our policy that if our companies are not allowed to do business or opportunities emerging in any country, I can assure you that we will not allow them to participate here," he added.
The statement comes in the backdrop of India's refusal to join the RCEP free trade agreement, and the promise to renegotiate the India-ASEAN free trade agreement.
The ASEAN-India FTA, signed in 2009 by the UPA government gave disproportionate concession to the countries like Vietnam and Indonesia. India agreed to eliminate 74 per cent of tariff lines while Indonesia and Vietnam eliminated only 50 and 70 per cent tariff lines respectively.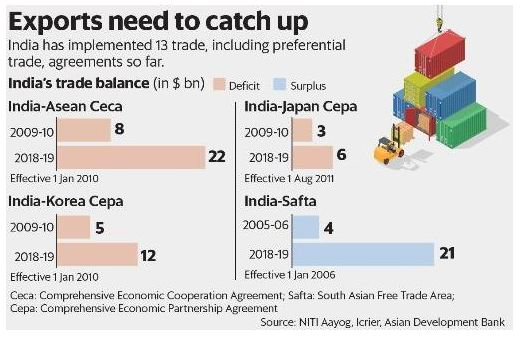 India has major apprehensions regarding RCEP as the previous trade deals with ASEAN had not benefitted the country so far. According to a report from the Asian Development Bank, the FTA utilization rate of India is 25 per cent, among the lowest in Asia.
India had very solid reasons to back off from China-led RCEP. The member countries of RCEP include ten member states of the Association of Southeast Asian Nations (ASEAN) (Brunei, Cambodia, Indonesia, Laos, Malaysia, Myanmar, the Philippines, Singapore, Thailand, and Vietnam) and 6 Asia-Pacific countries (Australia, China, India, Japan, South Korea and New Zealand). Out of the 15 member countries, India already has trade deals with ASEAN (10 countries), Japan, and South Korea.
The only countries whose market access India would get are- Australia, New Zealand and China. The government is already working on bilateral trade deals with New Zealand and Australia. India is not interested in signing a free trade deal with China as India already has a 53 billion dollar trade deficit.
Indian businesses worry that they will lose due to the new trade deal because companies from RCEP member countries could offer cheaper products which will ultimately hurt their sales and profits. A $53 billion trade deficit with China is a major concern for the policymakers in the country, businessmen and policymakers also worry that India could be a dumping ground for Chinese exports as the United States shuts the door for them.
Therefore, India wanted import cap for China which means India would have been free to raise tariffs on Chinese products but the member countries did not agree to the Indian demand.
India wanted more trade in services and preferential treatment to the Indian services sector. This would have meant that Indian workers in the IT sector, medical professionals and teachers could easily migrate to member nations and work there but China did not agree to these demands.
A few days ago, Japan said that the country will not join RCEP, if India is not member of the free trade block. Japan is aware of the fact that China, given its economic might, will be an undisputed leader of RCEP if India does not join. The only country in the proposed block which could balance the trade influence of China is- India.
As India's concerns were unaddressed, PM Modi announced that the country is not ready to join the deal, as of now. With Japan on the Indian side, China will be forced to address Indian concerns and make the country member of the multilateral deal.