As the election results of Haryana and Maharashtra are declared, the same old question resurfaces, is good economy the very basis of good politics and can elections be won when the economy is in a tailspin? Be it 2014 Lok Sabha elections or the 2019, BJP gave a lot of impetus to its development agenda. Growth is directly proportional to economy and PM Modi's pro-growth policies played a big role in reinsuring his emphatic victory in 2019 LS elections. However, as soon as the GDP figures for the first quarter of fiscal year 2019 came out after the Lok Sabha elections, the positive discourse around the economic development in the country suffered a major setback and India lost the world's fastest growing economy tag after long.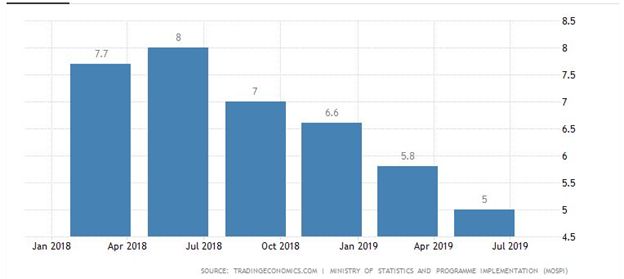 Economic growth declined from 6.6 percent in January quarter to 5.8 percent in April quarter. The growth declined to decade low of 5 percent in the July quarter. The positive sentiments around Indian economy took a nosedive dive after the July GDP data was released by the government.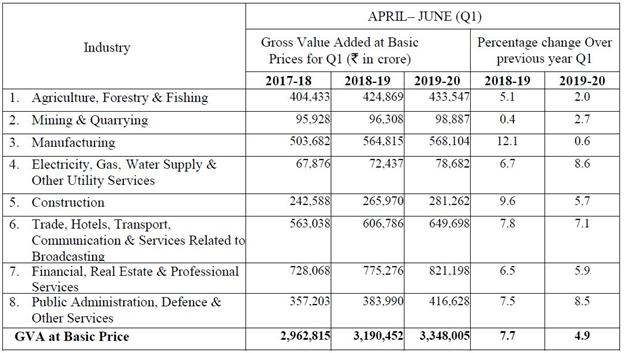 In June quarter, Agriculture and allied activities grew at 2 percent, one of the lowest in last decade. The fall decline Agriculture and allied sector activities took farmer's income to new low.
Agricultural sector employs majority of people in both states. Maharashtra and Haryana were among the states which benefitted most from Green Revolution, which transformed the Indian agriculture after 1980s. Agriculture contributes 15 percent of GDP of Maharashtra but employs 51 percent of labor force. Majority of families depend on Agricultural income. The state benefited immensely from 10 year tenure of Sharad Pawar as Agricultural minister. Pawar favoured the state in allocation of public expenditure and therefore Agricultural families remain loyal to NCP. Therefore, NCP performed exceptionally well in Western Maharashtra, especially in rural constituencies.
Majority of families in Haryana depend on Agricultural income and the sector contributes 19 percent to state's economy. Around 86 percent of state's area arable and 96 percent of that area is cultivated. The state's contribution to country's agricultural prodctivity is 14.1 percent despite the fact that it accounts for less than 3 percent of population, as well as area. Punjab and Haryana benefited most from Agricultural revolution in the country, and majority of farmers earn many times higher than average agricultural income of the country. But, the successive droughts since Khattar government came to power, and falling productivity due to excessive use of fertilizers, has diminished farmer's income to great extent.
Haryana and Maharashtra were the first two states that went to elections after the economy registered a decline, and from seat numbers it seems that the ruling party is bearing the brunt of the damage to the country's economy. While in Haryana, BJP will have to be content with 40 seats, in Maharashtra, the BJP-Shiv Sena alliance has performed way worse than expected.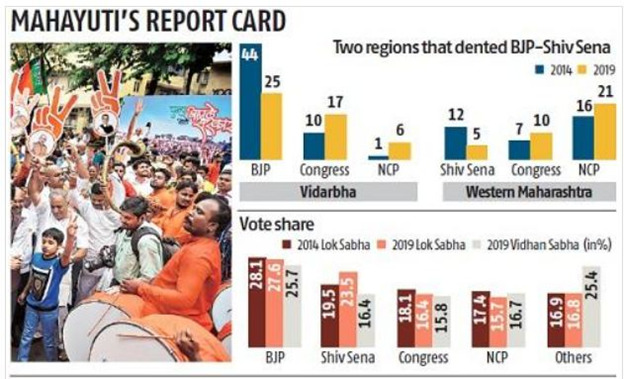 In Vidarbha, drought prone region of Maharashtra, the tally of BJP decline from 44 to 25 while Congress registered significant improvement, from 10 to 17. NCP, which won only 1 seat in last assembly election, took its tally to 6. Praful Patel, a powerful NCP leader from this region, was found to have links with D-company, but, this could not dent the electoral prospects of NCP.
According to a report in ThePrint, between 1 January 2001 and 31 August 2019, there have been 31,523 cases of farmers ending their lives in Maharashtra due to agrarian crises and debt of which a large number of suicides have taken place in the last five years under a government led by the Bharatiya Janata Party (BJP) for the first time. In Haryana too where the farmers are struggling, a number of agrarian protests had also indicated towards farmer distress.
In the last five years, real estate sector in both states suffered major loss due to demonetization and RERA. Real estate plays important role in the economy of Maharashtra and Haryana. Mumbai Metropolitan region in Maharashtra and National Capital region around Haryana are two of the biggest real estate markets of the country. The prices of real estate have actually declined in real terms in last five years; this has severely hurt the economy of both states.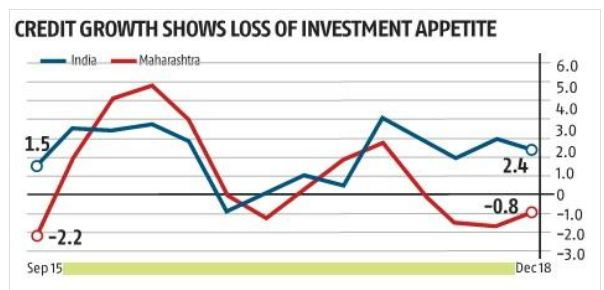 Apart from agricultural and real estate slump, in the last five years, there has been a decrease in investment in the states. Maharashtra was once the most attractive destination for investment across the country, although today, the states like UP, Odisha, and Karnataka are attracting major investment.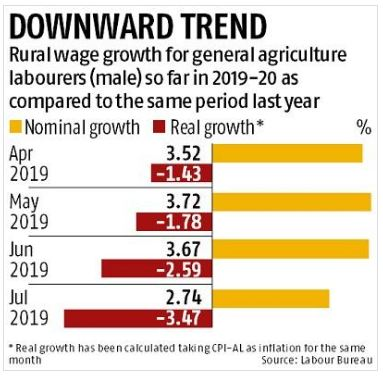 In February this year, Union Minister Piyush Goyal himself said that the basis of good politics is a good economy. The same thing is being proved in these elections. Amid big claims and promises of development, GDP figures have served to disappoint voters. In these elections, the opposition had failed to capitalize on the issue of economic slowdown to a great extent, but despite it, the BJP has suffered a setback in the election results, it shows that the voters do vote on the issue of development of the country and now to prolonged economic slowdown, BJP's performance in Haryana and Maharashtra has been way less than expected.
Now all eyes must be on Finance Minister Nirmala Sitharaman. India's economy is not un-salvageable and FM Sitharaman is more than capable to revitalize it, when it happens, is the big question!