Throughout global history, India and China- two of the oldest civilizations around the world accounted for half of the global population and almost similar proportion of global GDP. But the 'Industrial revolution' in Europe pushed both civilizations on the margins and 'West' become the leader of the world.
But in last four decades, India and China witnessed unprecedented rise by opening up their economies to the world. Today, China is the second largest global economy in terms of GDP (market prices) and largest the economy in terms of GDP (PPP).
China in its modern form- People's Republic of China came into existence on 1 October 1949 and the country got independence from Mao in 1978. Between 1949 and 1978, China was ruled by Maoist ideology, which was amalgamation of Communism and idiosyncrasies of Mao Zedong.
Till the date China was ruled by Mao, it was poor, agrarian, and vulnerable to powerful neighboring Nations like Japan. Millions of people died due to hunger and starvation, disease and internal conflicts during the leadership of Mao, and more than the number of people who died due to the 'cultural revolution'.
The country got its Narasimha Rao in 1978, almost two decades before India. Deng Xiaoping, an friend turned foe of Mao Zedong has been able to consolidate his hold on Chinese state by 1978- almost two years after Mao's death in 1976. Xiaoping was pragmatic person with Chanakyan principals; he cared more about end results than the process. He famously said, "It doesn't matter whether the cat is black or white, as long as it catches mice."
He wanted to convey the message that his primary goal is make China prosperous, and if this could be achieved through Capitalism, the ruling elite should not see a problem in it. This was in stark contrast with the views of Mao Zedong, who saw Communism as the 'means and end' of a just society.
Xiaoping was the 'Paramount Leader' of China from 1978 to 1992. And under his leadership China opened itself to western capital and developed a political economic system which it calls "Socialism with Chinese Characteristics". The country aggressively pushed for foreign investment, reformed land and labor laws, and sold many state owned companies to private players.
In less than two decades after economic liberalization, China became 'factory of the world'. The Chinese rise was led by manufacturing, which helped it employ its large population increased the productivity manifolds. The Communist country has been able to post above 8 per cent growth for almost four decades, which is highest growth posted by any country for such a large period of time. In fact, China posted double digit economic growth from 2003 to 2007, and 14.2 percent real GDP growth two times- 1992 and 2007.
For a country with billion plus population, and such a high base rate, posting real GDP growth of 14.2 percent is nothing but 'economic miracle'. At the time Deng Xiaoping took over in 1978, China was one of the poorest countries in the world with per capita income comparable to any 'third world country'. Within four decades, China became a middle income country.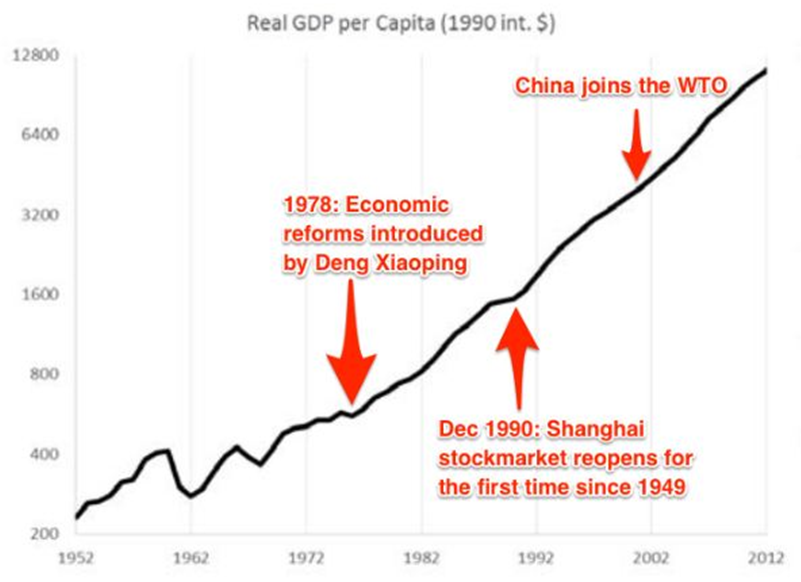 The rise of China in the last four decades is phenomenal. The per capita income of the country was $400 in 1978 and it is above $13,000 dollar in 2019.  Chinese economy grew by 125 per cent from 1990 to 1998 and by 325 per cent from 1990 to 2006, and three folded its value in 16 years while in the same time period India could not even double the accumulated GDP growth.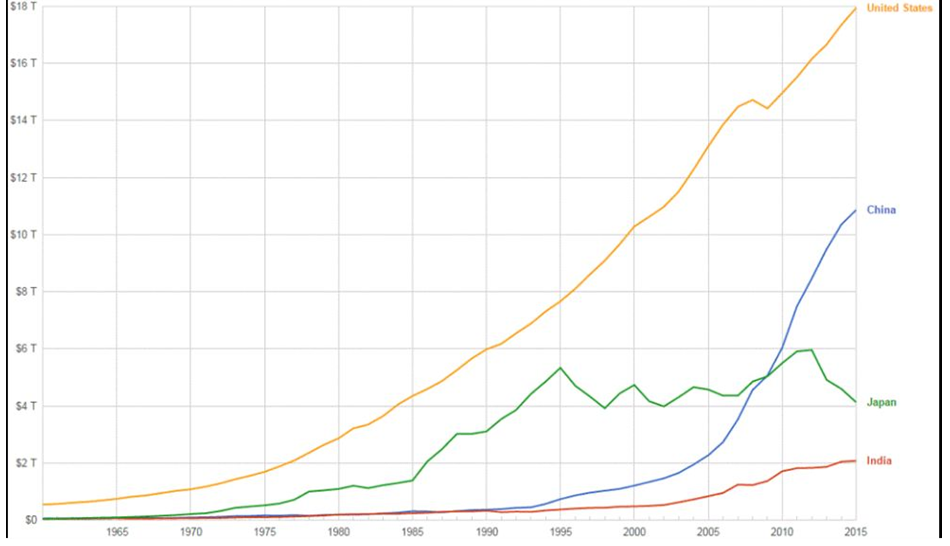 From 1950 to mid-1970s, India, China and Japan were at a similar point in terms of annual GDP. But in the next four decades, China grew to become $12 trillion economy; Japan became a $4 trillion economy while India's annual output is still below 3 trillion dollars. In GDP per capita at purchasing power parity, India and China were at similar points in the graph till late 1980s. But today, the per capita GDP (PPP) in China is at $14,000 while in India it is at $6,000.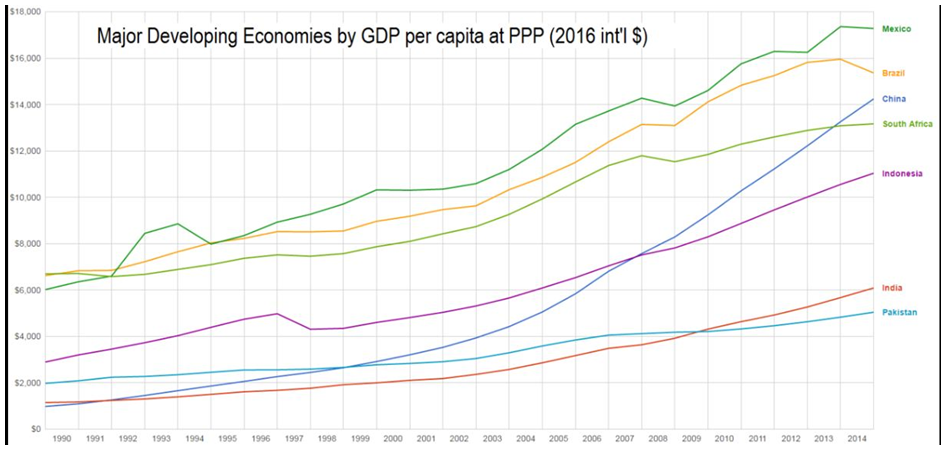 Therefore, in the last four decades, Chinese economy grew exponentially and today China is second most powerful economy in the world. It exports goods and countries around the world and is largest trading nation. It has more than $500 billion trade surplus, foreign exchange reserves of more than $4 trillion. It 'bought' many countries in Asia and Africa with soft loans and enjoys the status of 'emerging superpower'. All these positive changes came to China after the Communist country embraced market economy in 1978.