The abrogation of Article 370 was like a death knell to separatist leaders like those of Syed Geelani, Yasin Malik and the ilk. Recently, the security covers of all the separatist leaders were also withdrawn with most of them currently under house arrest. Yasin Malik, finally arrested, with charges pressed against him, shall be presented before court this week. The Modi government has systematically moved to crush the separatists and squeeze their sources of funding and has also expedited terrorism cases against various separatist leaders which were lagging in the courts since decades. One such case happens to be that of Yasin Malik for his involvement in the killing of four Indian Air Force (IAF) personnel in 1990, the aftermath of which shall anger the calmest among us.
In a heartbreaking interview to Times Now, wife of the martyred IAF Squadron leader Ravi Khanna, Mrs Nirmal expresses her ordeal and anger over how for 30 years no one approached her to share her grief, instead the UPA govt dealt openly with Yasin Malik instead of trying him for his crimes.
UNPARDONABLE
I'm asking this Q to Sh Manmohan Singh,Mrs Sonia,RaGa & Abdullahs

Why U all SAVED terrorists Yasin Malik who pumped 30 bullets in Sq Ldr Ravi Khanna?
His 68yrs old widow Mrs Nirmal need an answer@MushaalMullick आपके आतंकवादी शौहर ने इनका सिंदूर उजाड़ा है..शर्म करो pic.twitter.com/Y7e9ECdMLn

— Major Surendra Poonia (@MajorPoonia) September 9, 2019
On the morning of 25th January 1990 around 7:30 AM some car-borne militants opened fire at a group of unarmed IAF personnel, who were living as tenants in a private house at Rawalpora, at the outskirts of Srinagar, which resulted in the killing of IAF Squadron Leader Ravi Khanna and his three colleagues. The attack also left 40 injured. Several eyewitnesses pointed to Yasin Malik's involvement in the firing but despite that, no charges were framed in the case. Three decades on, the decks have finally been cleared for Yasin Malik's trial to begun with non-bailable warrants being issued to produce Malik before the Court on 11th September. The efforts of Pavittar Singh Bhardwaj, the special prosecutor for the CBI and a retired District and Session judge have finally borne fruit. However, his task to convict Malik will only get tougher from here as most of the 67 eyewitnesses which CBI was planning to present before the court have passed away and the rest are now apprehensive of testifying against Yasin Malik. The case has been delayed for so long that three of the accused in the attack have passed away while the remaining four have been absconding since 1990. After the CBI presented its charge sheet in November 1990, there was no movement on the case as Malik was often seen hobnobbing with the who's who of New Delhi during the heydays of the successive UPA governments. Bhardwaj was quoted saying "These people (Malik and his supporters) had powerful backers among the mainstream. It won't be wrong to say that Malik and his fellow accused had supporters in positions of power. The wheels of justice were not allowed to move by vested interests."
One would think that a proven terrorist like Yasin Malik would immediately be arrested or at least kept in check, however, the aftermath of the attack saw Malik emerging as the loudest separatist voice and his influence in the valley grew so much that the UPA government made him the de-facto point of contact when it came to Kashmir. He was protected by those who were in the corridors of power and enjoyed free air travel, stay, medical treatments and many other facilities on taxpayer's money. The fact that someone like Malik even after killing our brave hearts would live on government money over all these years is enraging, to say the least. Yasin Malik's influence and his hold on Kashmir grew so much that he admitted to killing the IAF personnel in a BBC interview and yet, no actions were taken against him.
Yasin Malik admitting to the killing of Indian Air Force Officers and others in an interview with Tim Sebastian of BBC pic.twitter.com/oPwlkEeiJS

— #iNSAAjitDoval (@iNSAAjitDoval) September 10, 2019
Despite his obvious anti-India agenda, he was often clicked with the then-Prime Minister Manmohan Singh and in June 2005, went as a part of Hurriyat delegation to Pakistan to lead the 'peace talks'. Yes, you read that right, Yasin Malik travelled to Pakistan on government money for 'peace talks' where comically, he was involved in a public spat with the Pakistani Information Minister Sheikh Rashid who accused him of training and sheltering guerrillas for jihad against Kashmir. He was also snapped with 26/11 mastermind and LeT chief Hafiz Saeed in 2013 – further proof that his shedding of arms and becoming a non-violent separatist was a sham. His petty mind again came to the fore when he was seen disrupting the India Army's rescue operations during the Kashmir floods in 2014.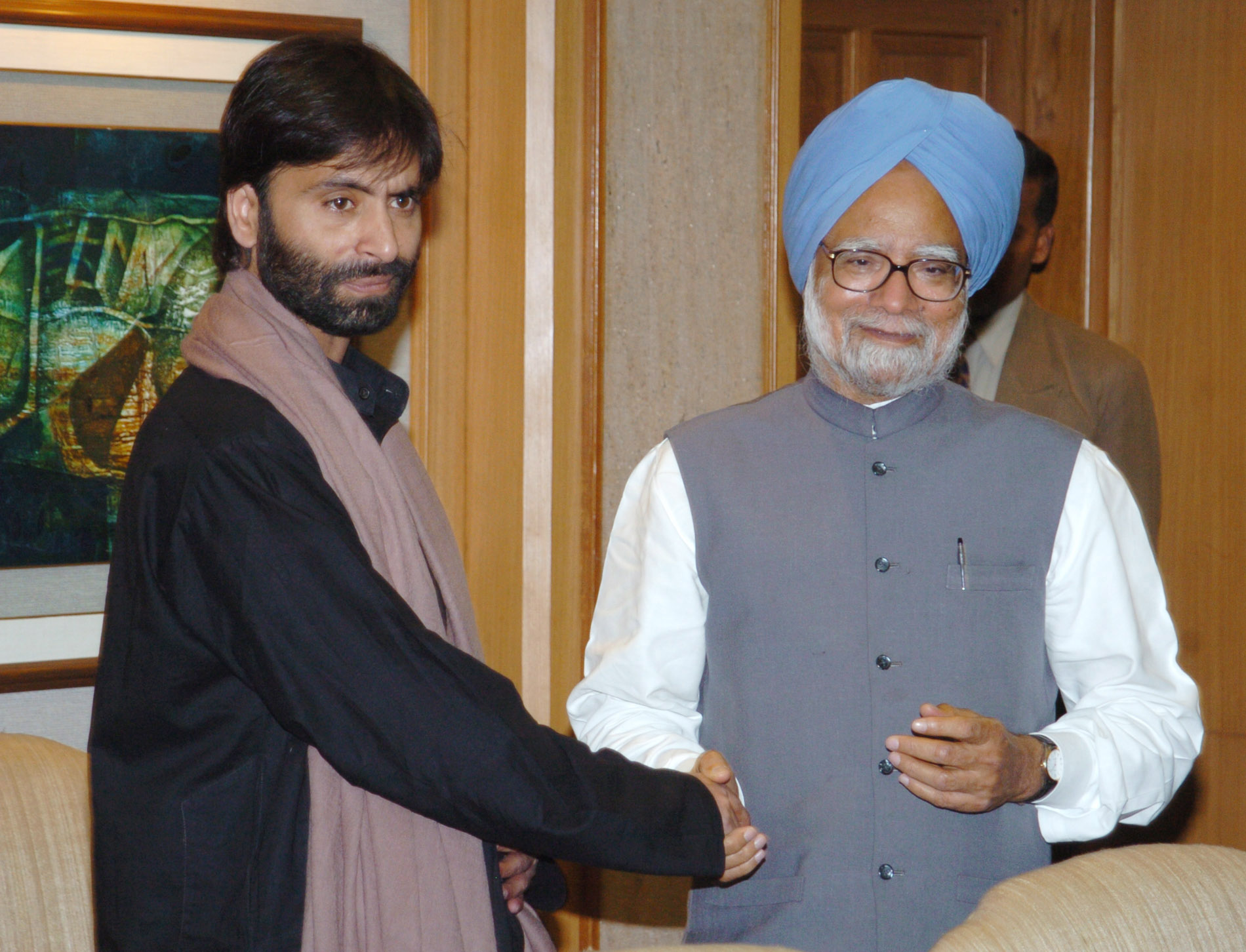 In 2014, Yasin Malik again went on record on a TV show and claimed that the then Prime Minister Manmohan Singh in 2006 had requested his help in contacting Pakistan-based militants so as to give a boost to the India-Pakistan peace process. The Indian National Congress's official stance on Yasin Malik was again revealed earlier this year as PC Chacko in the run-up to the bitterly contested Lok Sabha elections praised Yasin Malik for his 'courage' as the Modi government continued its crackdown on the likes of Yasin Malik.
Squadron Leader Ravi Khanna was just 38 when he was martyred by being fired at 26 times. Ravi Khanna is survived by his wife, Nirmal and his two sons aged 6.5 and 8.5 years. To imagine the plight of Mrs Nirmal all this while as she was ignored and Malik continued to gain prominence and embark on foreign sojourns on taxpayer's money, brings shame upon India for the state the Indian administration had been reduced to by the UPA government.
Mrs Nirmal believes that after 30 long years her horrid saga will finally meet conclusion and some justice will be done. Ravi Khanna's wife revealed that no one came to check on her 30 years ago and continued to survive all these years, fighting a lone battle as the people in the corridors of power continued to shield Malik. There is a glimmer of hope in her eyes after three decades and the whole nation hopes that the long arms of justice are finally able to crush Yasin Malik and whoever has supported and shielded this terrorist throughout these years must also be questioned and put on trial with him.