In what comes as a shocking revelation, the opening pages of Pakistan's leaked dossier to the UNHRC over India's recent move on Kashmir is alleged to be containing statements from India's opposition leaders, former Congress president Rahul Gandhi and former Jammu & Kashmir CM, Omar Abdullah following the abrogation of Article 370 whereby the special status granted to the state of Jammu & Kashmir was scrapped. While these statements which have now been allegedly quoted by Pakistan according to recent reports do come as a shock but this is not the first time that Pakistan has used statements by India's opposition leaders to pursue its fake propaganda against India.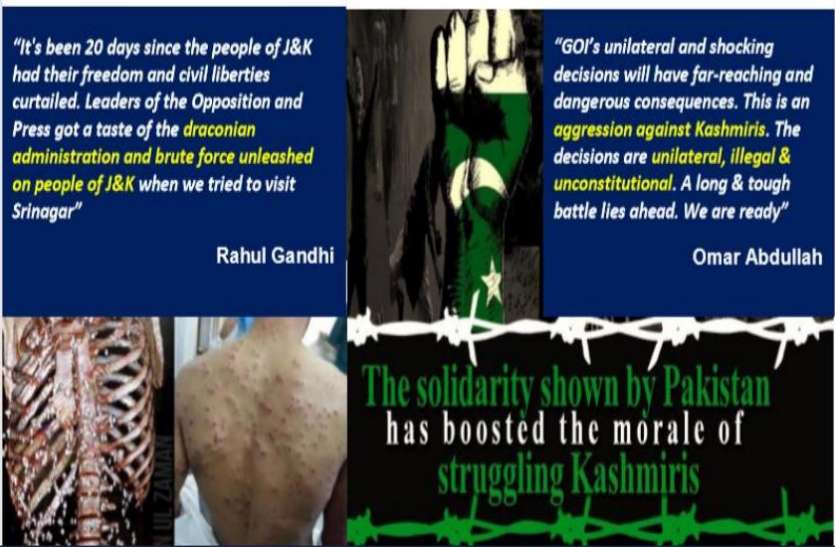 According to India Today, the document quotes Rahul Gandhi as saying, "It has been 20 days since the people of Jammu and Kashmir had their freedom and civil liberties curtailed. Leaders of the Opposition and press got a taste of draconian administration and brute force unleashed on people of Jammu and Kashmir when we tried to visit Srinagar."
Similarly, Omar Abdullah had been quoted as saying, "GoI's [Government of India] unilateral and shocking decision will have far-reaching and dangerous consequences. This is an aggression against Kashmiris. The decision are unilateral, illegal and unconstitutional. A long and tough battle lies ahead. We are ready."
It is relevant to mention here that amidst escalations in Indo-Pak tensions earlier this year, some of the opposition parties had shamelessly started claiming that PM Modi and the BJP were trying to politicize the Pulwama attack and the growing tensions between India and Pakistan even as the Lok Sabha polls were around the corner.
21 opposition parties had issued a joint statement making baseless allegations against the government. Pakistan had then tried to paint India in a bad light by using the outrageous statement which was made by the opposition. Pakistan's minister Shah Mehmood Qureshi had gone on to use the statement made by the Indian opposition. He had said, "Today, the 21 Opposition parties in India have also told the BJP not to play politics on this matter. The Opposition parties of India have said that BJP is using the Pulwama attack for elections, they are politicising the matter." 
One does not need much intelligence to understand that the opposition's poorly timed attack at the Modi government had given Pakistan the opportunity to indulge in fake propaganda against India.
However, this trend is not limited to India's opposition parties, Pakistan has also quoted several Indian publications to pursue its bitter agenda against India in the recent past. Recently, after the abrogation of Article 370, the ruling party in Pakistan, Pakistan Tehreek-e-Insaf (PTI) tweeted a video clip of Sreenivasan Jain's NDTV show 'The Reality Check', to pursue its anti-India agenda. In this video clip, a reporter, apparently reporting from Srinagar said that he, along with his team, met an old, blind man who spoke about the current situation in Kashmir. As per the reporter's version, the old man said, "New Delhi is saying everybody in Kashmir is happy about making Jammu and Kashmir a UT. Let them lift the curfew and they will know how happy we are".
Sharing the video clip on its official handle, Pakistan Tehreek-e-Insaf (PTI) tweeted, For all those in New Delhi living in the delusion that Kashmir is happy over the scrapping of Article 370, union of J&K territory, an old Kashmiri has a msg:
"Lift the curfew for a day and we'll let them know how happy we [Kashmiris] are".Can Modi do that?" 
For all those in New Delhi living in the delusion that Kashmir is happy over the scrapping of Article 370, union of J&K territory, an old Kashmiri has a msg:
"Lift the curfew for a day and we'll let them know how happy we [Kashmiris] are".
Can Modi do that?#SaveKashmirFromModi pic.twitter.com/qJZZpTcmN7

— PTI (@PTIofficial) August 8, 2019
The 25-minutes long show had started with anchor Sreenivasan Jain indulging in fear-mongering and quoting characters that the NDTV journalist could somehow not get on camera. Jain also went on to claim that a nameless journalist is reluctant to speak up about Kashmir because his family is in Kashmir.
Apart from this, during the hearing on Kulbhushan Jadhav case at the International Court of Justice, the Pakistani side had produced The Quint's story on the Indian prisoner as definitive proof against India's claims. The Pakistani advocate had also cited an article written by leftist Karan Thapar in The Indian Express in 2017. In that article, Thapar had questioned the stand of the Ministry of External Affairs concerning Kulbhushan Jadhav. He also quoted another journalist, Praveen Swamy. Swamy had written an article for Frontline in 2018. The article had contended, "it is impossible for India to deny he is who he says he is". The article had also claimed that Jadhav was indeed an Indian spy.
The Indian opposition leaders and even publications must remain mindful of the fact that Pakistan is always on the lookout for a pretext to attack India at a diplomatic level and indulging in fake propaganda. Every single statement in which the opposition leaders go overboard in trying to criticize the Modi government and raising questions about sensitive issues like national security is quotable and has the potential of weakening India's case internationally. No one is asking the opposition not to criticise the government. It is admitted that criticism is the backbone of democracy but when it comes to issues like national security and integrity, the opposition must stand firmly with the government.
Currently, we enjoy a diplomatic high ground over Pakistan but we can't become complacent and the opposition must co-operate with the government in its tirade against Pakistan instead of making statements which can be quoted by the Pakistan government and Pakistani political outfits in a bid to corner India internationally.