As has become the latest penchant, Pakistan once again tried to use the Afghanistan situation as a leverage in order to incite the international community into pressuring India. The US has initiated troop withdrawal from the country and now somewhat depends on Pakistan to ensure stability in Afghanistan. However, the Taliban has rebuffed Pakistan's attempts in the strongest terms.
Pakistan and Taliban since long have shared amicable relations. Pakistan had even granted sanctuary on its side of the border to the Taliban. This is exactly why Pakistan has been instrumental in US' talks with Afghanistan. Nevertheless, Taliban has staunchly refused to bite the bait of Pakistan and has clearly stated that Afghanistan issue has nothing to do with Kashmir and that Pakistan is unwise to establish a link here.
Taliban spokesperson Zabihullah Mujahed on Thursday released a statement which stated, "Linking the issue of Kashmir with that of Afghanistan by some parties will not aid in improving the crisis at hand because the issue of Afghanistan is not related nor should Afghanistan be turned into the theatre of competition between other countries."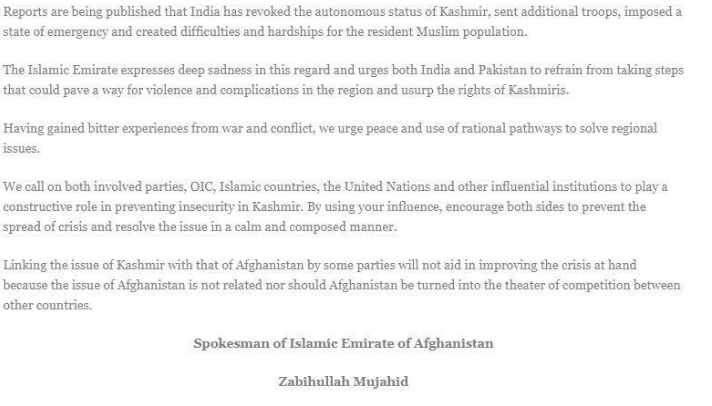 This came after Pakistan's opposition leader in the Parliament; Shehbaz Sharif drew comparison between Kashmir and Afghanistan and said, "What kind of a deal is this that the Afghans enjoy and celebrate peace in Kabul, but in Kashmir, blood is shed? No, this is not acceptable for us."
This is after India' decision to revoke article 370 in the constitution which paved way for special rights for the state of Jammu and Kashmir and the decision to bifurcate the state in 2 Union Territories.
Imran Khan conveniently thought that by invoking Afghanistan, he could blackmail and get the support of the international superpowers, especially the USA. During his trip to the United States last month, Imran Khan, riding on the confidence the Taliban talks gave him, he had attempted to establish economic relations for its debt ridden economy with the US president. However, the call of the international organizations over the atrocities committed against the civilians in Balochistan and Sindh had put him in an embarrassing position.
Nevertheless, undeterred, Pakistan once again decided to use "Afghanistan" card to gain support in the Kashmir issue, which is an Indian domestic matter. However, he miserably failed at it once again. Many countries including, Russia, UAE, Sri Lanka, Malaysia and USA have already supported India's decision to change the territorial boundaries of a state within its own territory. Pakistan's opinion is irrelevant in this case. Now with this rebuke, Imran Khan has again failed at garnering the international support for fruitless causes.