All India Cine Workers Association (AICWA), the union body of Bollywood cinema workers has banned singer Mika Singh who performed in an event in Karachi, Pakistan. The event was organized by a close associate of Pervez Musharraf's, former President and Military general of Pakistan. "AICWA takes a stand of boycotting all his association with movie production houses, music companies, and online music content providers," said AICWA president Shyamlal Gupta in a statement released on Tuesday. With the discussions have widened over whether AICWA will also ban Salman Khan who is set to perform in Houston along with Mika Singh for a Karachi based Pakistani promoter and terror sympathiser called Rehan Siddiqi who has close ties with terrorists and criminals wanted in India.
Why our film-stars and producers are supporting the programs organised by Pakistani terror sympathizers? Will Cine association ask this question to Salman Khan also? #DontSponsorPakiArtists pic.twitter.com/hHU0hzqMAM

— Friends of RSS (@friendsofrss) August 14, 2019
All India Cine Workers Association (AICWA) bans and boycotts singer Mika Singh. But will they Ban Salman Khan? Both Mika and Salman Khan to perform for the Karachi based Pakistani promoter "Rehan Siddiqi" in Houston, USA. Rehan is close to Paki terrorist and criminals. pic.twitter.com/CBTg02VInl

— Vivek Bansal (@ivivekbansal) August 14, 2019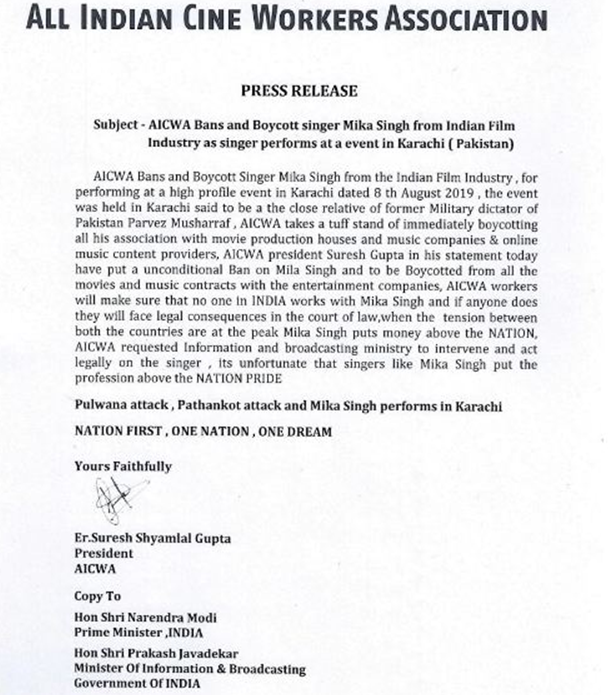 Recently, Pakistan banned screening of all Indian films on the backdrop of removal of Article 370 in Jammu and Kashmir. The country has taken many 'ineffective' measures to internationalize the Kashmir issue. AICWA has asked also asked the Indian producers to not hire Pakistani artists but Mika Singh chose to perform at the wedding ceremony of a Karachi based billionaire's daughter who is a relative of General Parvez Musharraf. It has been reported that even Dawood Irahim's family was present at the event where Mika performed and was paid 1,50,000 US dollars. Similarly, it is highly objectionable that Salman Khan has also planned to perform for a Paksitani terrorist sympathiser.
There cannot be a bigger crime than being anti national. Such mafias should be identified and punished.

— Harish Chandra Meena (@HC_meenaMP) August 14, 2019
Happy that Indian singer Mika Singh performed at the mehndi of Gen Musharraf's relative recently in Karachi. God for bid if it was Nawaz Sharif's relative it would be raining ghadari k hashtag already. pic.twitter.com/IVfE5hETiz

— Naila Inayat नायला इनायत (@nailainayat) August 10, 2019
"When the tension between the countries is at the peak, Mika Singh puts money above the nation's pride," said the film association, AICWA. "AICWA will make sure that no one in India works with Mika Singh and if anyone does, they will face legal consequences in the court of law," added the statement. AICWA has announced ban on Pakistani artists and actors in the wake of Pulwama terror attack which claimed the life of 44 CRPF soldiers.
Mika Singh's performance in Karachi has not only raised questions on him but also created a controversy in Pakistan. Some people are now questioning Imran Khan as to how Mika managed to get a visa.
Whatever has been the reason for giving Mika Singh a visa, but the truth is that Mika Singh kept his own interests above that of the nation. This is not the first time though that Mika Singh has committed such a despicable act. In 2017, he was criticized for performing on the occasion of the Pakistani Independence Day, especially at a time when many Indian soldiers were falling prey to the bullets of the Pakistani infiltrators. A video of his also went viral, where he said 'Hamara Pakistan' along with the Pakistani promoter Rehan Siddiqi, for whom Salman Khan also shall be performing in Houston.
In February, after Indian Air Force (IAF) attacked Jaish-e-Mohammed's terror camp in Balakot, the then Pakistani Information minister Fawad Chaudhry responded to this by a total ban on Indian cinema.
"Pakistan has close to 170 viable screens. It's a very small market as compared to India. Bollywood and local films are the main content forms that are screened in the country. Banning Bollywood films will mean a paucity of content to keep the multiplexes and theatres running profitably," said an expert.
The number of cinema screens in India is around 9,000 which is 53 times more than that of Pakistan. PVR, the largest multiplex chain in India has 748 screens across the country which is almost five times more than the number of screens in Pakistan. Moreover, Pakistani estimates suggest the country makes more than 50 per cent of their revenue from Indian films. The multiplexes of Pakistan are reliant on Bollywood for their revenue and therefore, the ban on Indian cinema is a big setback for them. The ban will also hurt Pakistani film industry which was in revival mode in the last few years. Cinema theatre businesses in Pakistan run huge losses whenever Indian films are banned in the country.
At a time when tensions between the two countries are on the rise, and when Pakistan has banned Indian cinema Mika Singh put his interests above the nation's. The decision by the film body AICWA, to ban and boycott Mika Singh is a welcome move, however, it remains to be seen if Salman Khan decides to go ahead with show and whether AICWA takes action against him.