In the second term of Modi government, Piyush Goyal has been entrusted with two important portfolios, Railways and Commerce. This was unsurprising as Piyush Goyal was one of the best performing ministers in the first term. In the absence of Finance Minister Arun Jaitley, Piyush Goyal had stepped in as the interim FM and had presented the budget which was widely appreciated. The administrative skills, efficiency in governance and hard work have been the defining traits of Piyush Goyal's work ethics. The kind of commitment he shows towards his work matches the kind of work ethics PM Modi inspires and instills in his cabinet colleagues.
The stories of Piyush Goyal being a tough taskmaster are well known. But what sets apart a good leader from a great one is the style of leadership. In this regard, Piyush Goyal undoubtedly comes in the latter category. Not only he makes sure that his subordinates get the job done, particularly when it comes to moving India's infamously lethargic bureaucracy but Piyush Goyal also emphasizes that he leads the project personally and does not rest until the job is done. Piyush Goyal's twitter timeline is filled with updates of meetings on projects happening late at night. Here are some examples (notice the time stamps on the tweets):
Just concluded a meeting on the Draft Logistics Policy with officials from various Ministries.

Deliberations regarding a holistic policy for the logistics sector took place, which will help boost competitiveness, increase efficiency and reduce logistics costs. pic.twitter.com/GmtLA8HJ2B

— Piyush Goyal (@PiyushGoyal) June 26, 2019
Just finished a meeting to review General and Life Insurance Companies pic.twitter.com/78TonfM5sk

— Piyush Goyal (@PiyushGoyal) July 19, 2018
Just finished a meeting with officials of Commerce & Industry and reviewed India's trade gap with other countries and assessed our free trade agreements.

Also emphasised on expanding domestic manufacturing for further impetus to economy and job creation. pic.twitter.com/pUg7PVk8FR

— Piyush Goyal (@PiyushGoyal) June 11, 2019
As is evident, getting the job done is the priority for Piyush Goyal even if it means working 20 hours a day. This dedication to work has shown in the results as well. Whether it is the 100 percent rural electrification programme which he supervised as the erstwhile Power Minister or removal of unmanned crossings all over the country, in ambition and scope, the projects Piyush Goyal undertook were mammoth and required the very sort of work schedule and dedication for timely completion. In this regard, the results have validated the efforts Goyal puts in his work. His dedication has not only been praised by his ministerial colleagues, the Indian public and his subordinates but he has also been lauded and recognized for his relentless efforts. In 2018, Piyush Goyal was awarded University of Pennsylvania's top award in energy policy for his leadership in reforming India's power sector. He received this award for spearheading the efforts to fast track the electrification in the 18,000 remote villages across India and expanding renewable energy in the country.
Another defining characteristic of Piyush Goyal's work style is his no-frills attitude. Contrary to the established 'VIP tradition', Piyush Goyal has often traveled in Economy class in airplanes and has even often traveled in the general compartments of trains.


Why @PiyushGoyal is one of d top most performing Minister. Few minutes in Airport Transfer Bus & hez in working mode pic.twitter.com/Q6V3jAmZ2u

— ?? Rajnish Sood ?? (@Rajnish_Sood_) July 5, 2015
How often does one see a powerful cabinet minister take an economy seat! Nicer still to see him decline an exchange of seats to J (by Sh Gopal Shetty, Mumbai North MP) with an affectionate, "don't be silly!" Bravo…?✈️ #UK970 pic.twitter.com/7VZ0TkJJQs

— Rohit Bansal ?? (@theRohitBansal) July 1, 2019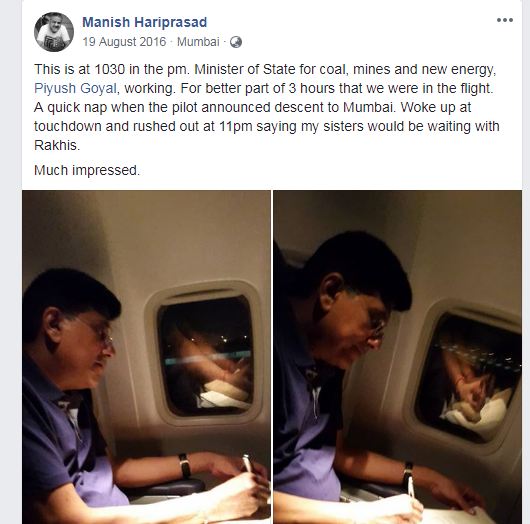 This not only reflects the simplicity of lifestyle on Goyal's part but also shows his desire to keep his ears to the ground. The simplicity from a man who is often termed the 'third most powerful' powerful man in the country is not only a reflection on his character but also a refreshing change from the kind of Minister India used to have in the past. The rise and rise of Piyush Goyal is as much the result of his talent as it is of his dedication, hard work, and simplicity.