Ira Trivedi, a part-time yoga teacher, and full-time Hindu hater has deactivated her Twitter account after a humiliating week.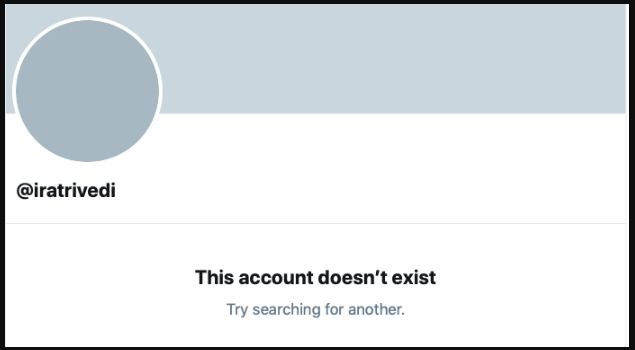 Recently Trivedi had become the centre of a major controversy as it came to light that she ran a show at the national broadcaster, Doordarshan. The controversy erupted after her 2017 interview with News18 went viral on social media. In that interview, Ira Trivedi had described beef as the 'cheapest source of protein'. This comment was made in reference to the beef ban.
The Yoga teacher went on to elaborate further about beef in her interview and said that in a country with a huge problem of malnutrition, it would be unfair to take away the cheapest source of protein, for many communities, especially the Muslim community. Twitter users pointed out these remarks as anti-Hindu and wondered what Ira Trivedi was doing at Doordarshan, the country's national broadcaster as a Yoga teacher.
Her comments in 2017 had caused a furor, however, Ira Trivedi soon came out with a tweet in which she seemed to have made an attempt to make up for the beef comment. She tweeted, "Everyone. I want to clarify a few things. Firstly I am a strict vegetarian and I strongly advocate and promote a vegetarian diet to all those practising yoga. Those following me on Instagram have seen my advocacy of a vegetarian diet."
Her comments on Hinduism, from an old tweet, also met criticism from all quarters. In the tweet, she had said, "The Quran is a deeply progressive text! Modern day Hinduism is deeply regressive."  However, Ira  Trivedi after losing out on the Doordarshan show following resistance on social media came out and questioned the authenticity of her statements on Hinduism and tweeted "I would like to clarify that this tweet below does NOT EXIST on my twitter timeline. There is no DATE on this tweet, there is no SOURCE of this tweet. Anyone circulating this is party to a hate/smear campaign by trolls. Where did it come from? @TwitterIndia please take note."
Yoga doesn't cure idiocy, hence proved.. https://t.co/aZzeQKmFPa

— The Frustrated Indian (@FrustIndian) July 28, 2019
Here's the link of the tweet which you deleted- https://t.co/h1lFYf7fah

Also here are the tweets of people who quoted your tweet https://t.co/9ADaV1UcGb

Also here's the screenshot with date and time. pic.twitter.com/HMV35zliyJ

— Ankur Singh (@iAnkurSingh) July 28, 2019
Ira Trivedi's hypocritical stance on Hinduism was on expected lines as her family has been very powerful in Congress ecosystem for decades. Her great grandfather was first chief minister of Madhya Pradesh and a powerful leader in Congress party. Her grandfather, the late Vidya Charan Shukla was Information & Broadcasting minister under Indira Gandhi's torturous emergency period.
VC Shukla used every means to curtail press freedom in India during the period of emergency (1975-77) imposed under Indira Gandhi. Editors of many newspapers were jailed, the electricity connection of printing press lane was disrupted and journalists were threatened under his watch.
Ira Trivedi's father, Vishwapati Trivedi, a 1977 batch IAS officer of Madhya Pradesh has been the secretary to many ministries including Home, Shipping, Social Justice & Empowerment, and Mines. However, the most notable among these was his stint at Air India where he was appointed as Chairman and Managing Director (CMD) was most notable. He availed 121 business class passenger tickets for his family and extended family (Brother, Sister, son in law, and daughter in law). The father of Ira Trivedi also received a whopping 8, 55,074 rupees as a performance-linked incentive (PLI) during his tenure at Air India.
For Ira Trivedi and all other Hinduphobic pseudo-liberals, this exchange is just another link in the long chain of issues, where they have been exposed, even if they came about pushing white lies.