Ira Trivedi, a once upon a time self-proclaimed Yoga teacher, running a show at the national broadcaster, Doordarshan, has been rendered irrelevant by the Twitterati. Through her statements, she has come out as a Hinduphobic bigot, characteristics unsuitable for a Yoga career. In order to save her failing career, Ira Trivedi has now resorted to her Instagram account, which is using to make one last appeal to the followers.
On the occasion of Shravana Shivratri yesterday, Ira Trivedi posted a picture of herself praying to Lord Shiva's Shivling. This was clearly a desperate attempt to try and gain trust and credibility in front of the followers. She wants to indicate that she is in touch with her Hindu traditions and customs, and respects the religion.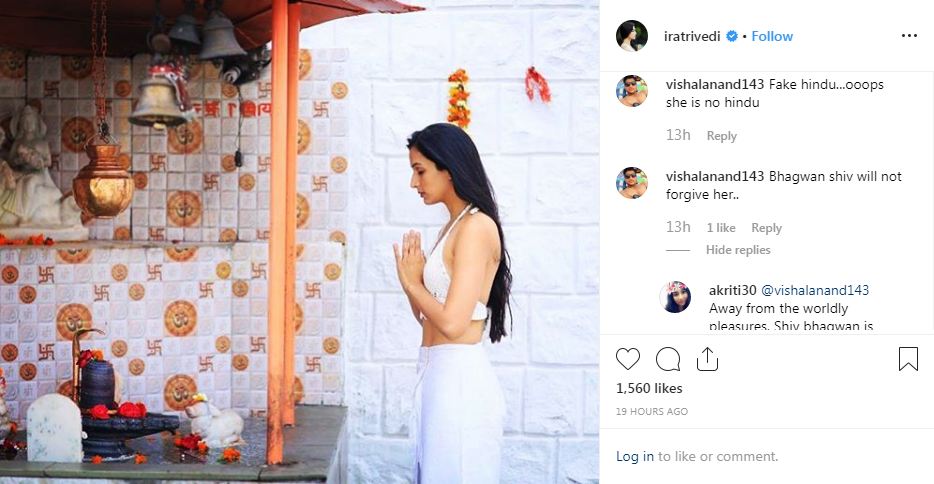 However, the citizens aren't that gullible. A picture isn't going to erase the horrific statements Ira Trivedi, being a Yoga teacher has uttered.
The controversy began after her 2017 interview with News18 went viral on social media. In that interview, Ira Trivedi had described beef as the 'cheapest source of protein'. This comment was made in reference to the beef ban.
Apart from being an utterly wrong statement, it must be noted that this issue has been closely connected with the sentiments of the Hindu community. The Yoga teacher went on to elaborate further about beef in her interview and said that in a country with a huge problem of malnutrition, it would be unfair to take away the cheapest source of protein, for many communities, especially the Muslim community. Twitter users pointed out these remarks as anti-Hindu and wondered what Ira Trivedi was doing at Doordarshan, the country's national broadcaster as a Yoga teacher.
Her comments on Hinduism, from an old tweet, also met criticism from all quarters. In the tweet, she had said, "The Quran is a deeply progressive text! Modern day Hinduism is deeply regressive." 
Following the massive controversy, Ira Trivedi had made an attempt to take a U-turn with a standard retraction statement. She tweeted, "I also deeply cherish, respect and live by Hindu Dharma, please ignore any screenshots of tweets that may have been taken out of context. I respect all religions and texts, but Hinduism is at the heart of my practice." However, much to her dismay, Twitter users did not really accept her apology and rightly so.
Eventually, after enduring a humiliating week, Ira Trivedi has deactivated her Twitter account.
Now, it is being speculated that Ira Trivedi has been sacked by Doordarshan. In order to save her failing career, the Hindu bigot has taken to Instagram after her attempts on Twitter backfired. However, irrespective of the social media platform, the citizens are unlikely to forget her blatant statements. However many pictures she posts on Instagram, she will never be able to establish her credibility as a Yoga teacher. The citizens can see right through the façade and refuse to be fooled by her antics.