The left-liberal media establishment of India is the epitome of hypocrisy. The people in this establishment take 'high moral ground' in front of the camera. Be it on women empowerment, eve teasing, transparency in businesses, the crackdown on black money so on and so forth. But when it comes to adhering to these principals in personal life or office environment, they violate almost every rule of these principals.
Enforcement Directorate (ED) has registered a case against Raghav Bahl promoter and owner of Quintillion Media Private Limited on the basis of a charge sheet filed Income Tax department. The case against Bahl is under the Black Money (Undisclosed Foreign Income and Assets) Act for non-disclosure of GBP 2.73 lakh (approximately Rs. 2.45 crore) which he used to buy property in London.
Bahl called the case of 'political witch hunt' against the section of media which is critical of the government. He wrote a letter to Finance Minister Nirmala Sithraman and alleged that he is "getting the sense of being hounded for doing no wrong despite paying all taxes honestly and diligently. I also have no defaults when it comes to the debt obligations of myself or my business concerns."
He also raised questions over the credibility of the law enforcement agencies in the letter. "Indeed, such action takes away from the authorities ability to pursue real perpetrators, which would serve to defeat the very objectives of these legislative measures, besides wasting precious judicial time and resources," wrote Bahl.
In October last year, the I-T department raided Noida office of Bahl over bogus LTCG gain claims and tax evasion.
According to the story, Raghav Bahl promoter and owner of Quintillion Media Private Limited has made 114 crores with an investment of 3.03 crore rupees. I-T department found that Raghav Bahl purchased his own shares at a growth rate of nearly 15,318.18 percent by using black money. Raghav Bahl used 'shell companies' for practically 'buying back' these share by using cash on which taxes were not paid. SEBI fined three of these companies, Economy Suppliers Private Limited, Seabird Retails Private Limited and Seabird Distributors Private Limited with a penalty of 1 lakh, 3 lakh and 3 lakh respectively.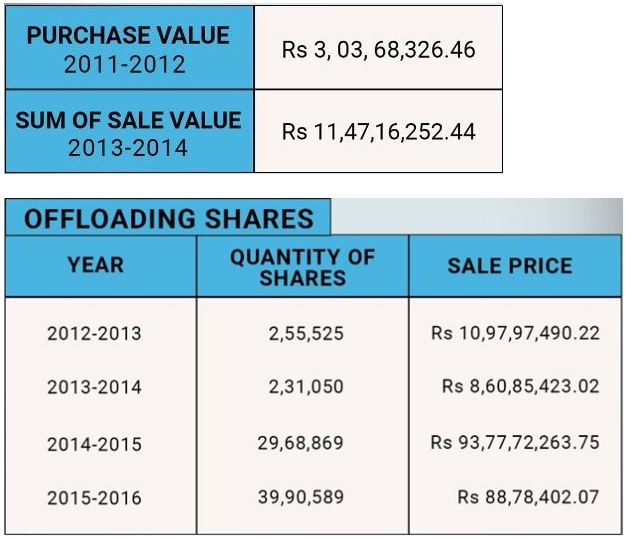 At that time, the mainstream media organization did not tell the other side of the story and neither investigated claims of the Income Tax department and simplified the whole case into 'political witch hunt'. The only website so far reported the claims to I-T department is Newslaundry, a media critique, news and current affairs portal. 
To read the full story on how Bahl gamed the system to earn more 100 crores, visit the following link:
The high moral ground taken by the left-liberal media establishment remains in front of the camera. In back rooms, they behave as tax evaders, money launderers, sexual predators, sycophants and what not. This establishment is responsible for informing the public, if their personal dealings are full of scams and biases, how it could be expected that they would tell 'right' story to populous of the country. The interesting thing is they cry foul of 'political witch hunt' when some legal action is taken against them. The establishment's pleas for freedom of the press whenever their corporate wrongdoing is exposed but the question is how objectivity is expected from these tainted media houses.