This general election, the pro incumbency wave in support of PM Modi has forced several top parties of the opposition camp to come together and forge new friendships of convenience. This scrambling in the opposition camp has also forced a section of journalists to come out and share their 'analysis' on the upcoming elections. However these 'analysis' though appearing full of objective research amount to nothing more than subjective opinion pieces backed by asymmetric analysis.
 In a similar article published in Mint right before the 2014 General election titled  "Is India experiencing a Modi wave?" , columnist Sanjay Kumar claimed that "BJP's aggressive campaigning centered around Narendra Modi has failed in generating a Modi wave across the country" however the result of the 2014 general showed otherwise and Prime Minister Modi was successful in riding on the wave and had registered an astounding victory, with BJP managing to obtain majority singly. 2014 general elections also saw congress getting reduced to its all time lowest with just 44 seats in the Lok Sabha.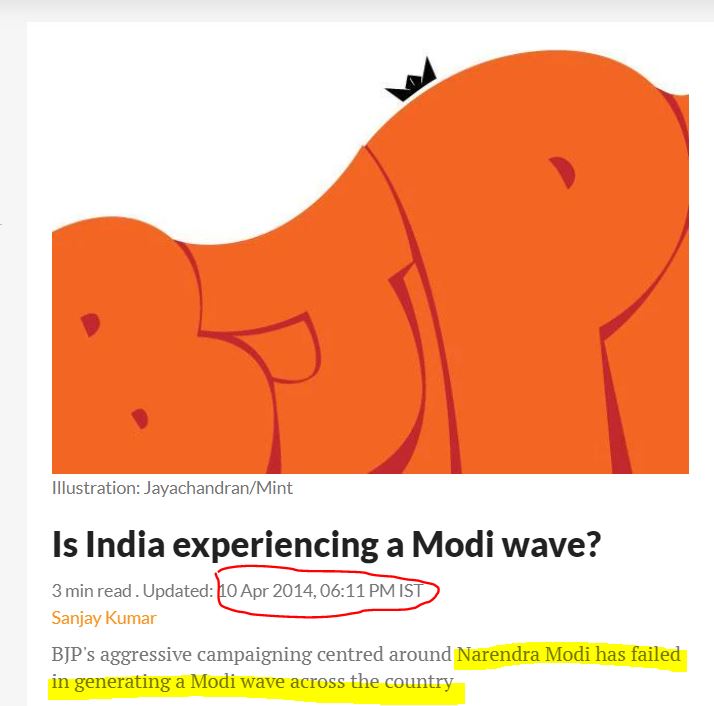 People generally learn from their mistakes, but Sanjay Kumar seems to be an exception. The same columnist has now authored an article titled "Why the Modi wave is missing so far in the polls". The article published in Hindustan Times makes similar claims about absence of Modi wave, this time in the 2019 general elections. The article, is  laden with assumptions like  "It is likely that the supporters of regional parties, though less vocal but committed, turned out to vote as they always do irrespective of the electoral prospects of their party of choice." While it totally disregards the dynamics of new alliances formed and their success in converting the sentiment into votes. This is most evident in the case of Uttar Pradesh where SP-BSP alliance is struggling to bring together their vote banks to vote in a unified manner.

The article also mentions that "A wave election normally sees a higher turnout …The 2014 Lok Sabha election saw an 8% increase in turnout compared to the 2009 one."  This observation in the 2019 article by Sanjay Kumar basically demolishes his own claims made in the 2014 article where he indicated that no Modi wave was present.
The article also claims "It is unlikely that those who voted for regional parties and the Congress in respective states during the 2014 Modi wave would not have voted for their parties in 2019." Again making a wide assumption that people who had voted for congress and other regional parties in the 2014 general elections will continue their support, however several opinion polls earlier had clearly indicated BJP making gains over regional parties like TMC and BJD in West Bengal and Odisha respectively.
The 2014 general election results might have proved to be a hitch in the 'analysis' of many journalists however same pattern on subjective 'analysis' can be seen unfolding this general election. These articles by Sanjay Kumar not only rely on unquantifiable parameters to make overarching claims but also amount to presenting misleading views.