While the nation is mourning the death of more than 40 CRPF personnel, an uneasy development was taking place. Following the attacks, once the identity of the terrorist was revealed, people turned up in large numbers to protest against the Kashmiri citizens, especially those who were found guilty of not only supporting the attack, but also openly celebrating it.
However, while none of these protests went viral, except for the one in the Jammu region, the left liberal intelligentsia was back to what it is best at: shamelessly peddling lies. Led by the notorious JNU activist cum separatist Shehla Rashid Shora, they peddled fake news about Kashmiri students being heckled and harassed by furious mobs in the state of Uttarakhand.
Even when the Uttarakhand Police vehemently denied the occurrence of any such incidents, it didn't stop the terror sympathizers from creating a hoax around the so called harassment of Kashmiri students. Following are some of the specimens:-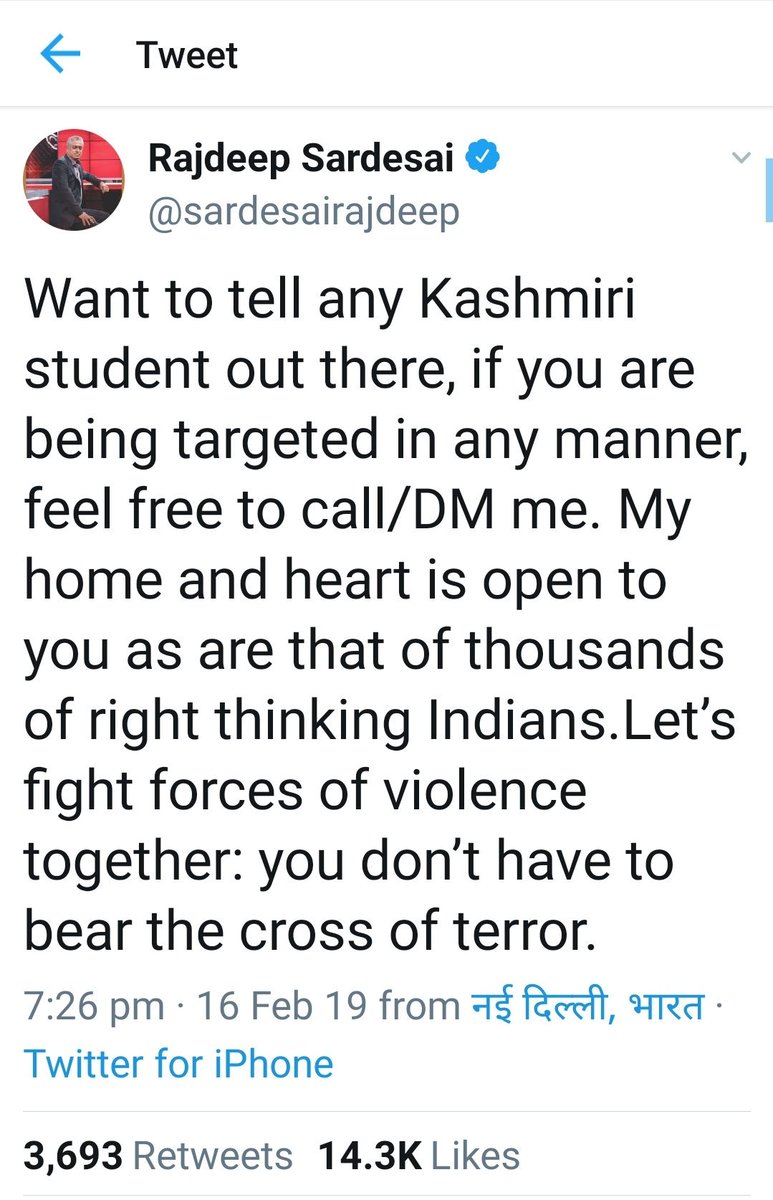 #SOSKashmir 15-20 Kashmiri girls trapped in a hostel in Dehradun for hours now, as an angry mob outside demands that they be expelled from the hostels. This is in Dolphin institute. Police is present but unable to disperse the mob.@INCUttarakhand @uttarakhandcops @ukcopsonline

— Shehla Rashid شہلا رشید (@Shehla_Rashid) February 16, 2019
This is not true …Police sorted out d issue ..There r no crowds .. Initially there was an allegation that kashmiri students raised pro pakistan slogans.

— Uttarakhand Police (@uttarakhandcops) February 16, 2019
Rather than gaslighting the victims, @uttarakhandcops should try explaining why repeated news of attacks on Kashmiris are coming in from Dehradun. Try setting your house in order, rather than trying to discredit the victims.

— Shehla Rashid شہلا رشید (@Shehla_Rashid) February 16, 2019
News of kashmiri students being attacked by mobs in Dehradun is saddened me , Kashmir is our state and the Kashmiri people our brethren, this is not the time to be divided and fight our own, that is what they want, we must stand as one and protect eachother. India is ONE

— Priya Dutt (@PriyaDutt_INC) February 16, 2019
Sometimes the comments I read terrifies me. The thinking of the people behind these commenta are frightening. An eye for an eye, what you give is what you get etc…… how will more and more violence solve this problem, will it not breed more terror and violence of both sides.

— Priya Dutt (@PriyaDutt_INC) February 16, 2019
STOP targeting #KashmiriMuslims in cities of #India … apart from the fact that it's inhuman and just WRONG .. This is also exactly what the terrorists & their sponsors want!!!! An India which is imploding by infighting! It's not patriotism.. it's hateful, wrong & bad strategy!

— Swara Bhasker (@ReallySwara) February 17, 2019
The biggest anti nationals today are those attacking Kashmiri students, which is exactly the kind of divide the ISI wants to push.

— Nidhi Razdan (@Nidhi) February 17, 2019
This is not the only instance where left liberals created mountains out of molehills. Their far-fetched stories on the Gujarat riots and 'Saffron Terror' aside, these left liberals, within days of the Pulwama attack, tried to whitewash the deceased terrorist, Adil Ahmed Dar, dark deeds while indirectly blaming the armed forces for his so called plight. This whitewashing was no different from what these left liberals did for Burhan Wani, when he was slayed by the Indian armed forces in July 2016.
Often the likes of Shehla Rashid Shora have accused the incumbent NDA government of being full of closet Nazis, while themselves practicing the classic Goebbels propaganda: 'Repeat a Lie so much that People start perceiving this as the Truth!' This technique has been oft repeated by such opportunists time and again, be it the notorious JNU sedition case, or the Rohith Vemula case, or even the controversial Kathua rape case, which was exploited by the left liberals to create a defamation campaign against the entire Sanatan community.
However, what they weren't prepared for was the quick and vigilant response of the netizens. Propelled by their enthusiasm, the CRPF themselves busted the entire propaganda, not hesitating for even a moment in using the appropriate terminology for such fake news peddlers, as shown in the following tweet:-
ADVISORY: Fake news about harassment of students from #Kashmir is being propagated by various miscreants on social media.
CRPF helpline has enquired about complaints about harassment and found them incorrect.
These are attempts to invoke hatred
Please DO NOT circulate such posts

— ??CRPF?? (@crpfindia) February 17, 2019
#Kashmiri students and general public, presently out of #kashmir can contact @CRPFmadadgaar on 24×7 toll free number 14411 or SMS us at 7082814411 for speedy assistance in case they face any difficulties/harrasment. @crpfindia @HMOIndia @JKZONECRPF @jammusector @crpf_srinagar pic.twitter.com/L2Snvk6uC4

— CRPF Madadgaar (@CRPFmadadgaar) February 16, 2019
Fun fact, CRPF is not the only one busting the fake news propaganda of the vicious left liberals. A few Kashmiri denizens, to everyone's delight and the agony of the left liberals, also broke the bubble while asking others to be aware of the vicious lies that the likes of Shehla Rashid are spreading about them, as shown below:-
Local police told Free Press Kashmir that the situation is currently under control

UPDATE: Kashmiri girls surrounded by mob in Dehradun lock themselves in hostel, Police disperses crowd | Free Press Kashmir – https://t.co/rRBhWKx6Mf

— Khalid Shah (@khalidbshah) February 16, 2019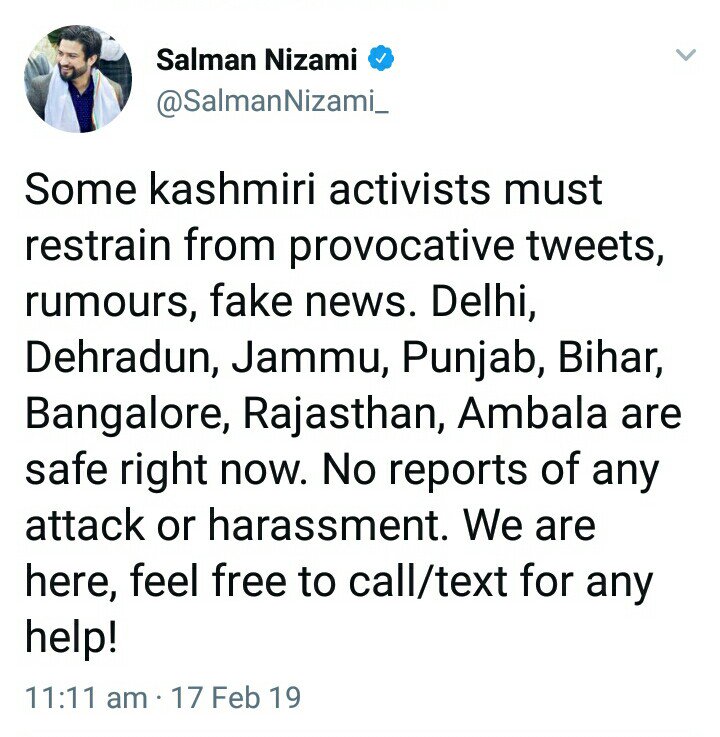 According to a report from My Nation, an FIR has been filed against Shehla Rashid for spreading lies about a potentially sensitive issue given recent developments in the country. To be honest, the left liberals are doing all they can in order to shield the actual perpetrators behind this dastardly attack. For this, they won't even hesitate to blame the martyrs themselves if need be. However, they're forgetting that this is a new India, where nothing, not even fake news, is taken for granted.