Central Public Sector Enterprises (CPSEs) have a very influential presence in the Indian economy today, almost three decades after economic liberalization. A CPSE is any company in which the central government has at least 51 percent of paid up share capital. The emphasis on the import substitution model of development during the Nehruvian years led to the formation of many public sector companies in the initial years of independence. In 1951, there were only 5 CPSEs with investments of 29 crore rupees but the number grew to 84 in 1969. By this time Indira Gandhi has consolidated her hold on the Congress party as well as the government.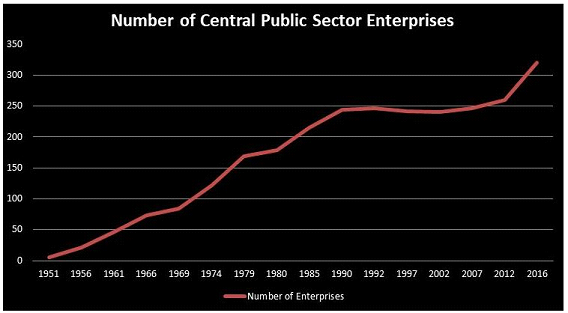 She initiated the implementation of her socialist policies and the large scale nationalization of private industries took place. This included the nationalization of all large privately owned banks, major companies in industrial manufacturing. The 'hammer and sickle' of socialism hit private players who were garnering profits for themselves while also paying taxes to the government for administration and welfare. To establish the hegemony of her party throughout the country, Indira Gandhi came up with populist slogans like 'Garibi Hatao'. However, during her tenure, India became poorer as GDP growth in the country plummeted.
In the subsequent decades, the number of CPSEs increased to 179 in 1980 and 244 in 1990. Bankrupt companies that were meant to be liquidated or sold were acquired by the central government under the dictatorial regime of Indira Gandhi. Economic growth collapsed due to nationalization and the economy did not recover until the private sector's powers were unleashed in 1991. The number of CPSEs stagnated during and after the economic liberalization but grew remarkably after 2012.
Employment in CPSEs grew from 7 lakh in 1971-72 to 19.4 lakh in 1981-82 due to the massive nationalization that took place under Indira Gandhi. Employment in CPSEs peaked to 22.4 lakh in 1989-90 but declined to 11.3 lakhs in 2016-17. The number in Coal India declined from 6.5 lakh in the mid 1980s to 3 lakh in 2017. After economic liberalization, public companies started hiring contractual workers to serve the purpose of drivers, janitorial staff, and security personnel or outsourced these tasks altogether.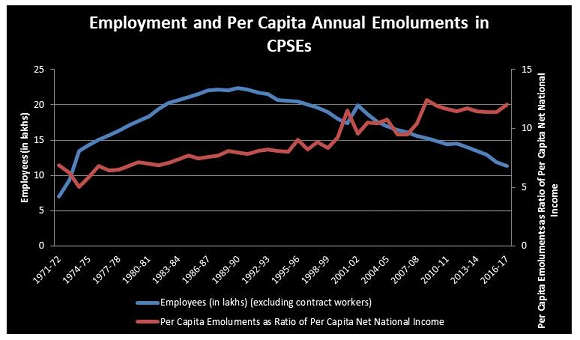 There are 331 CPSEs with investments of 12, 50, 373 crore rupees at the end of the fiscal year 2017.  Most of these companies are in manufacturing and generation (96), services (119) and construction (76) sectors. The CPSEs in the energy sector made up two-thirds of all the profits of Rs 1, 52,647 crore during 2016-17. Bharat Sanchar Nigam Ltd, Air India Ltd and Mahanagar Telephone Nigam Ltd are among the worst performers in public sector companies. 82 CPSEs made losses of 25,045 crore rupees and the number of loss-making CPSEs has grown from 54 in 2007-08 to 82 in 2016-17.
The Indian government has moved relatively slowly toward privatization, unlike former Communist countries. Even companies like Air India, which had accumulated losses worth more than 50 thousand crore rupees, have not been privatized yet. There are a few sectors like banking where a small presence of the public sector is required but such a large number of losses making public sector companies is not required. The Modi government has set ambitious divestment targets and the PM himself has repeatedly said that the 'government has no business in doing business'. The Modi government crossed its divestment target in 2017-18 and if the government gets another term, privatization of loss-making units will definitely take place. All that the government needs is another term to get rid of public sector companies that are losing taxpayer's money.